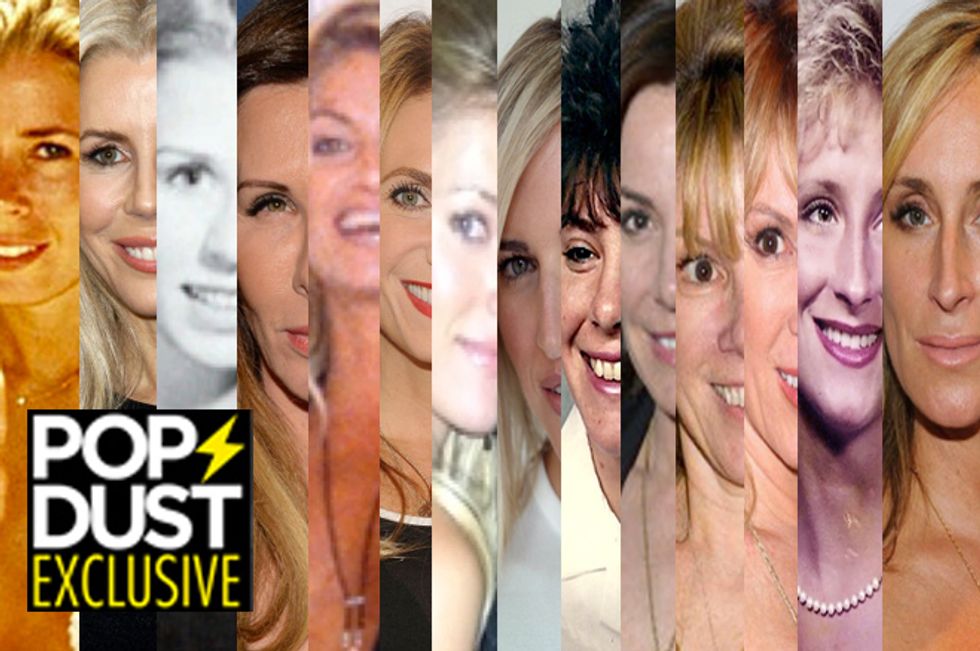 The Real Housewives always look camera ready but how much help have they had?
Esteemed cosmetic surgeon Dr. Gregory C. Roche,  previously weighed in on the Beverly Hills Housewives—giving his expert opinion on who's had what done.
Renown plastic surgeon, Dr. Anthony Youn, gave his opinion on the Real Housewives of Orange County—speculating on who has had work done and who is au natural.
How Real Are The Kardashians? Kendall Jenner Plastic Surgery Exegesis
Then, respected dermatologist, Dr. Ben Behnam, offered up his professional insight on what the ladies from the Real Housewives of New Jersey have had done.
Next up, leading New York based plastic surgeon, Dr. Robert Tornambe, cast his eye over the Real Housewives of Atlanta and offered up his findings.
How Real Are The Housewives? RHOBH Plastic Surgery Exegesis
And now, Dr. Tornambe is back to give the 411 on the Real Housewives of New York City.
This photo taken of Aviva when she was a bit younger demonstrates very attractive and delicate facial features.
She has maintained that beauty with what appears to be a facelift, rhinoplasty and Botox to the forehead.
RHOC Creeper Brooks Ayers Lied About Cancer And Vicki Gunvalson's PISSED
It seems that she has also had cheek implants, which, in my opinion, are a bit too large for her delicate face.
Carole Radziwill
This is a very early picture of Carole, as it almost appears to be a graduation photo. Her facial features are symmetrical, and therefore pleasing to the eye.
How Real Are The Housewives? RHOM Plastic Surgery Exegesis
It looks like she has had a facelift with liposuction of the jaw line and mid face. A bit too much fat removed from her face, in my opinion. I believe that she has also had a rhinoplasty to narrow her nose to match her thinner face. Botox properly placed to the outer forehead would gently lift her lateral eyebrows in a pleasing fashion.
A bright dazzling smile illuminates her pretty face.
It appears that she has undergone a facelift with eyelid tuck that has allowed her attractive eyes to pop.
How Real Are The Housewives? RHONJ Plastic Surgery Exegesis
I believe that she has also had a nose job, but her surgeon could have done a little better job on her nasal tip, which still droops a bit. Botox to her forehead has erased any vestige of lines or wrinkles.
This very pretty lady has aged nicely.....with a little bit of help.
It appears that she has had a tasteful, conservative mini facelift and perhaps some Botox to her forehead, but not much else.
How Real Are The Housewives? RHOA Plastic Surgery Exegesis
Her stylish haircut frames her face nicely, reinforcing the premise that Kristen is accepting the notion of aging gracefully....with a little bit of help!
The combination of several procedures, when done well, can provide dramatic results. The changes I see in LuAnn's face after what I believe to be a facelift and eyelid tuck, nose job and cosmetic dentistry, are remarkably positive.
It is rare when a facelift actually makes someone look prettier, and not just younger! This is exactly what appears to be the case for Ramona.
Pumping Up The Kardashians Plastic Surgery Time Lapse Videos Are Awesome
It is my opinion that the combination of facelift and eyelid tuck plus cosmetic dentistry and a fabulous hairstyle has transformed her dramatically in very positive fashion.
A refinement of Ramona's nasal tip and a little Botox to her crows feet would complete that transformation, or am I being too picky?
Some people actually become more attractive as they mature. Sonja is an excellent example of that phenomenon.
I suspect that she has helped herself along the way by undergoing a facelift and upper eyelid tuck.
No Plastic Surgery For Me, Fibs Jennifer Connelly!
I also believe that fillers to the mid face and smile lines and perhaps some Botox to the forehead allow her to maintain her elegant beauty.
For more entertainment, world, music and pop culture updates and news, follow Max Page on Twitter