kourtney kardashian plastic surgery
So we know Kim Kardashian has indulged in a few nips and tucks around her person, but what about her big sister Kourtney?
Their mom, Kris Jenner, mom certainly is not afraid of a little plastic surgery, little sister Khloe's face and body are no stranger to the syringe, and then there's the Jenner girls.
How Real Are The Kardashians? Kris Jenner Plastic Surgery Exegesis
Kylie's lips have launched well over a thousand injections, and Kendall, though she opted for a more subtle look, definitely has fuller lips than she did when the Keeping Up With The Kardashians franchise first kicked off.
Well, Kourtney, a 36-year-old mom of 3, doesn't exhibit the tell-tale signs of cosmetic assistance in the way that her mom and sisters might, but look closely…She's definitely had some work done.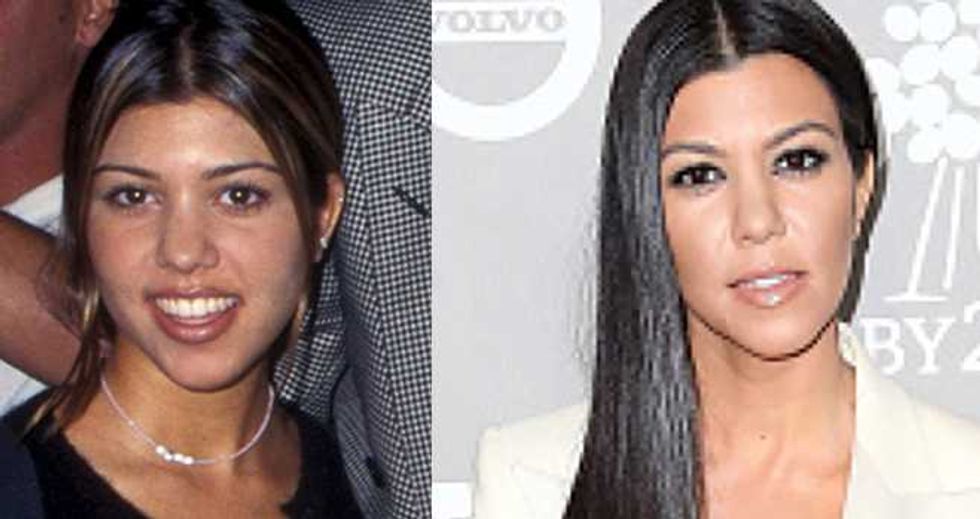 Kourtney Kardashian before (LEFT) and after (RIGHT)
The pictures show a dramatic transformation from a cute girl-next-door to an exotic beauty. It can't be all hair and make up, can it, Doc?
Popdust spoke exclusively to New York based plastic surgeon Dr. Robert Tornambe, and he offered up his expert opinion.
How Real Are The Kardashians? Kendall Jenner Plastic Surgery Exegesis
"Rhinoplasty for sure," says Dr. Tornambe, who has not treated Kourtney. "She has also injected fillers in nasolabial folds, (laugh lines), also possibly liposuction of the jaw region, and she's had a breast augmentation."
And, moving down the body…
"It does appear that she might have had a Brazilian Butt lift, aka fat transfer to her buttocks," Dr. Tornambe says.
Pumping Up The Kardashians Plastic Surgery Time Lapse Videos Are Awesome
"They look just a bit larger, which makes sense because she really does not appear to have had a lot of fat to transfer. The Catch 22 to that very popular procedure is a lot of fat needs to be present to be transferred to see significant results. The irony is that most women that have enough fat to transfer to their butt don't need or want it......unless their last name starts with K!"
Makes sense that Kourtney would invest in booty upkeep—her butt was the first thing Scott noticed about her.
Everything You Never Wanted To Know About The Kardashians Pubic Hair
"Your body was banging when I first saw you on the beach with that little ass," he raved on an earlier episode of Keeping Up With The Kardashians.