kris jenner plastic surgery
The Kardashians have had so many nips, tucks, pulls, injections, and implants; they've turned themselves into a family of virtual Frankensteins!
And it all had to start somewhere. Enter Kris Jenner, the matriarch.
How Real Are The Kardashians? Kendall Jenner Plastic Surgery Exegesis
So, what has the 60-year-old had done? Is she plastic fantastic, or au natural?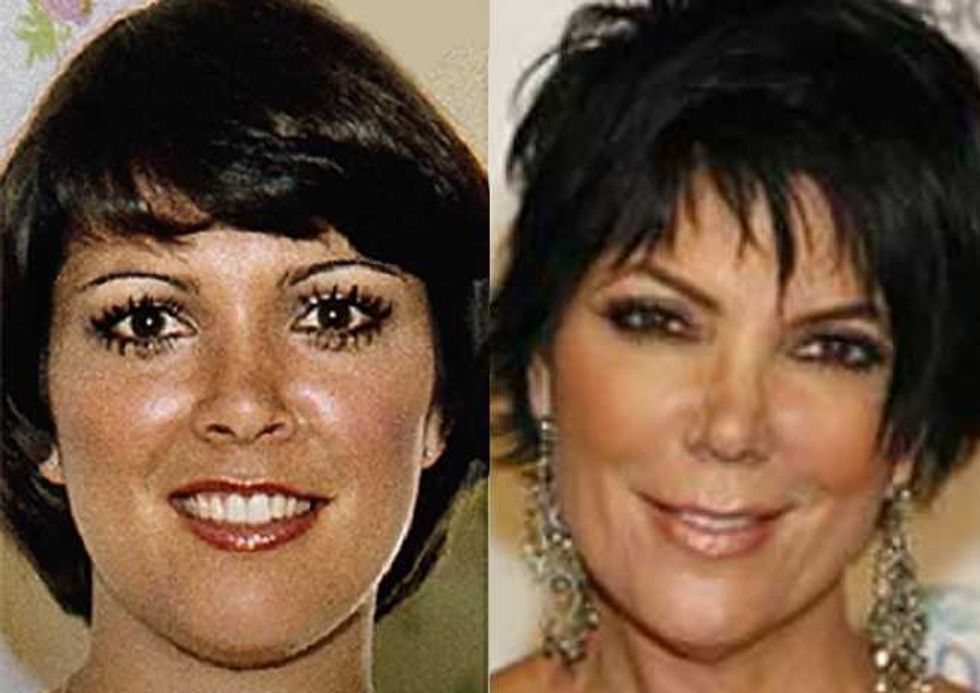 Kris Jenner before (L) and after (R)
Popdust spoke to New York based plastic surgeon Robert Tornambe, to get his expert opinion.
Kris Jenner Thinks Kylie's Bondage Sex Doll Bare Ass Photos Are 'Beautiful'
"Kris Jenner appears from photos to have had a lot of work done, mostly good," Dr. Tornambe tells Popdust exclusively.
"Early photos of her demonstrate rhinoplasty, facelift, and Botox to her forehead erasing lines and slightly elevating the lateral brows nicely."
How Real Are The Housewives? RHOA Plastic Surgery Exegesis
But wait! There's more!
"It also appears that Kris had upper and lower Blepharoplasty."
In normal people terms, that means Kris had both her upper and lower eye lids done. From there, Dr. Tornambe opines, it looks like KK senior also got some "mid-face fillers, in either the form of fat transfers or Hyaluronic acid injections and it also looks like she had breast augmentation."
"Kris is not over done, and looks quite natural, and not 60. Except the breasts, however, are too large and obviously fake, but LA friendly," Dr. Tornambe playfully adds.
And, there's plenty of people who wouldn't kick the newly singer cougar-saurus out of bed. People like her new boyfriend, Corey Gamble, who just turned 34 on November 10. Don't worry, I'll do the math for you……26 years, folks.
That's what having "good work" will get you.
The Atlanta native works for Justin Bieber's manager Scooter Braun, and met Kris in Spain at designer Riccardo Tisci's 40th birthday party back in August in Ibiza.
"What started off as a friendship has turned romantic, but it's all very new," an insider told E! News.
More recently, Kris reunited with her ex, Caitlyn Jenner for a Thanksgiving feast/family reunion.
"They've been getting along really well lately, and it's really nice to see," a source close to the family tells Popdust. "It was a rough ride for a while, but these two still have a lot of love for each other."