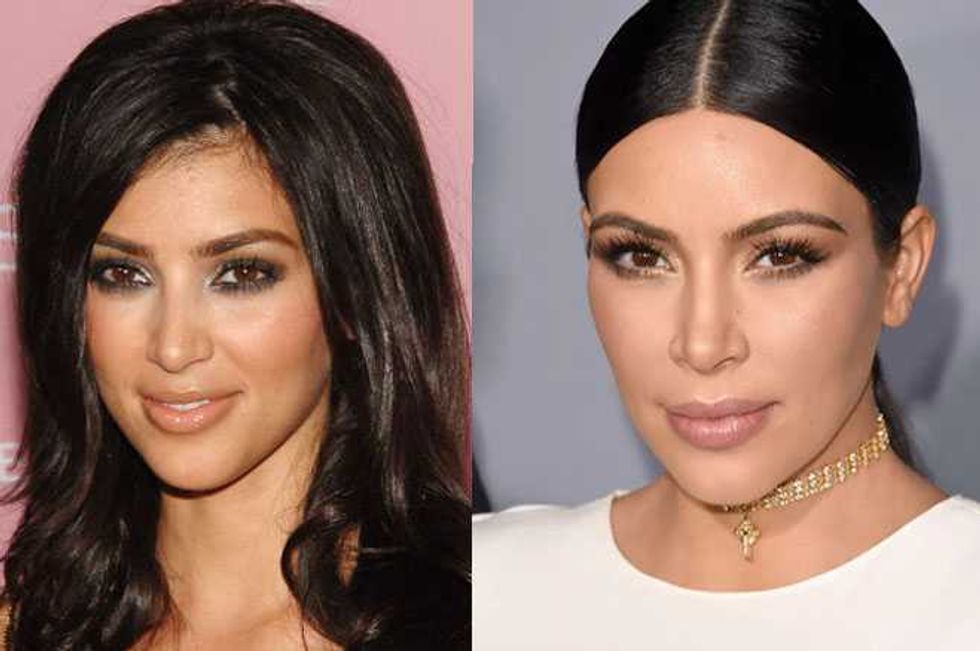 kim kardashian plastic surgery How Real Are The Kardashians—Kim—Plastic Fantastic or Au Naturel
We at Popdust are committed in our quest for the truth about the nips and tucks the celebrities have in order to maintain and enhance their fabulousness.
So we got to the bottom of Kris Jenner's surgical transformation, looked in to Khloe's ever-changing face, exposed Kourtney's beauty secrets and now….we give you, the queen of all reality, Mrs. West, the magically morphing sex tape super star, Miss Kim Kardashian.
How Real Are The Kardashians? Kris Jenner Plastic Surgery Exegesis
Kim is keepin' in tight and right at the age of 35, but we have long suspected she's had some assistance along the way.
New York Plastic Surgeon Dr. Robert Tornambe agrees:
"It appears that Kim had a rhinoplasty at some point, but it was very conservative and well done, especially at the tip. I believe that, other than her mother, two of Kim's best friends are Botox and fillers! Her face, especially her cheeks appear fuller, probably Voluma, and her brows are nicely and gently lifted by Botox."
Did Khloe Kardashian Get A New Face For Kocktails With Khloe?
But what about that provocative Kardashian pout? Believe it or not, the Doc had this to say: "I think her lips are all hers, especially after scanning her early photos."
Whaaaaaaaaat???
How Real Are The Kardashians? Kourtney Plastic Surgery Exegesis
And her glowing complexion? Just how does she do it?
"I am sure she takes really good care of her skin, and it shows. She's probably on Retin-A and has had light laser work done and facials."
Kim is known for her butt, but her boobs are seriously gigantic too.
"Obviously she has large breast implants, and it will be interesting to see how her breasts fare after this second pregnancy. I doubt she is breast feeding. Based on my expertise, I'd say I believe her booty has been surgically enhanced. I'm sure it's been helped out just as J-Lo's has, by lots of time in the gym and an army of trainers. I don't think Kim had a Brazilian Butt Lift, because an enormous amount of fat would be needed achieve that size, but you can never rule out Butt implants, only because of her history of love affairs with plastic surgery. I have a feeling that, after 2 pregnancies, liposuction is in Kim's future!"
KimKardashian Non-Surgical-But-Still-Cheating Post-Baby Body MakeOver
kim kardashian plastic surgery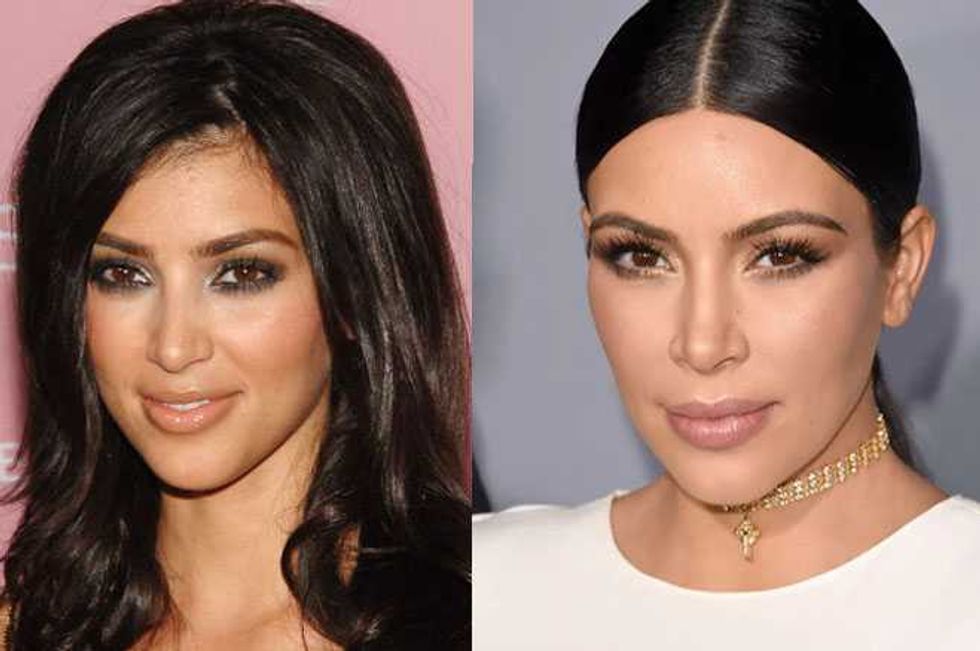 2006 Kim and 2015 Kim
kim kardashian plastic surgery