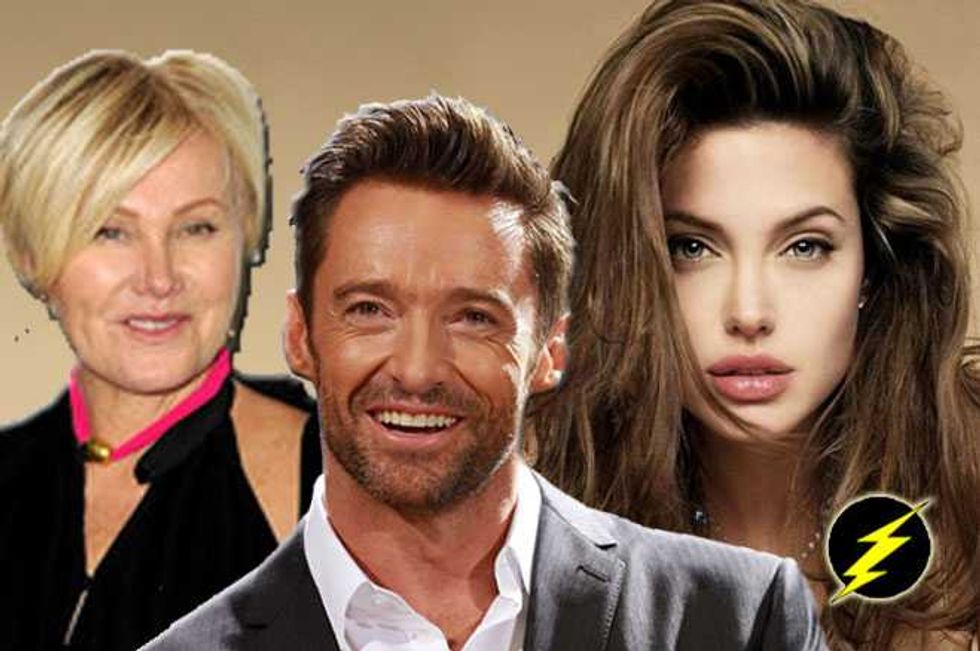 Hugh Jackman's wife, Deborra-Lee Furness revealed in an interview that she has banned her hunky hubby from working with Angelina Jolie!
The 59 year old actress who has been married to the Wolverine star for nearly 20 years disclosed during the interview with Australia's Today Show;
"I've told his agent he's not allowed to work with Angelina [Jolie], I'm sure she's very nice and I love what she's doing — shining a light on awareness for adoption…"
Given that Hugh has had steamy scenes with the likes of hot babes Scarlett Johansson and Ashley Judd (neither of whom are notorious husband stealers), it seems very clear that Mrs Jackman's issue doesn't lie with her husband.
Deborra-Lee quickly added a little "no I'm just kidding" to the end of her comment and Hugh gave a nervous laugh—but the speed of her response speaks volumes...
Check out the video, around the 1min 35 second mark;
We have to say we don't blame her—much as you may trust your husband, there are limits to a man's (or woman's for that matter) ability to resist when presented with the likes of Angie in full on seduction mode.
The Aussie couple have one of the most enduring marriages in showbusiness, and aside from the Angelina rule they made a pact from the start to never spend more than two weeks apart—something they stick to because they actually really enjoy each other's company and don't want to be without the other one for too long.
The 46 year old actor said;
"Deb had been on enough sets to see the pitfalls...it was my first job when we met, I didn't know anything else but we've never been apart for more than two weeks.  We've managed to keep that."
His wife added;
"And we don't wanna be [apart] - he tells really good jokes and I miss him."
Well it obviously works for them—their secret is family first. They revealed that the whole family, including children Oscar, 14, and Ava, 9, will be in Australia for the next few months. The interview was recorded for breakfast TV before the couple's Adopt Change fundraiser in Melbourne on Wednesday.
Angelina Jolie on the other hand, may seem to have it all—beauty, wealth and a devoted family, but she has revealed in the past that the one thing she lacks are female friends.  This may be due to her reputation as a vamp/husband stealer—lets face it would you make friends with someone with her history?
She famously snared Brad Pitt while they were working together on Mr & Mrs Smith whilst he was still married to Jennifer Aniston.  They both always maintained they hadn't fallen in love until after Brad's marriage to Jen was over, but then Angelina revealed in an interview with Vogue that they had in fact fallen in love during the making of the movie and then astoundingly offered to meet up with Jen to have a good chat!.  Aniston laughed off the offer and said at that time;
"There was stuff printed there that was definitely from a  time  when I was unaware that it was happening.  I felt those details were a little inappropriate to discuss. That stuff about how she couldn't wait to get to work every day? That was really uncool."
Jennifer Aniston On Brad Pitt—No Hard Feelings, We Talk All the Time!
Prior to that Angelina was married Billy Bob Thornton from 2000-2003, their wedding came as somewhat of a surprise to his finance at the time, Laura Dern.  Laura had gone off to make a move and then read in the tabloids that her fiance had eloped with Ms Jolie.  Dern has said;
"I left our home to work on a movie and while I was away, my boyfriend got married, and I've never heard from him again."
Maybe it would be a little safer to let your husband film with Angelina these days—Angie and Brad married last August and quite frankly who the hell has the time to seduce someone's husband when you are juggling a film career, humanitarian work and six children?!
Angelina Jolie and Brad Pitt Get Married In France!
Plus her and Brad do seem pretty happy.  She has gushed;
"Brad has expanded my life in ways I never imagined. We built a family. He is not just the love of my life, he is my family. I hold that very dear. I suppose what I've learned from Brad is to be able to have the kind of family whose happiness and well-being comes before your own.  I'm very, very grateful to have such a loving family, and I wouldn't have that without him."
Angelina—"I Waited A Long Time To Marry A Real Man"
Check out our Angelina gallery...