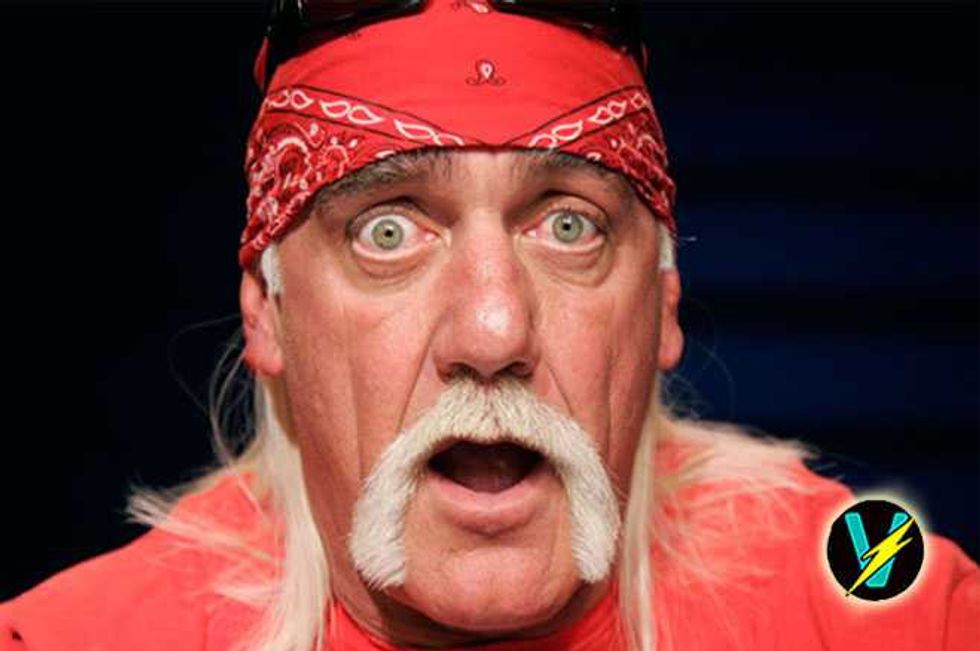 In a shock move today, WWE has totally removed any mention of Hulk Hogan, the original shirt ripping superstar, from their brand amidst allegations of a hideous 'racist' rant.
There is a clip of a 2012 interview where Hogan discusses his use of the 'N' word, but it's another clip, yet to be released that has led to the initial announcement by Wrestling News Source that WWE have completely removed all reference to the 61 year old Hulk from their website, their online shops and also from the WWE Hall Of Fame.  He's also no longer listed as one of the judges on the Tough Enough television show according to their website.
Rush Limbaugh Advises Kanye West: Release Racist Chant And It Will Be A #1Hit
You can hear the original 2012 interview clip below in which Hogan repeats the word 'nigger' several times and admits that he gets 'heat' for using the word these days.
Hulk, real name Terry Bollea is just about to go to trial in a $100 million personal injury lawsuit against Gawker Media, who posted a video of a sex tape featuring Hogan online. The new clip came to light during a deposition and has apparently been sold to the National Enquirer who are due to release it any minute.   Sources say the new tape is 'disgusting' and leaves the listener in 'no doubt that Hulk Hogan is a racist....at the level of the Ku Klux Klan" and insiders are saying it's a tape 'there's no coming back from".
Starbucks to Solve Racism, Finally!
A CNN commentator tweeted this morning that he's seen the transcript of the audio;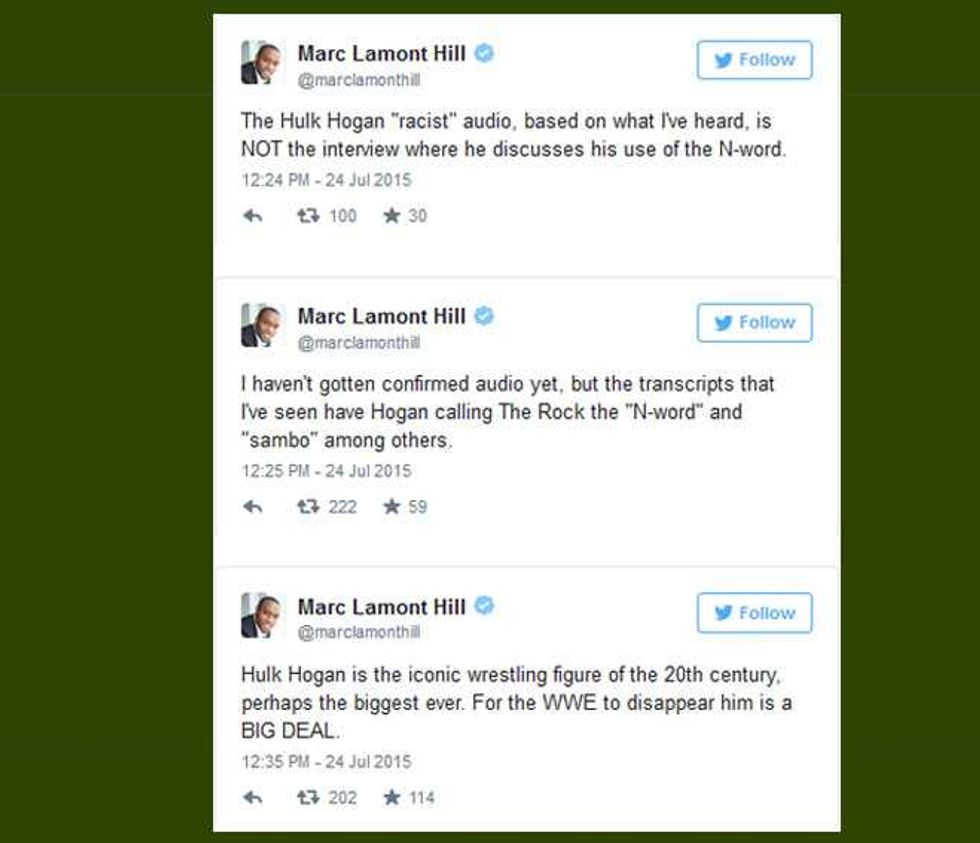 CNN commentator Marc Lamont Hill
WWE have released a statement saying;
"WWE terminated its contract with Terry Bollea (aka Hulk Hogan).  WWE is committed to embracing and celebrating individuals from all backgrounds as demonstrated by the diversity of our employees, performers and fans worldwide."
Kind of hypocritical considering WWE CEO Vince McMahon once used the N word in front of Booker T who turned to his girlfriend and said "Tell me he did not just say that."
Jerry Springer Does A Family Intervention On WWE's Monday Night Raw
There have been rumors for several weeks that the American wrestling icon is all set to enter the UK Celebrity Big Brother house in August.  That plan is in jeopardy now however, as given CBB's history of racist incidents and rants, they really can't afford to invite that kind of controversy.
There's nothing so far from Hogan's management team, the only response has been a tweet from Hulk Hogan himself;

Hulk has gone all cryptic on us