Film Features
What are the ethics of making a documentary about a $100 million scam that left wealthy millennials stranded on an island's gravel parking structure and sleeping in FEMA tents? And why is imagining that still funny?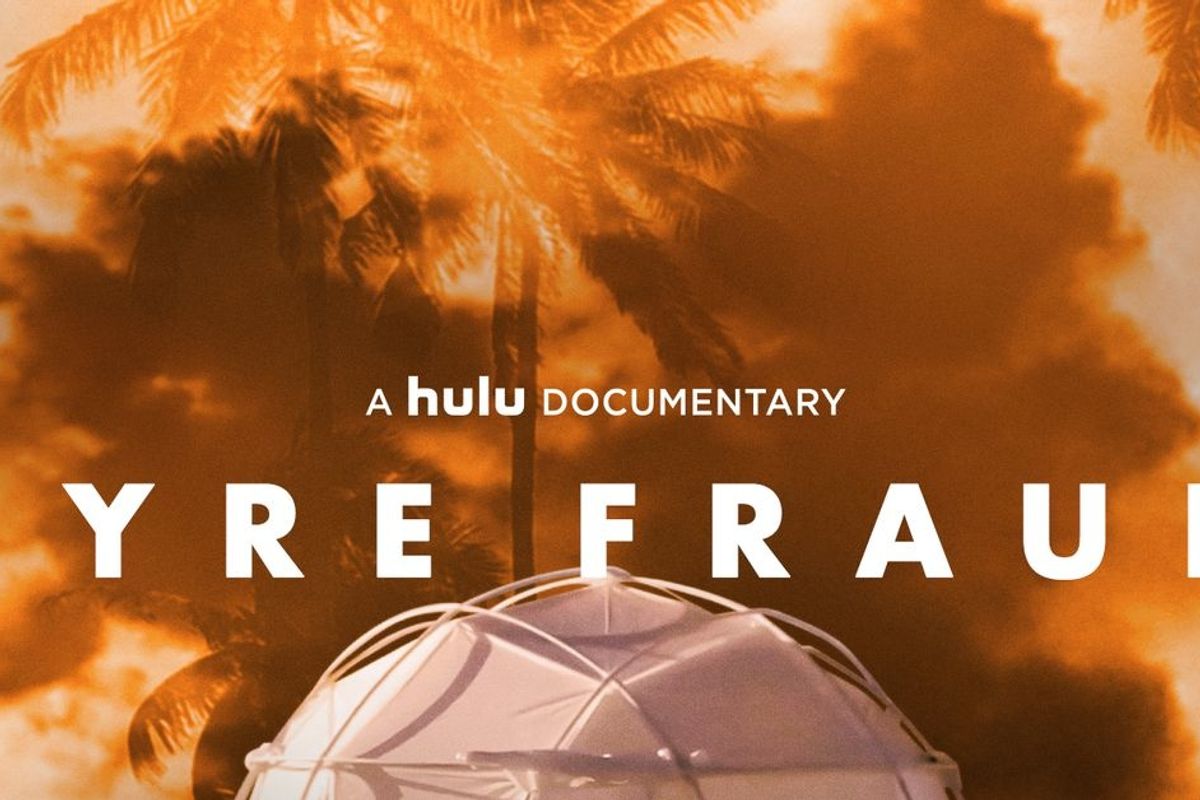 The Internet is ready to re-experience the schadenfreude that was Fyre Festival 2017.
Netflix is expected to take an "unbiased and illuminating" look into the event planning in its documentary, Fyre: The Greatest Party That Never Happened, slated for release this Friday. But on Monday, Hulu scooped its rival with the unannounced release of their own–and perhaps less biased–documentary. Compiled from an exclusive 8-hour interview with the Fyre Festival mastermind Billy MacFarland and former private contractors involved in the event, Fyre Fraud explores how social media was "weaponize[d]" to scam and defraud social media influencers, investors, and the Bahamian government.
FYRE FRAUD (Official Trailer) • A Hulu Original Documentary youtu.be
Twitter users from 2017 might recall posts of the Fyre Festival's disaster, described at the time as "post-apocalyptic" and "The Hunger Games" in paradise. The multi-million dollar scam left wealthy millennials, expecting an exclusive, luxe weekend in the Bahamas, stranded on an island's gravel parking structure, sleeping in FEMA tents, and eating cheese sandwiches after paying anywhere between $450 to $250,000. In the six months leading up to the Fyre Festival fiasco, MacFarland partnered with media company Jerry Media and the rapper Ja Rule to promote the festival's gourmet food, luxury villas, and over 1,000 musical acts. The event's promotional video is studded with bikini-clad models and Instagram-worthy scenery–which Fyre Fraud quickly debunks as a flashy ad for an event that wasn't even in the nascent stages of planning. At the time of filming the promo, it's revealed, MacFarland and partners had yet to even secure a location, despite boasting that the festival would take place on Pablo Escobar's former island.
Promo: «Fyre festival» youtu.be
Fyre Fraud, takes its name after a whistleblower's Twitter account that aimed to refute the misleading information the event planners were perpetuating on social media. The account holder, venture capitalist Calvin Wells, appears in both Netflix's and Hulu's documentaries to persuade viewers of the notion that the festival's planners are innocent victims of uncontrolled circumstances.
#FyreFestival is a fraud. They sold tickets to a festival on a private island "once owned by Escobar" when really i… https://t.co/Dd1l1KZ5iQ

— FyreFestivalFraud (@FyreFestivalFraud) 1490767476.0
MacFarland himself only appears in Hulu's production, with both streaming companies launching biting ethical questions at the other. Reportedly, MacFarland cooperated with co-directors Jenner Furst and Julia Willoughby Nason in exchange for payment; he challenged the Netflix production, headed by Chris Smith, to match or exceed that payment-in the amount of $250,000. Smith declined, stating, "[A]fter spending time with so many people who had such a negative impact on their lives from their experience on Fyre, it felt particularly wrong to us for him to be benefiting." However, Furst refuted MacFarland's claim as an attempt to create a bidding war. He admits to paying MacFarland to appear in Fyre Fraud but says, "I can't tell you the amount. But what I can tell you is that if you printed [$250,000], that would be a lie. That was not the amount. It was less than that. I don't know why Chris [Smith] is quoting him that way. We both made a film about the same person. We know the person is a compulsive liar."
Furst has also criticized Smith for co-producing Netflix's upcoming documentary with Jerry Media and the advertising company Matte Projects, which were both involved with planning the festival. With a $100 million lawsuit accusing Fyre's planners of fraud–and putting MacFarland in jail for six years–the ethics of Netflix's documentary are already cast into question. Furst criticized, "I feel like there's a bigger ethically compromised position, and that's going and partnering with folks who marketed the Fyre Festival and were well aware that this was not going to happen as planned. That folks were not going to get villas, that folks were not even going to get bathrooms." He added, "It's a little bit of a head-scratcher to say that we have an ethical quandary when it seems like people who got the rest of the world knee deep in shit are making large licensing fees and getting prestige when this thing comes out on Friday. To me, I think it's a little bit of the pot calling the kettle black."
In the back and forth rivalry, Netflix replied in a statement, "We were happy to work with Jerry Media and a number of others on the film. At no time did they, or any others we worked with, request favorable coverage in our film, which would be against our ethics. We stand behind our film, believe it is an unbiased and illuminating look at what happened, and look forward to sharing it with audiences around the world."
Hulu's Fyre Fraud is oddly styled as a "true crime comedy" about the absurdism of social media culture that endows young, entitled influencers with hundreds of thousands of dollars to spend on a three-day music festival in the first place. As Wells critiques, "These guys figured out a way to optimize social media. Almost weaponize it. And then it became a significant financial crime." Yet Furst and Nason create an imbalanced tone between mocking the shallowness of social media and placing dire blame on "predatory branding, late-stage capitalism and morality in the post-truth era." While they draw valid and cogent connections between Trumpian politics and how "it's a great time to be a conman in America" (as one interviewee says), the documentary's argument is an inelegant presentation of Internet memes mixed with exclusive behind-the-scenes footage of the festival's planning.
As for Ja Rule, he's alternated between denying any responsibility for the festival and calling it his "fucking beyond brilliant" vision. For a moment in 2017, he even took to Instagram to generate hype for "Fyre Festival 2018." After the multi-million dollar lawsuit was filed, he stopped, but we have to think: while Fyre Festival was the moral fable of today's social media culture, immediacy is everything in media, and that was two years ago. Fyre festival 2019?
---
Meg Hanson is a Brooklyn-based writer, teacher and jaywalker. Find Meg at her website and on Twitter @megsoyung.
---
POP⚡DUST | Read More...

This Egg Is Hotter Than Kylie Jenner
Why "Baby Shark" Is an Evil Song—And Top 40 Hit