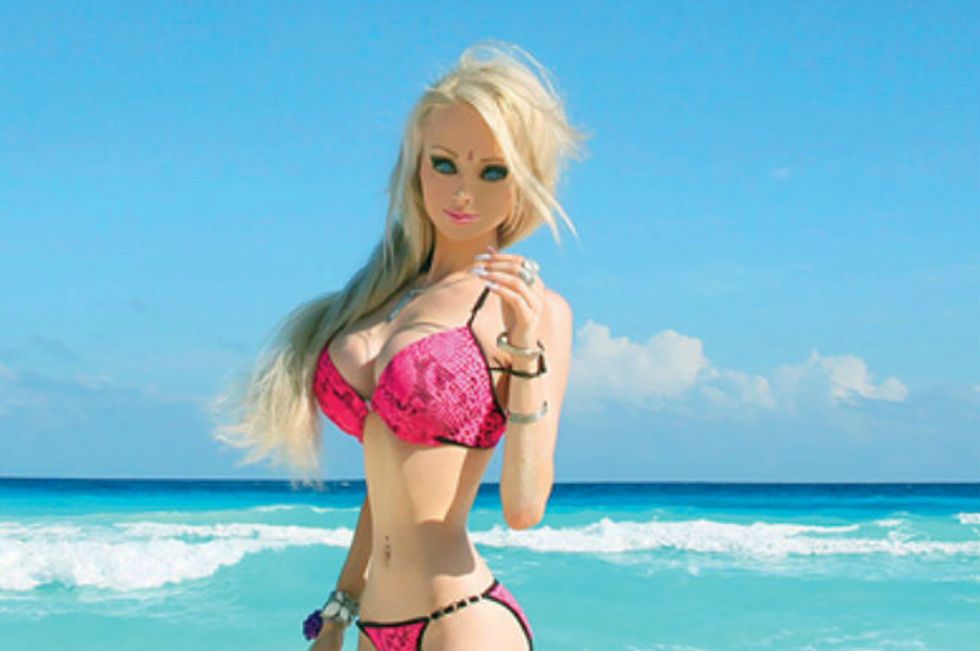 "Human Barbie" Valeria Lukyanova's interview in GQ proves she might actually be even more batshit than anyone ever suspected.
Journalist Michael Idov traveled to Odessa to spend a few days with Valeria - what results is both frightening and hilarious.
"I realize that just like everyone reading about Human Barbie, I had had a simple narrative prepared in my head: A small-town girl grows up obsessed with dolls, etc. Instead, I get a racist space alien," Michael explains.
He's not kidding - read on for some of Valeria's best moments!
On how race-mixing has ruined the standards of beauty:
"For example, a Russian marries an Armenian. They have a kid, a cute girl, but she has her dad's nose. She goes and files it down a little, and it's all good. Ethnicities are mixing now, so there's degeneration, and it didn't used to be like that. Remember how many beautiful women there were in the 1950s and 1960s, without any surgery? And now, thanks to degeneration, we have this. I love the Nordic image myself. I have white skin; I am a Nordic type—perhaps a little Eastern Baltic, but closer to Nordic."
On having children some day:
"The very idea of having children brings out this deep revulsion in me. Most people have children to fulfill their own ambitions, not to give anything. They don't think about what they can give this child, what they can teach her. They just try to shape her according to some weird script—whatever they couldn't do in life, like becoming a writer or a doctor. Or some woman who's almost 30 and thinks no one needs her, she says, 'Oh, I'll have a kid. He will love me and become my reason to live.' And then this kid becomes a soccer ball she and her boyfriend will kick back and forth."
On her plans for the future:
"I tend to cut off anything I don't need. The next step is to cut off Ukraine entirely, because all I get here is shit. Why waste myself on this?"
For the rest of Valeria's fantastically insane interview, click here.