Frontpage Popular News
Why you shouldn't fall for The Right's latest smokescreen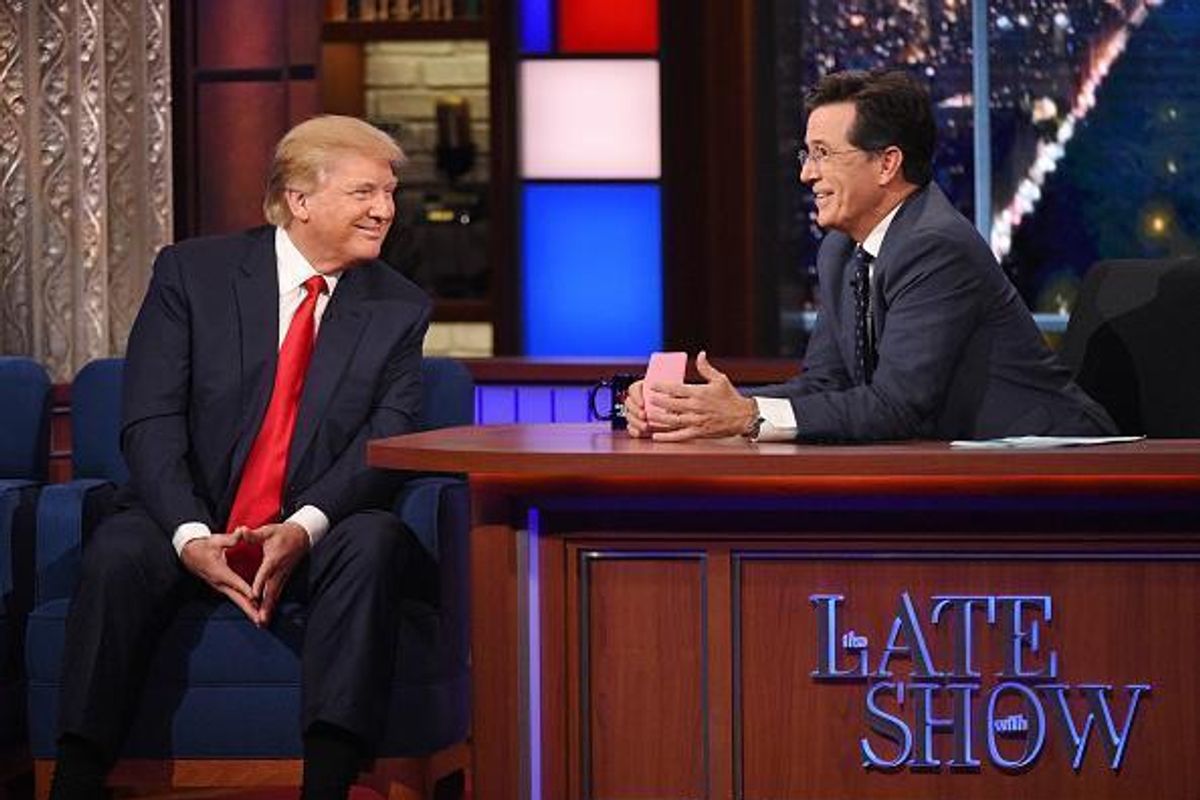 CBS Photo Archive- Getty Images
Online backlash has met the late night host this week over his Trump jokes, but they're missing the full story.
[Editor's Note: the following opinions are entirely my own.]
This past Monday, Stephen Colbert told some jokes about Donald Trump. This might no seem particularly noteworthy when you consider how Colbert has managed to rise in the late night ranks by honing in the insanity permeating from this current White House. But as Colbert unleashed an unusually fiery rant on the President as retaliation for his treatment of John Dickerson, host of CBS' Face the Nation. In his typical fashion, Colbert unleashed a score of clever insults including, "You attract more skinheads than Rogain", "You have more people marching against you than cancer", and before proclaiming the only thing Trump's mouth was good for was "being Vladimir Putin's cock holster." But in that final taunt, Colbert's right-wing enemies found their ammo to try and bring the talk show host down, launching the #FireColbert on the grounds of Colbert being homophobic.
Now we don't know if these Trump supporters have suddenly found themselves recently enlightened on the gay community and chosen to become allies, but it's hard to believe this is about anything more than the man Colbert chose to taunt. This is after all a man who's shown endless support for Putin and his extremely troubling treatment of gay citizens and whose own Vice President is an outspoken supporter of gay conversion therapy. No, this is The Right doing an about face on their stance against the evils of "PC culture" because it involved a President terrified by the specter of being mocked. This is a man who believes locker room talk is a valid excuse until it's his turn to be discussed.
So where does this leave us now? Many have already taken to ridiculing the hashtag as just another tantrum destined to be as effective as #BoycottHamilton and #BoycottStarbucks. While it's important to maintain sensitivity and compassion to gay citizens, it's hard to view anything Colbert said as a statement towards the gay community, but a portrait of the world leader's far too supportive relationship. Colbert will likely continue to take flack from the right so long as he continues to make a target out of Trump, but it's important to not lose sight of the real issues amidst this smoke screen of a scandal. The more space these faux-controversies, the more distracted citizens are from the deeply scary acts this administration is dealing. No matter what a hashtag might suggest we need Colbert now more than ever to question and mock this imitation-dictator before irreparable damage is done to our country.