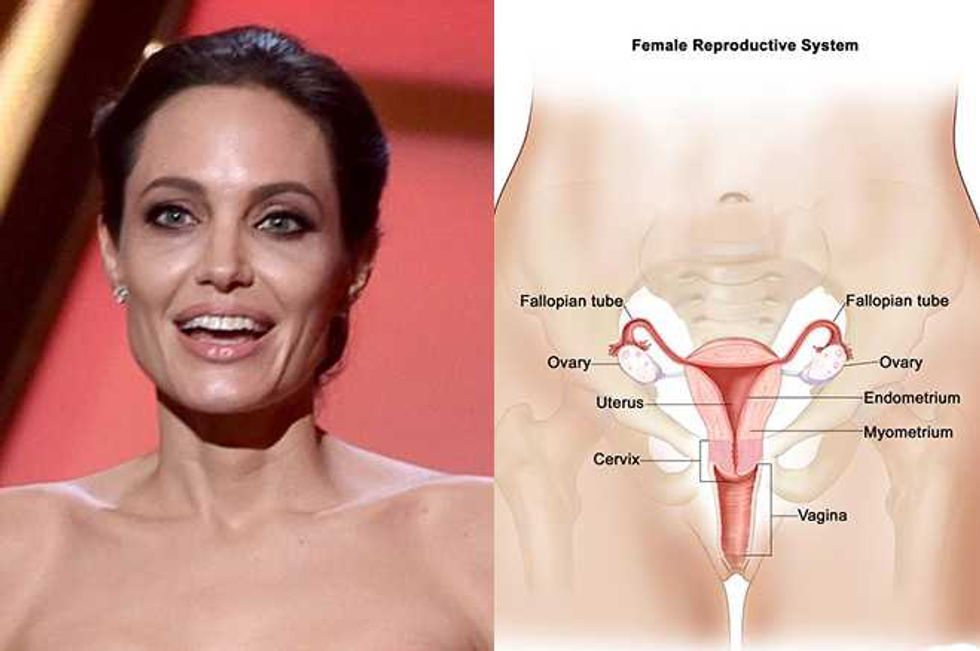 Angelina Jolie is no ordinary woman, and she proves it yet again with her warm welcome to menopause, which she loves.

The precautionary removal of her ovaries and Fallopian tubes in March of this year triggered early menopause, a state that most women dread. But not Angie!
Angelina Jolie And Family— Privileged Gypsies Who Are Better Than You
Speaking to the Daily Telegraph in a new interview, the superstar humanitarian revealed:
I actually love being in menopause.
Of course you do, Ms. Jolie-Pitt, we expect nothing less from you. Everything you do is either grand or 'great fun.' Let her continue:
I haven't had a terrible reaction to it, so I'm very fortunate. I feel older, and I feel settled being older. I feel happy that I've grown up. I don't want to be young again.
Ah, she is very fortunate, not like those other women, and at forty, it is nice to feel grown up. Sometimes you need to have some organs removed to really drive it home, that's all.
The Real Reason Angelina Jolie Hates Donald Trump
Menopause for ordinary females means a drastic reduction of estrogen, resulting in hot flashes, vaginal atrophy, urinary problems, disrupted sleep and mood changes. Removal of the ovaries brings these changes on abruptly rather than gradually. Menopause can lead to heart disease and osteoporosis.
Hormone therapy can ease these symptoms but carries with it an increased risk of cancer.
Kate Moss Vs Angelina Jolie—Two Ways To Face 40
So anyway, Angie LOVES it. It's fun for her, because she know how to have fun.
Early in her interview, Angie is asked about the rope of diamonds around her neck. She responds,
They're Tiffany. Just something I'm having fun with at the moment.
God I love her.
Angelina Jolie Brings Large Breasts To Meet Cambodian Prime Minister
I love her so much that I'm going to take the liberty of advising her on her menopause, so she can enjoy it even more.
For hot flashes, try some ice, wrapped in a washcloth, on your forehead.
For vaginal dryness, try some non-estrogen female lubricants and make sure they don't contain petroleum. You might want to ask Brad to be gentle.
Take calcium with magnesium. Bone health is key! If your bones get any frailer, you will snap like a twig.
Use more moisturizer: Estrogen was keeping your skin smooth, so now you'll need to ramp it up..
If you find yourself becoming unduly irritable, I guess you can call Tiffany's.
In the US, it's 800 843 3269.