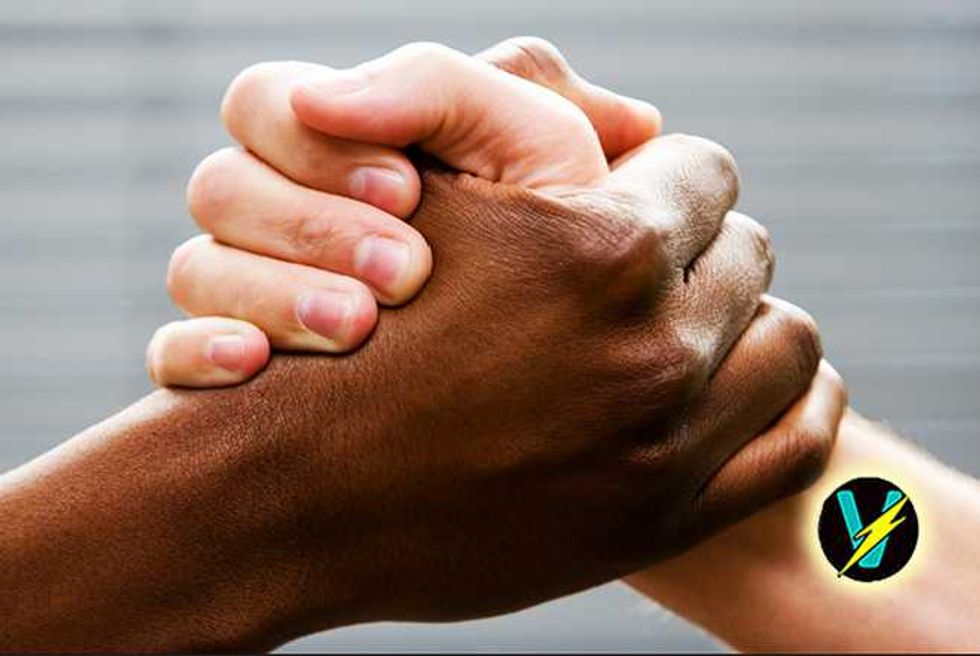 Racist harasses Muslim women ice cream shop workers unite against him—this video offers some hope for the future
An angry racist asshole got more than he bargained for when he started harassing two young American Muslim women.
The two women, who were wearing hijabs, were sitting eating ice cream with a friend in Orange County, Monday, when the anonymous guy made them the focus of his anger.
Well, strictly speaking, the re-focus of his anger.
Nura Takkish and Malaak Ammari were sitting in Andrews Ice Cream and Desserts, peacefully minding their own business, when the verbal assault started.
It kicked off after the angry racist asshole was refused service by shop workers and asked to leave the premises.
Apparently, he was being loud and abusive to staff, and demanding a phone charger.
As you do when you're inside an ice cream shop.
While he was being escorted out of the shop, he did what all ignorant racists do—turned his anger onto the "foreigners."
In this case, two young women who weren't foreign at all—both being born in the U.S.
But, they LOOKED foreign enough to this dude—and clearly that was enough for him.
Initially neither of the women heard what the man said about them—but a shop worker came over to them and apologized.
"I'm so sorry you had to hear that," she told the two women, going on to share that he had made disparaging remarks about them.
Angry racist asshole wasn't done yet though.
Oh no, he still had a LOT of anger inside him that needed taking out on somebody.
And sure enough, he soon returned—presumably because he was unable to find any "Mexican looking" people in the vicinity to harass.
But this time, the women were ready for him, and Ammari picked up her phone and starting recording.
He was pointing at our table and telling the employees,

'You refused to serve me because you were serving them.'

He assumed we're not Americans and that he deserved to be treated better.
Ammari uploaded the short video clip to her Twitter, captioning it, "When you just trying to eat your ice cream but trump supporters won't let you live"
In the video, angry racist asshole can be heard shouting, "I don't want them near my country."
Damn straight angry racist asshole! You tell them!
It's probably their fault there's no phone chargers in the ice cream shop.
"Too bad, we're here. Sucks for you," Takkish calmly tells angry racist asshole.
"Sucks for me? You'll see what happens," angry racist asshole threatens menacingly as one of the female shop employees shuts the door in his face.
Oh snap! Double whammy trigger alert!
Muslims AND women! Poor angry racist asshole!
Ammari praised the female ice cream shop workers for rallying around her and her friend.
She told Buzzfeed:
They told him, 'We don't tolerate this kind of behavior.

'We don't tolerate this kind of discrimination.

'We don't want your money.'

They escorted him out again and closed the door on him.
And, just to make sure angry racist asshole wouldn't be back to harass the women again, one of the workers stayed in her car until he had left the parking lot.
Probably to retreat to his troll cave somewhere in the manosphere and lick his wounds until the next Trump rally.
Ammari says:
It was really nice how they treated us.

We hugged it out at the end.

We're Americans, and he treated us like this is his country, his territory.

No, we're all welcome here.
Masha Allah sister. Masha Allah.
Scroll down to watch the racist harasses muslim women ice cream shop video
For more entertainment, music and pop culture updates and news, follow Max Page on Twitter
Lindsay Lohan Is Studying Islam, Reading The Koran, Getting Deep Yo
Israeli Guy Files Restraining Order Against 'Interfering' God
London Mayor Sadiq Khan Rejects Donald Trump Muslim Exception Offer
Yazidi Teen Kidnapped Tortured Raped By ISIS Details Horrific Ordeal
Watch the racist harasses muslim women ice cream shop video:
When you just trying to eat your ice cream but trump supporters won't let you live pic.twitter.com/rW3MI8a2pn

— palestina (@itsdatnunu) May 24, 2016
racist harasses muslim women ice cream shop video
Duggar Homeschool Minister Accused Of Sexual Abuse By 10 Women
Sri Lankan President Wants Enrique Iglesias Gig Promoters To Be Savagely Beaten
Save The Date—Noah's Ark Theme Park Opening In Kentucky July 2016!
Justin Bieber Gets Deep—Real Deep—Wants To Live Like Jesus
Saudi Millionaire Beats Rape Charge, Claims He 'Fell Into' Teen's Vagina
racist harasses muslim women ice cream shop video
racist harasses muslim women ice cream shop video