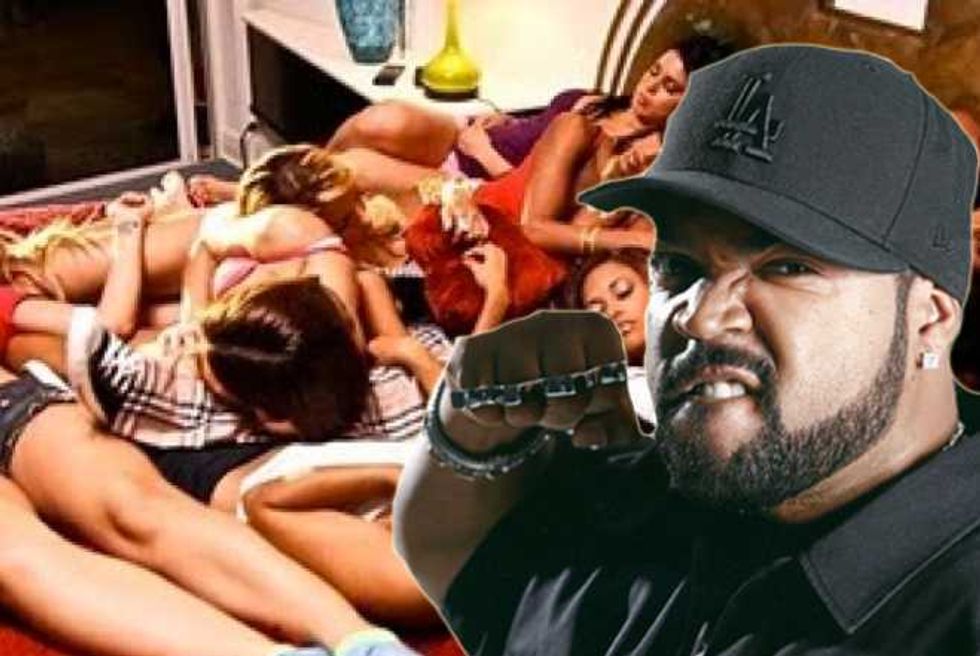 When it comes to misogyny, N.W.A makes even Donald Trump come across as a bastion of feminism.
For example:
She Swallowed It:
Punch the bitch in the eye/ then the ho will fall to the ground/ Then you open up her mouth/ put your dick, move the shit around
A Bitch Iz A Bitch:
We'll all say "Fuck you bitch!"

Now what I can do with a ho like you

Bend your ass over and then I'm through

Cause you see Ice Cube ain't taking no shit

(Why?) Cause I think a bitch is a bitch
One Less Bitch:
yo, I tied her to the bed

I was thinking the worst but yo I had to let my niggaz fuck her first yeah

Loaded up the 44 yo

Then I straight smoked the ho'

'Cause I'm a real nigga, but I guess you figure

I was soft and she thank me

coughed to the boss and got tossed

One less bitch you gotta worry about

She's outa here and that's how it turns out
Story Behind Jimi Hendrix Burning Guitar And Other Iconic Pics By Ed Caraeff
The softer, cuddlier, more mellow Ice Cube, now 46 and a millionaire, is laughing off N.W.A's lyrical treatment of women—and, he has some advice for the ladies out there that insist on defending them bitches and hoes.
The rapper, real name O'Shea Jackson, tells Rolling Stone:
If you're a bitch, you're probably not going to like us. If you're a ho, you probably don't like us. If you're not a ho or a bitch, don't be jumping to the defense of these despicable females.

Just like I shouldn't be jumping to the defense of no punks or no cowards or no slimy son of a bitches that's men. I never understood why an upstanding lady would even think we're talking about her.
In Defense Of Sweet Home Alabama And Why It Does Not Deserve Its Racist Legacy
Later in the interview, Cube's former bandmate, Dr. Dre discusses his past penchant for smacking bitches up—including that time back in 1991 when he assaulted TV host, Dee Barnes, and charges of physical abuse by his ex-girlfriend Michel'le:
I made some fucking horrible mistakes in my life. I was young, fucking stupid. I would say all the allegations aren't true – some of them are. Those are some of the things that I would like to take back. It was really fucked up. But I paid for those mistakes, and there's no way in hell that I will ever make another mistake like that again.
Cube and Dre got back together, along with the other surviving members of N.W.A—M.C. Ren and DJ Yella—to discuss the band's history, ahead of the release of Straight Outta Compton, the movie version of their career, which hits theaters this week.
Never Before Seen Elvis Photos Show The King's Intimate Side
Not surprisingly, there's plenty of controversy surrounding the movie's release, with some calling for a boycott (although, the Boycott This Movie!! Facebook page had only racked up a measly 52 likes at time of posting)
Cube explains to Rolling Stone that he wanted the movie to provide context for N.W.A's controversial songs:
You had to see why we did the music. You know, not just 'we were young, angry niggas out of South Central,' but why did we make those kind of records?

We were living in the middle of dope dealing, gangbanging, police brutality, fucking Reaganomics, and there was nowhere to escape.
Meanwhile, the F. Gary Gray directed flick has gotten some rousing support, and a gushing review, from one unexpected quarter—Oprah Winfrey.
The 61-year-old heaped praise on the bio-pic, calling it "Powerful! Powerful! Powerful!" in a Tweet to Selma director Ava DuVernay.
Rock God Retrospective—Look Back At Van Halen On 30th Anniversary Of Jump
One Twitter follower, named, Gina, was pissed at Winfrey for giving props, firing back, "Do they show how NWA promoted misogyny and violence against Black women? #StraightOuttaCompton"
Ever the diplomat, Winfrey sidestepped the criticism, replying, "Shows the history of how it all started" ...and after "Gina" continued to press the point, criticizing black women for supporting the movie, the big O shut her down with a final tweet on the subject, "It was eye opening rap education for me. #StraightOuttaCompton"
Nicki Minaj Lyrics Analysis Uncovers Surprising Deep Hidden Meaning
Queen O has spoken y'all!
Straight Outta Compton hits theaters August 14