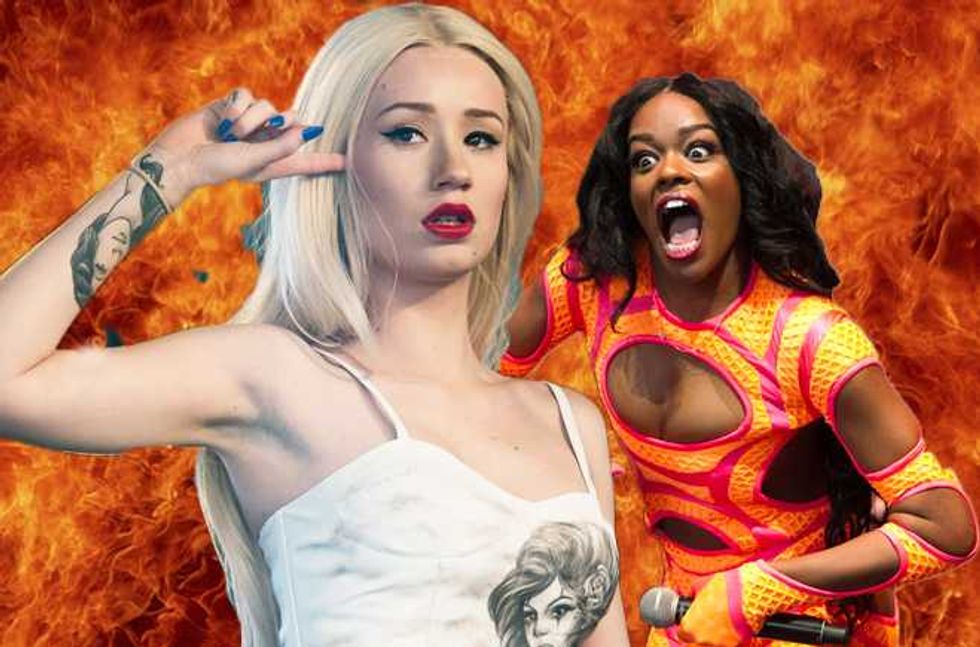 The feud between Iggy Azalea and Azealia Banks has reached new, ugly heights with insults being traded back and forth on Twitter.
As Popdust previously reported, Azealia tore into Iggy on Twitter weeks ago, calling her "Igloo Australia" and calling T.I. a "coon". Iggy never responded to her directly at the time, but Azealia's latest comments couldn't be ignored.
In a new interview with Hot 97, she goes after Iggy once again, questioning her talent and racial credentials.
"I feel like in this country, whenever it comes to our things, like black issues or black politics or black music or whatever, there's always this undercurrent of kinda like a 'fuck you," she said. "That Iggy Azalea shit isn't better than any fucking black girl that's rapping today...The Grammys are supposed to be accolades of artistic excellence. Iggy Azalea is not excellent."
Iggy clearly didn't appreciate being slammed yet again, and issued a "Special msg for banks" on Twitter:
"There are many black artists succeeding in all genres," she wrote. "The reason you haven't is because of your piss poor attitude...Your inability to be responsible for your own mistakes, bullying others, the inability to be humble or have self control. It's YOU!"

"you created your own unfortunate situation by being a bigot and don't have the mental capacity to realize yet," she added. "Probably never will."

"Now! rant, Make it racial! make it political! Make it whatever," Azalea continued, "but I guarantee it won't make you likable & THATS why ur crying on the radio."

"Enjoy continuing to bang your head against that metaphoric brick wall & Savor this attention. I'm the only way you get ANY," she tweeted. "You're poisonous and I feel genuinely sorry for you because it's obvious at this point you are a MISERABLE, angry human being. Regards!"
Azealia came back at her with:
"Dear LordT (sic), I Pray for this Clueless White Girl...None of this will make sense to her until she herself has children with a black man and has to deal with having black children in America."

"The interview was about things way beyond your mental capacity. You have absolutely no place to comment."

"Itchy Areola, you are so stupid and selfish to make any of this about yourself in particular," Azealia wrote. "My tears had absolutely nothing to with you and everything to do with society and the media in general."

"@Iggyazalea do you know what a minstrel is? Because that's what you are....." (and posted a photo of a white person wearing blackface).
Sorry Azealia but this really really REALLY sounds like bitterness and jealousy. Focus on your own damn shit!