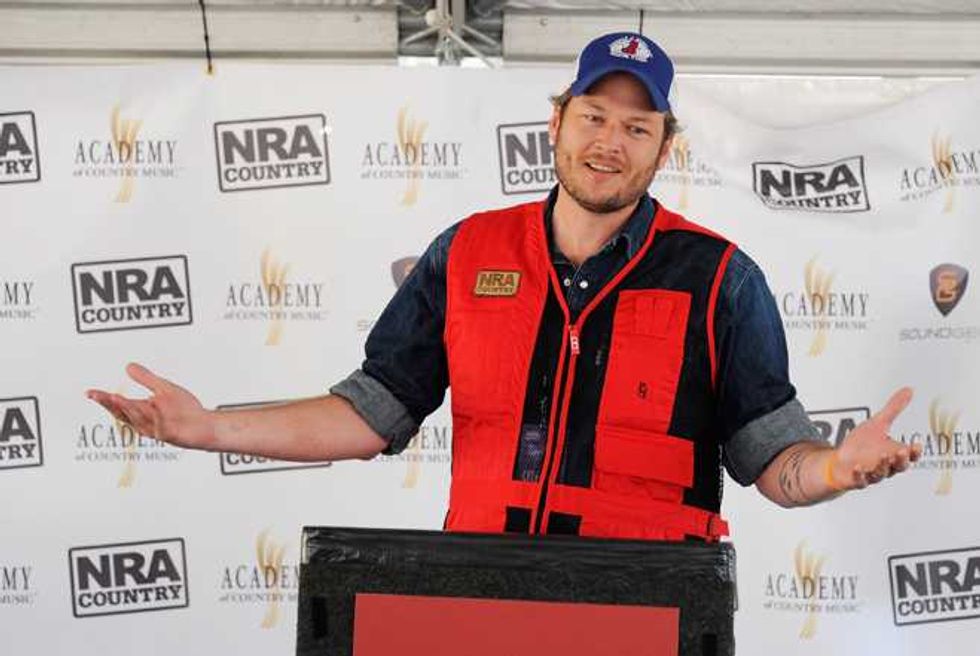 by Chris Willman
Country music was once a hotbed of anti-gun fervor—for about five minutes, anyway, when Johnny Cash released his 1958 chart-topper Don't Take Your Guns to Town.
Cash's "young cowboy named Billy Joe" ignored his mama's advice to disarm before heading into the city, insisting that "I wouldn't shoot without a cause / I'd gun nobody down."
But a gun that's introduced in the first verse is bound to go off in the fifth, and after drinking and drawing, poor Bill repeats the title admonition to himself as he bleeds to death at song's end. Has there ever been a more compelling gun-control anthem?
Cut to today.
New country, meet Newtown.
Two years ago, when Staind singer Aaron Lewis successfully crossed over to country, he established his rural cred by recording a song called Country Boy in which he bragged that he never goes to town without some serious firepower.
"Hank taught me just how to stay alive," he sang (referring, of course, to Junior, not Senior).
"You'll never catch me out the house without my 9 or .45."
You could write this off as the grunge frontman being an overcompensating carpetbagger.
But he's got plenty of company among country music's homegrown heroes.
There is a reason that the National Rifle Association has in recent years undertaken a Nashville-supported initiative called NRA Country, and that there is no concurrent NRA Indie or NRA Dubstep program.
The most popular male country singer, and reigning CMA Entertainer of the Year, is Blake Shelton, a poster boy for loud 'n' proud gun ownership.
Last March, the day before he hosted the annual ACM Awards in Las Vegas, he also hosted the second annual NRA Country "celebrity shoot" at a skeet range just outside of town.
Shelton's publicist points out that the event was for charity and that the star is not officially an "NRA Country artist," a monthly designation that entails a sponsorship by the gun lobby. (Like nearly all the artists contacted for this story, Shelton declined comment.)
But Shelton hasn't exactly been shy about his views, taking on anti-gun types in his Twitter feed almost as enthusiastically as he takes on vegetarians.
In 2011, Shelton cheerfully invoked the great divide between gun enthusiasts and detractors to an audience at Nellis Air Force Base in Las Vegas.
"I had mentioned to a couple tree-huggers out there [in L.A.] that I was gonna come out here and do an NRA Country skeet shoot," he told the crowd of soldiers and their families.
"They said, 'Man, you're gonna go out and shoot guns? You're a celebrity now. Don't you think that's a little irresponsible to be shooting guns? You're supposed to be a role model.'
"I want to dedicate this song to that person. Because if you don't think that I ought to be shooting guns and bragging about my right to keep and bear arms, then you can"—here comes the song title—kiss my country ass, man.
In the wake of December's Sandy Hook school massacre, and the subsequent calls for comprehensive gun-control reform, most country singers have been silent on the issue.

Shelton, though, tapped out a tweet upon first hearing the news, only to retract it later.
"The killing of defenseless people and innocent children. I'm sad and sickened. This is why we all should be prepared to defend and guard," wrote the breakout star of the hit reality-TV series The Voice. He soon deleted the tweet, but not before it became a newsmaking screen cap.
More recently, another famous Nashvillian, John Rich, has taken up the gauntlet of defending the Second Amendment against possible proscriptions. The Big and Rich co-frontman and reality-TV regular was initially quiet after the Sandy Hook massacre, perhaps not wanting a reprise of the controversy following the Aurora, Co. theater killings in July, which prompted Rich to tweet, "Shooting in CO is why people should have their carry permits. Had I been there I would have unloaded on that maniac till he stopped breathing."
But Rich came out of his shell in a big way last week, now that sensitivity has cooled and President Obama has put gun legislation on the table. Parroting the NRA talking points, Rich tweeted, "The kids of many high ranking Govt officials have armed guards at their schools. Why are their kids more important than ours? ‪#hypocrisy." And: "My two small sons lived with an armed guard in the house. ME." And, in a slightly more jocular mode: "Glad Granny Rich doesn't live in NY state. She'd have to give up her .22 squirrel gun due to it having a 10 round clip. BAD GRANNY! BAD!!" Responding to an antagonist who said "You don't need assault weapons to protect your family!," Rich replied, "In your 'expert' opinion, what weapon SHOULD I use to protect them?" And, finally, tellingly, "Pretty cool when you get a random call from TED NUGENT and he wants to jam with you in VEGAS!"
The far-right Nugent is an odd man out in the liberal confines of rock'n'roll. On Music Row, though, few would bat an eye at Shelton and Rich's pro-gun stance, and even fewer would loudly lobby on behalf of gun control. This may make the genre seem hopelessly outré to some blue staters. But if it's true, as a New York Times poll recently stated, that 47 percent of Americans have a gun in the household, then country music may be a valuable window for gun-control advocates into how the other half lives.
Through most of the history of country music since the 1930s, guns have rarely figured into songs, except, in an anachronistic way, during the resurgence of Western-themed gunslinger ballads in the '50s and '60s. Certainly, a geographic overlay of the country audience would have revealed that most fans owned a gun for either hunting or self-protection—but it didn't occur to many Music Row tunesmiths to write songs about it.
But as the music itself has become more cosmopolitan, infiltrated by pop and '70s rock elements, the lyrics have taken a turn towards a more entrenched, sometimes cartooonish ruralism. Country is no longer so much about a sound as a lifestyle. Pickup trucks have been the main beneficiary of the music's move to position itself as regional and recreational, but along with mud on the tires, there is also sometimes a gun rack mounted on the rear window.
Multiplatinum artist Brad Paisley—a hunting enthusiast, like most country stars—has been an unofficial ambassador for guns as grist for humor and wholesomeness. Last year, he released "Camouflage" as a single, getting several minutes' worth of fun out of the idea that ladies can't resist a guy in leafy green. And then there was his inoffensively anti-metrosexual anthem "I'm Still a Guy," which had the memorable couplet, "Oh, my eyebrows ain't plucked / There's a gun in my truck / Oh thank God, I'm still a guy."
On the still-a-girl side, acclaimed singer-songwriter Miranda Lambert–better known to tabloid readers as Mrs. Blake Shelton–bragged about using "Gunpowder and Lead" to deal with a woman-beater on her breakthrough 2008 single. It's gunpower as girl-power, and probably nothing that anyone on either side of the gun divide takes too seriously, although the imagery certainly resonates in a way it wouldn't in pop.
There is crossover between lightheartedness and belligerence, as in Rodney Atkins' 2006 No. 1 country single "Cleaning This Gun (Come on in Boy)," which explores the tradition of fathers intimidating their daughters' suitors: "Hey y'all run along and have some fun / I'll see you when you get back / Bet I'll be up all night / Still cleanin' this gun." Think Ward-Cleaver-with-a-musket—the best of all possible country worlds, where fatherly devotion and male cantankerousness collide.
But there's less of a Leave It to Beaver vibe to the recent streak of don't-tread-on-me anthems. These owe a huge debt to Hank Williams Jr.'s "A Country Boy Can Survive"—an anomaly when it came out in 1982 but one of the genre's most influential songs to a new generation of out-and-proud redneck stars. Hank Jr. described a friend in New York who "was killed by a man with a switchblade knife / For 43 dollars my friend lost his life / I'd love to spit some beechnut in that dude's eyes / And shoot him with my old .45." Thirty years of unhinged public outbursts have made the idea of Hank Jr. being within grabbing distance of a child's slingshot cause for alarm, but in country, the man remains a grandfathered-in cultural hero.
Fast forward three decades and budding stars Justin Moore and Josh Thompson are taking up the Hank Jr. policy position in a very single-minded way. "Our houses are protected by the good Lord and a gun / And you might meet 'em both if you show up here not welcome, son," sings Thompson on his top 20 hit "Way Out Here." Moore's bluntly titled (and racially charged) "Guns," meanwhile, takes the cold-dead-hands approach to gun control. "When I was eight I used a muzzle loader to kill my first doe / These days I go down to Wal-Mart and they set 'em in the back / Some people wanna take 'em away, why don't you go bust them boys that sellin' crack," sings Moore—perhaps the first celebrity to berate Wal-Mart for not promoting guns enough. "Guns, whether Remingtons and Glocks / Come on man, it ain't like I'm a slingin' 'em on the block / I'm gonna tell you once and listen, son / As long as I'm alive and breathing / You won't take my guns."
The song "is a little bit in your face," Moore said when I talked with him about it on the eve of its release. Moore is no fringe act; he was nominated for Breakthrough Artist of the Year at the 2012 ACM Awards, and records for an imprint of Big Machine, best known as label home to Taylor Swift. "I remember my grandpa telling me one time that as long as he was alive and breathing, nobody was gonna take his guns. That's just the way they were back in the old school, and I still respect that day and time."
"Guns" singer Justin Moore // Kevin Winter/Getty Images
But how much of this strain of country is about relishing the culture war? One label head in Nashville, who requested not to be identified, believes that "much of the dark part of gun ownership, especially in the deep South, stems back to [an opposition to] sneering elites, a government that no longer resembles them, and—yes, I'm going to go there—the loss of the Civil War... and frankly arming up not to lose another."
Southern-rock icon Charlie Daniels, like Hank Jr., couldn't get on country radio anymore if the Second Amendment depended on it, but he's still a revered figure among many country fans, politically as well as musically. And he surely spoke for many when he blogged two weeks ago: "The president and the anti-gun crowd claim they do not want to do away with private ownership, that they only want to modify the existing laws having to do with assault... I submit to you that what is going on here is the first assault on private gun ownership. They will take whatever they can get now and continue to chip away until all you can legally own to protect your family with is a baseball bat... America, no matter what Obama, Biden, Pelosi, Reid and the rest of the far left in America say, they want your guns. They want them all. Don't just wait and see."
Many in the Nashville music business are worried that country may get caught in the middle of this brewing battle, and that Second Amendment fundamentalists such as Rich and Daniels could define the genre's position on gun rights.
"I would say the community is conflicted," says one of the most powerful executives in Nashville, who also requested that his name be withheld. "Only the extreme right has stepped out on this. And that will never be Nashville. That will never be Lady Antebellum or even Jason Aldean. It's too touchy. Most of our artists will stay quiet and appropriately solemn. But you never know.
"If I could do anything," the executive continued, "I'd push the NRA out of it. I resent the incursion of the gun lobby into this music, and I think I'm not the only one. NRA Country is subversive. It's like The 700 Club sponsoring country music artists. In fairness, I wouldn't want anybody buying up our artists who is trying to counter the view of the NRA, either. I wouldn't want there to be Anti-NRA country—as if you could recruit for that!"
NRA Country was launched two years ago as a program for participating artists—or "NRA Country family members"—to promote the firearms org, and, of course, vice versa. NRA Country has its own "fan club" that encourages the rank-and-file to vote for current and previous "NRA Artists of the Month" at awards shows and enter contests to win their merch. There's even a This Is NRA Country compilation CD that includes Atkins' "Cleaning My Gun," Montgomery Gentry's "My Town," and Craig Morgan's "I'm Country." Not all of these songs explicitly mention guns, but then, neither does NRA Country's website, which describes "a celebration of American values" that's "powered by pride, freedom, love of country, respect for the military, and the responsibilities of protecting the great American life."
Although NRA Country hadn't drawn much attention prior to Newtown, the program caught caught some heat when observers noticed that the last tweets the NRA sent out the day of the school massacre were reminders that country rapper Colt Ford was about to do an online NRA event, followed by a furtive "apologies for the inconvenience" addendum that Ford's gun-themed "tweet & greet" would need to be rescheduled.
For this story, I approached for comment more than a dozen artists who'd either received NRA Country sponsorships or attended NRA-sponsored events. All but one declined to be interviewed. But after being on the red carpet at NRA Country's celebrity shoot last March, I already knew that most would say the NRA is primarily an organization devoted to safety, not lobbying.
"They teach children how to be safe with guns," Justin Moore had told me. "They said that the accidental deaths caused by guns is one-tenth the amount of what it was I think 20 or 30 years ago. So they're doing a lot of really great things." (Moore is enough of a flagship artist for the cause that he was drafted to create a title track for the This Is NRA Country CD. His lyrics, interestingly, never outrightly mention guns: "There's a boy down the road on a bridge with his fishing pole / There's a soldier huggin' his dad after gettin' home / There's a man in his overalls plowin' across his piece of ground / You don't have to look far all you gotta do is look around / This is NRA Country.")
The NRA's celebrity-shoot events have drawn acts not normally associated with the more aggressive side of country, like lite-rock trio Edens Edge, the Band Perry and Rascal Flatts. "What I learned, which is really cool," said Dean Berner of Edens Edge on the red carpet last spring, "is that only 15 percent of the NRA's budget is the political side. The political side is where all of the controversy is. Most of what NRA does is safety and training for policemen and military and for kids."
Within an hour of all this apolitical talk, Academy of Country Music CEO Bob Romero was standing at the podium in front of the participating artists, shaking hands with NRA CEO Wayne LaPierre and mentioning the need to work together to turn Obama out of office. Then Romero chuckled and added that maybe he shouldn't be saying that.
NRA CEO Wayne LaPierre, at a press conference following the Sandy Hook school shootings // Alex Wong/Getty Images
If you go to the front page of NRA Country website, virtually all the text is about shared American values, with hardly a mention of guns. It's country = outdoorsy lifestyle = ideology. Even that weaponless verbiage bothers one Music Row exec, who says, "As a guy who's had to go to New York, L.A. and Chicago and be in a bunch of ad agency conference rooms describing why country music is popular, I don't like to see the clichés about country music flashed back at you on the NRA Country site."
The one NRA Country artist who is willing to go on the record is Heidi Newfield, formerly the lead singer of Trick Pony, now a solo artist. Newfield will defend the right to bear arms, but not the right to bear assault weapons.
"I'm from northern California," says Newfield, "and we hunted for our food until I was a teenager and we moved to Nashville. I am a proud member of the NRA. I want the right to defend myself in my own home responsibly, and to hunt game and eat what I kill. But there's a fundamental difference between our right to defend ourselves, and [the right to own] these types of rifles that people are getting a hold of and walking into buildings and schools and gunning people down with. I don't know of a deer hunter on the planet who needs a semiautomatic rifle. Owning an assault rifle, to me, it's simply unnecessary. I differ from the NRA on that stance and I make no qualms about that."
Some in Nashville object to the prospect of country getting tarred with the gung-ho-for-glocks reputation when violent imagery is rife in hip-hop, video games, and Hollywood. And the primary face of country in the 21st century isn't likely to rep the right to bare anything but occasional cleavage and her feelings about Harry Styles.
But, crossover queens notwithstanding, there will likely to continue to be a war for the soul of country's more regionally specific side. Are the genre's millions of well-armed fans best represented by hunting-themed novelty songs like Luke Bryan's light-hearted "Drinkin' Beer and Wastin' Bullets" (which, with its mixture of alcohol and firearms, isn't likely to show up on the next NRA compilation)? Or by the chest-puffing, anti-government paranoia and protectionism of Charlie Daniels' unapologetically rightist blogs?
One thing for sure: In today's country music, taking your guns to town isn't just a turn of phrase in a hit song.