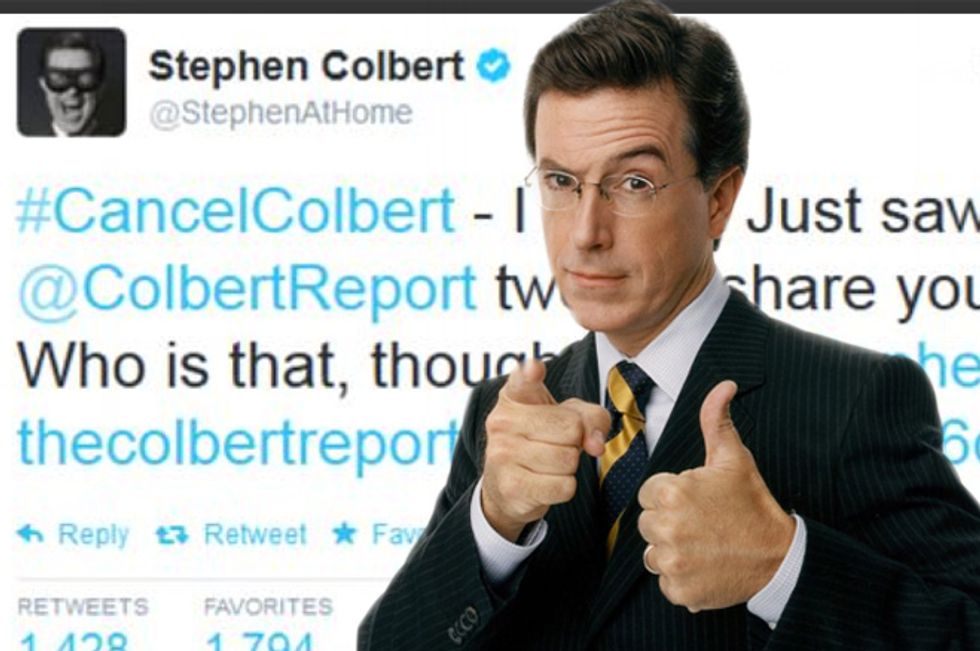 Well this one's a first.
Funny guy Stephen Colbert is under fire after an official, verified, Twitter account for Colbert Report,  sent out a tweet skewering the Asian community that was seen by many as offensive and racist.
"I am willing to show the #Asian community I care by introducing the Ching-Chong Ding-Dong Foundation for Sensitivity to Orientals or Whatever," the Tweet read.
Hmm…
The hashtag #CancelColbert immediately started trending after freelance writer and online activist, Suey Park, called for the show to be taken off air.
Colbert has made it known that he didn't have anything to do with the tweet and Comedy Central has released a statement backing him up—explaining the Colbert Report Twitter account is handled by the network and not by anyone affiliated with the show.
The post has since been deleted, but it looks like the "scandal" will not be dying down anytime soon. However, as is often the case in such social media invented furors, everything has been blown out of proportion and misinformation is ruling the day.
The badly thought out and poorly executed tweet was actually in reference to a skit that had aired earlier on the Colbert Report about the racist and offensive nature of the Washington Redskins name.
Colbert's ultraconservative alter ego is always saying crazy things. And when taken out of context, it makes the real Colbert look like a real prick. But come on folks, context is everything.
The 'joke' was actually about Dan Snyder, owner of the Redskins, and his decision to not change the name (which a lot of people think is racist toward Native Americans), but to start a Washington Redskins Original Americans Foundation instead.
I think it's safe to say that, thankfully, The Colbert Report will not be taken off air. But man, this one's gonna take awhile to live down. Better luck next time, Stephen.
Meantime, you can watch the skit below.