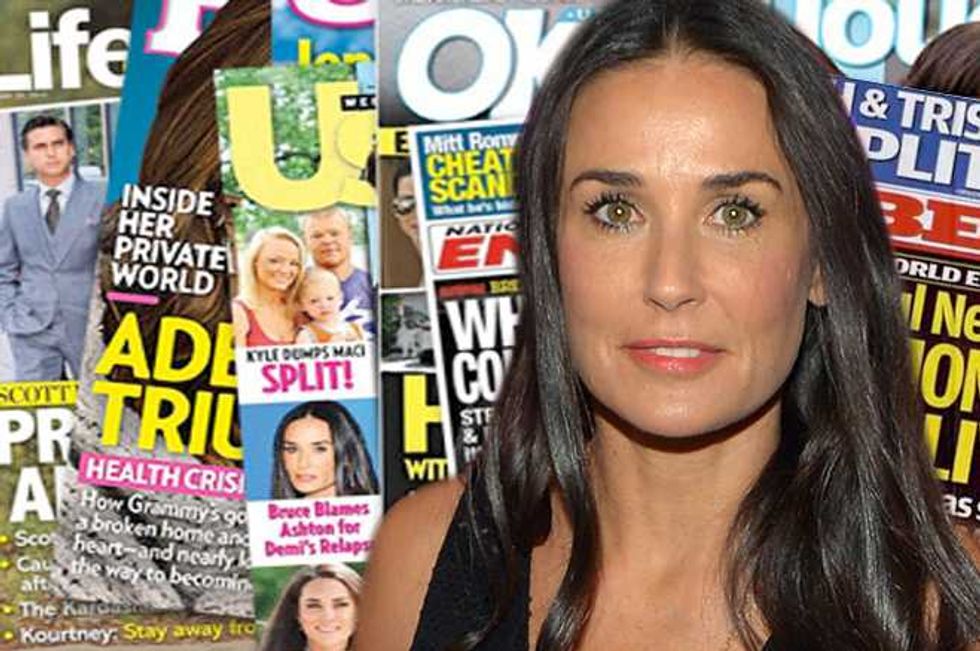 With the news that Ashton Kutcher has impregnated girlfriend Mila Kunis, the gossip mill was primed to spit out a story on Demi Moore's reaction.
Nature abhors a vacuum and so does the entertainment press. So the tabloid press quickly worked up an angle: 'Demi to Reinvent Herself', is the gist of its story.
Boom! Try googling Demi Moore and look how this 'exclusive' has been repeated all over the world wide web, with nothing to back it up beyond the initial scoop from an unnamed "source".
The purported reinvention is so nebulous that anything Moore does next, whether an ad campaign or movie role, can be regarded as part of the new roll-out of Demi point two.
But wait. The scoop also contains this prediction, delivered as though from a gypsy fortune teller: Demi will re-emerge with a message! This is pretty damn exciting, Will it be a religious message or just a message message? Who can say?
The real news about Demi Moore is that there is no news. Other gossip sites are trying to spin their own angles, like 'Demi converting Jen Aniston to Kabbalah' but that one got laughed off in short order. Jen is evidently seen as too pragmatic for anything spiritual.
Other efforts at concocting Demi's reaction to Kutcher's impending fatherhood range from 'Demi Near Breakdown' to 'Demi rushes to Marry Before Ashton Does!'
Somehow, the Demi Reinvention Plan is now the story of record. Let's change that! How about these instead:
Demi Moore sets her sights on Mick Jagger, now that he's back on the market!
Demi Moore planning a make-over for Tallulah, who is jealous of Rumer's new chin!
Demi Moore to focus on women's health, or her own line of hair products!
Or, maybe, can we have her join a convent, just for fun?
We deserve something better than the Reinvention story, something with more details and more sex, or if we can't have sex, what about chastity for Demi Moore?