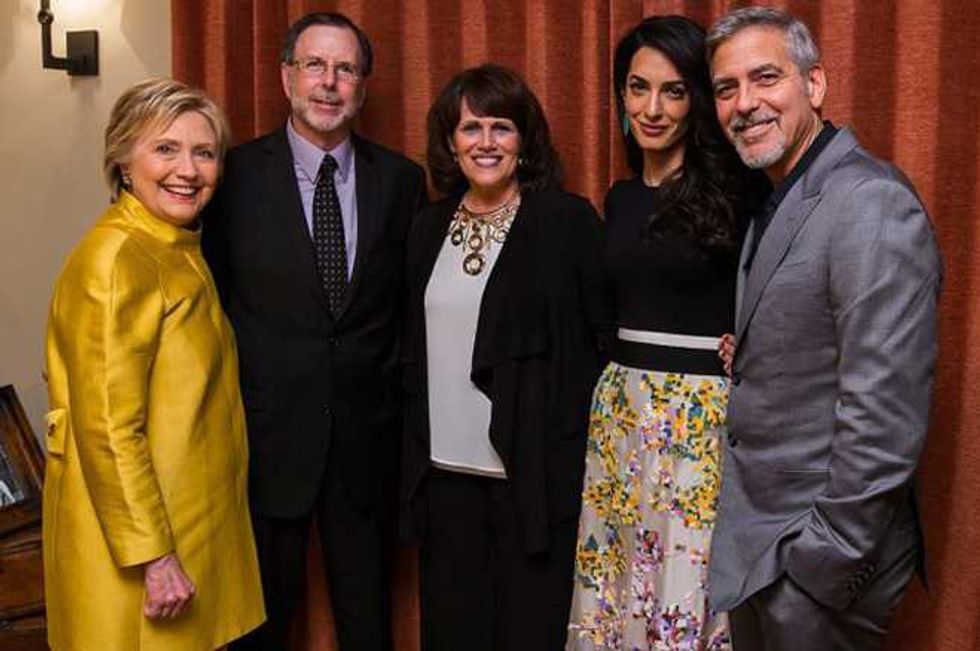 Mr. and Mrs. George Clooney threw an obscenely expensive fundraiser for Hillary Clinton over the weekend, charging $350,000 per couple to mingle with the stars.
We know that this kind of money is obscene because George said so himself, when queried about the fundraiser on Meet The Press.
George is disgusted by the big money in politics, but insists that The Democrats are forced to raise money like this because bla bla bla bla.
He also said he looks forward to getting 'this obscene, ridiculous amount of money out [of politics] so I never have to do a fundraiser again.'
It's always terrible when George has to defy his own principles to get things done. Imagine how disgusted he must be with himself for paying $14 million castle in England when he already owns several other lavish properties?
Clooney only wants to do good, like in Darfur, or when Amal needs a new tennis court.
In any case, the event raised an unprecedented $15 million, a large chunk of which will go to Hillary's presidential campaign.
While Clooney says he looks forward to Clinton being elected and working to overturn the  Citizens United ruling that allows for big corporate money in politics, Glenn Greenwald points out in The Intercept  that the Clinton campaign's argument in favor of her fundraising methods, particularly the money she receives from Wall Street and other "influential" sources, mirrors the majority Citizens United ruling:
Expenditures, including those made by corporations, do not give rise to corruption or the appearance of corruption.
Sure they don't, George and Hillary.
Setting aside hypocrisy, lets focus on what you got for your $350,000 dinner. Have a look at the menu, captured by on the the esteemed guests, Anastasia of Beverly Hills, the eyebrow lady.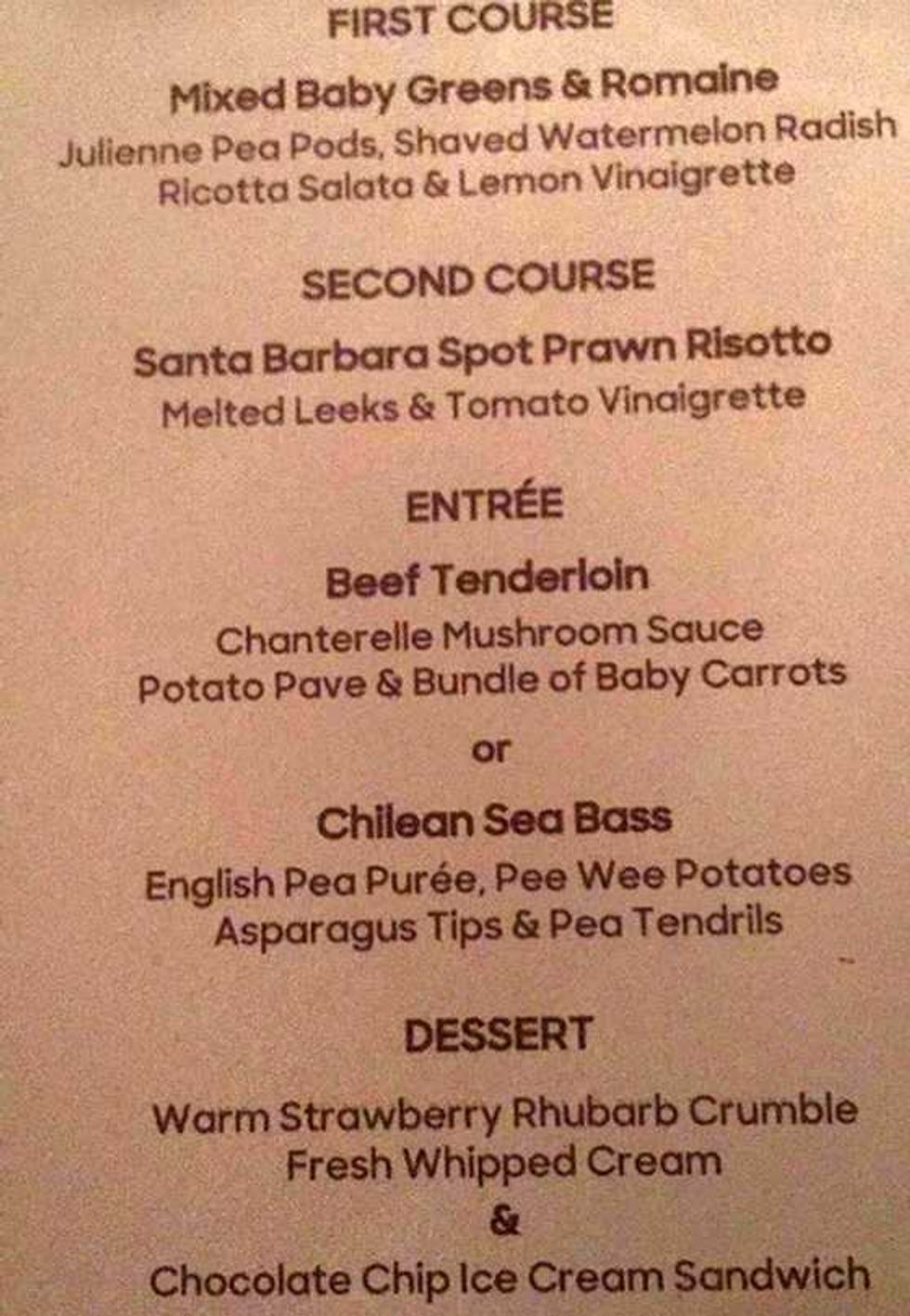 They had me at Pea Tendrils!
Amal Clooney wore a long dress by Giambattista Valli, one of her favorite European designers.
Sadly for her and for those who imagined the creme de la creme of Hollywood royalty would on hand to justify the price of the dinner, the biggest stars in attendance besides the Clooneys were Ellen and Portia.
Here are the notoriously happily married Clooneys along with Anastasia, who presumably is responsible for Amal's luxurious and abundant brows.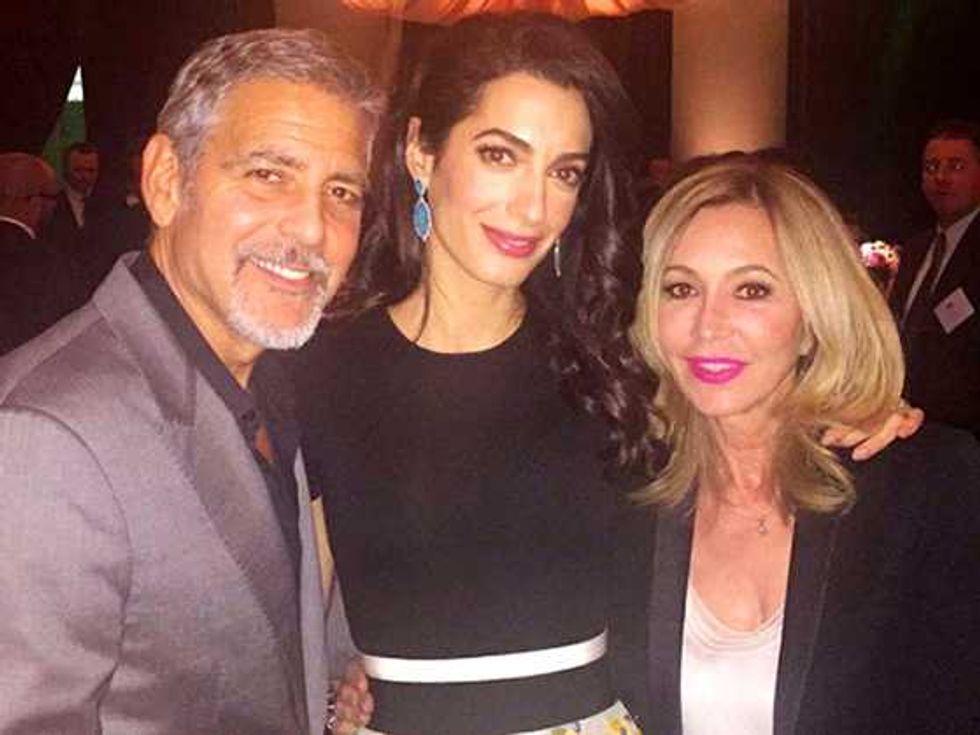 And here's a look at the dining area.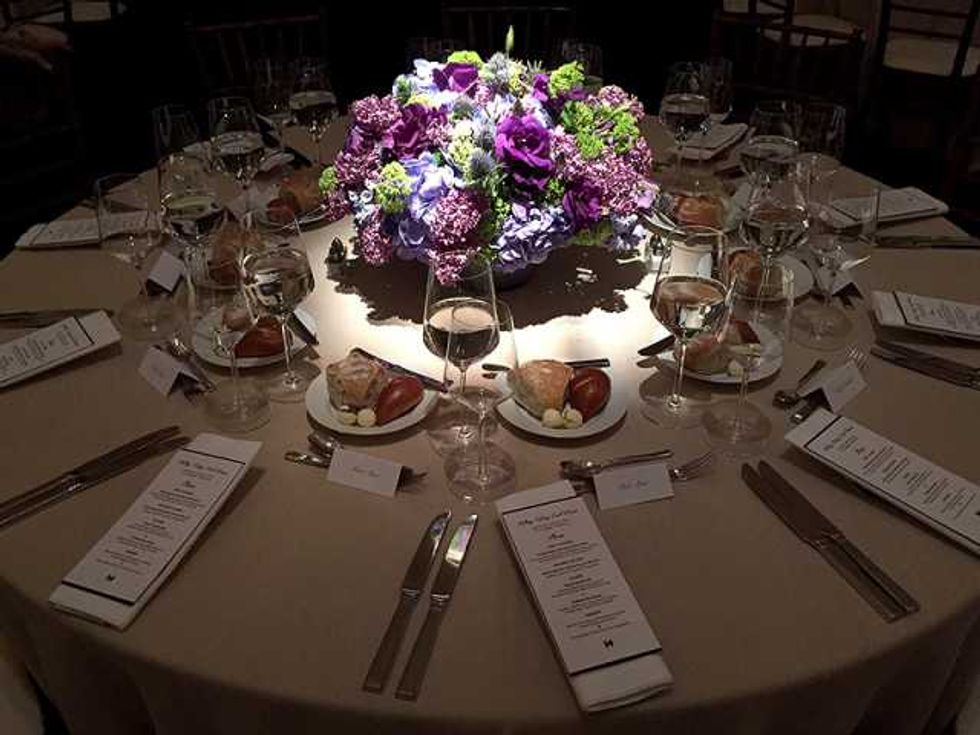 Let it be noted that each guest received not one but two balls of butter!
Say what you will, the obscenely expensive Clooneys know how to entertain.