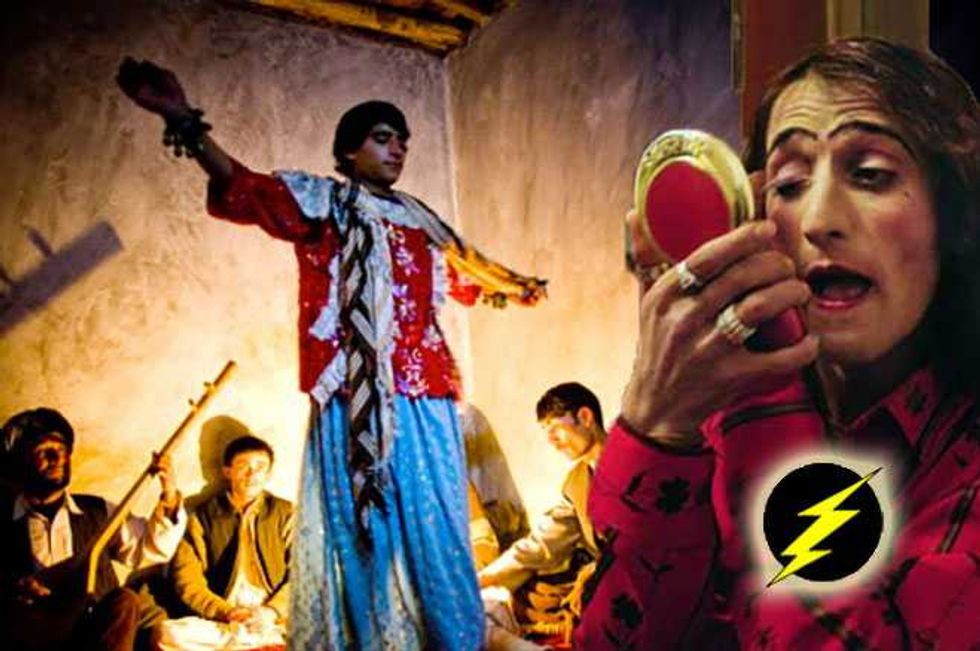 In Afghanistan, women are not allowed to dance in public. But boys are.
"Bacha Bazi" is an ancient Afghan tradition where boys dress up like women and dance for crowds of men at parties. The term literally translates as "playing with boys."
But, the dancing isn't where the scandal lies—It's not uncommon for the boys (Bachas) to be approached after the parties and taken to hotels—there, they are sexually abused by the male party-goers.
It's an ancient practice, and the men perpetuating it are wealthy, and powerful.
Meet Paradise Sorouri—Afghanistan's (Absolutely Amazing) First Female Rapper
Although the practice was banned by the Taliban, and is still illegal under Afghan law, some like to keep several boys around to serve as status symbols.
The boys, often as young as 12, are from poor families, or have been orphaned. Adding to the tragedy, they are discarded as Bachas by the time they are 20-years old, deemed too old to pleasure anyone anymore.
There have been reports of older Bacha Bazi being murdered to ensure their silence—and those that do escape alive often turn to drugs and prostitution in an attempt to eek out a living.
The BBC was able to speak with one Bacha about his experience. He was just 15-years old, and called himself Omid.
Child Brides—Little Girls Forced To Wed Men Decades Older
After his father died from stepping on a landmine, Omid was left to care for his mother and two younger brothers.
He told the BBC, "We were hungry, I had no choice. Sometimes we go to bed on empty stomachs. When I dance at parties I earn about $2 or some pilau rice."
Omid spoke openly about the seedier side of Bacha Bazi. He admitted to having been gang raped in the past.
When asked why he doesn't go to the police, he said, "They are powerful and rich men. The police can't do anything against them."
While Omid and other boys like him can surely confirm that the tradition of Bacha Bazi is alive and well throughout Afghanistan, there is widespread denial concerning its existence.
Heartbreaking Story Behind That Photo Of A Dead Syrian Boy On A Turkish Beach
The BBC also spoke with Muhammad Ibrahim, the deputy Police Chief of Jowzjan province. He denies that the practice is still around.
He told reporters, "We haven't had any cases of Bacha Bazi in the last four-to-five years. It doesn't exist here any more."
The practice itself is shocking. But the fact that society continues to sweep it under the rug isn't. This kind of socially embedded pedophilia stands in direct contradiction to the norms set down by Islamic societies.
Yet it endures.
It also exemplifies how the division of the sexes has translated into something more disturbing than an off-centered society.
Powerful men are able to sidestep social norms by thrusting boys into a role that was never meant for them. The issue of pedophilia is important. But it's just another symptom of an impoverished society paralyzed by outdated and exaggerated standards.
Until those standards evolve Bacha Bazi is likely to remain just outside the realm of conversation.
Meanwhile, the victims of child sex abuse—and not the perpetrators—continue to be punished.
In 2012, a 13-year-old boy was sentenced to a year in juvenile detention on moral crimes charges, after being found guilty of having sex with two adult men in a public park located in Herat province .
To find out how you can help urge the Afghan government to stop the prosecution of sexually abused children visit Human Rights Watch.