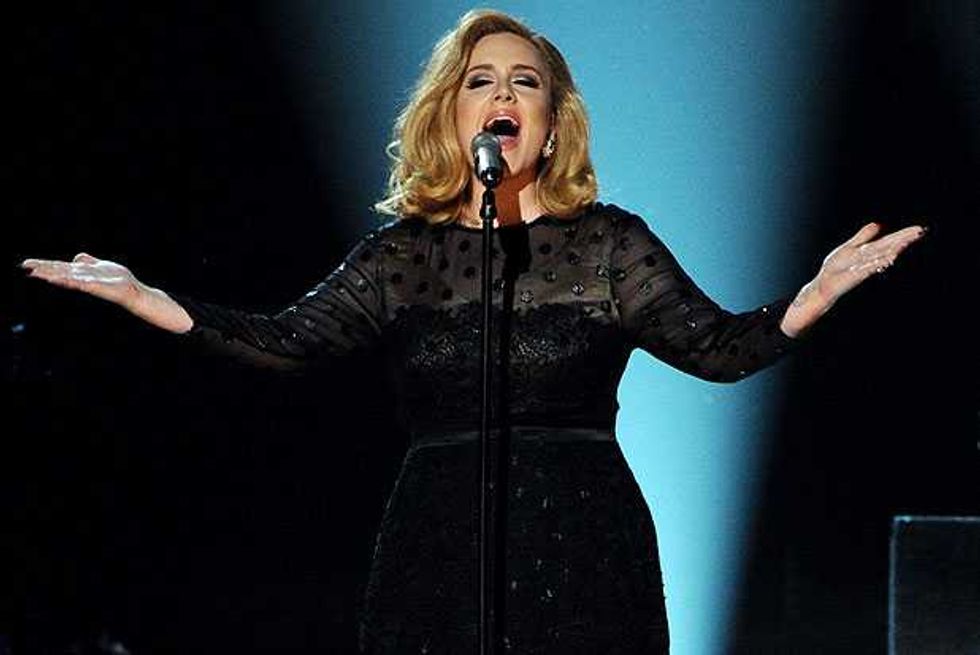 Questions brought to mind by Adele's turn on the 2012 Grammy stage:
Has a Grammy performance ever been more hyped, anticipated, pre-dramatized?
Is it possible the throat surgery actually made Adele a stronger performer?
Who's more relieved this went well—Adele, or the rest of us?
It opened with a blast of a cappella that got the can-she-still-sing out of the way in seconds. It closed with a relieved whoop worthy of an Olympian breaking through finishing tape. Before her live run through just-named Song of the Year "Rolling in the Deep"—Adele earned every plaudit thrown her way in the last 12 months by captivating us. But after a string of winning public performances that had already made her everyone's authenticity poster child, she did something new: She had fun.
Attention, folks who love Mr. Atkins for all the wrong, anti-pop, anti-everything-else-in-this-dirty-modern-culture reasons: What made this performance of "Rolling in the Deep" such a winner wasn't Adele's lack of production. It wasn't her ability to hit a glory note, amazing though that remains, or her disinterest in backup dancers or strobe lights. It had nothing to do with her being "classy," which, yes, she was, however you mean that. What made it great was that loud, what-the-hell yelp in the middle.
Anyone who watched the 60 Minutes interview with Adele immediately prior to the Grammy telecast tonight could be forgiven for thinking, "Why isn't this fun, slightly profane girl with the awesome sense of humor ever present onstage?" Think back to the showstopping MTV VMA performance last August of "Someone Like You" that turned that record from deep cut to radio smash: you remember stoicism, deadly seriousness, militant hand gestures.
Would we have welcomed back that Adele? Sure—but how much more delightful to see an Adele using her hands to throw shade, a gal on the other side of everything: long past the cad who inspired the album, shrugging off the vocal issues, waving goodbye to her role as everyone's Queen of Pain. If Adele is going to follow up 21, she's going to have to become—horrors!—a pop star. Tonight, she debuted Adele 2.0, and made us believe we might love that version of her just as much.
POPDUST SAYS: