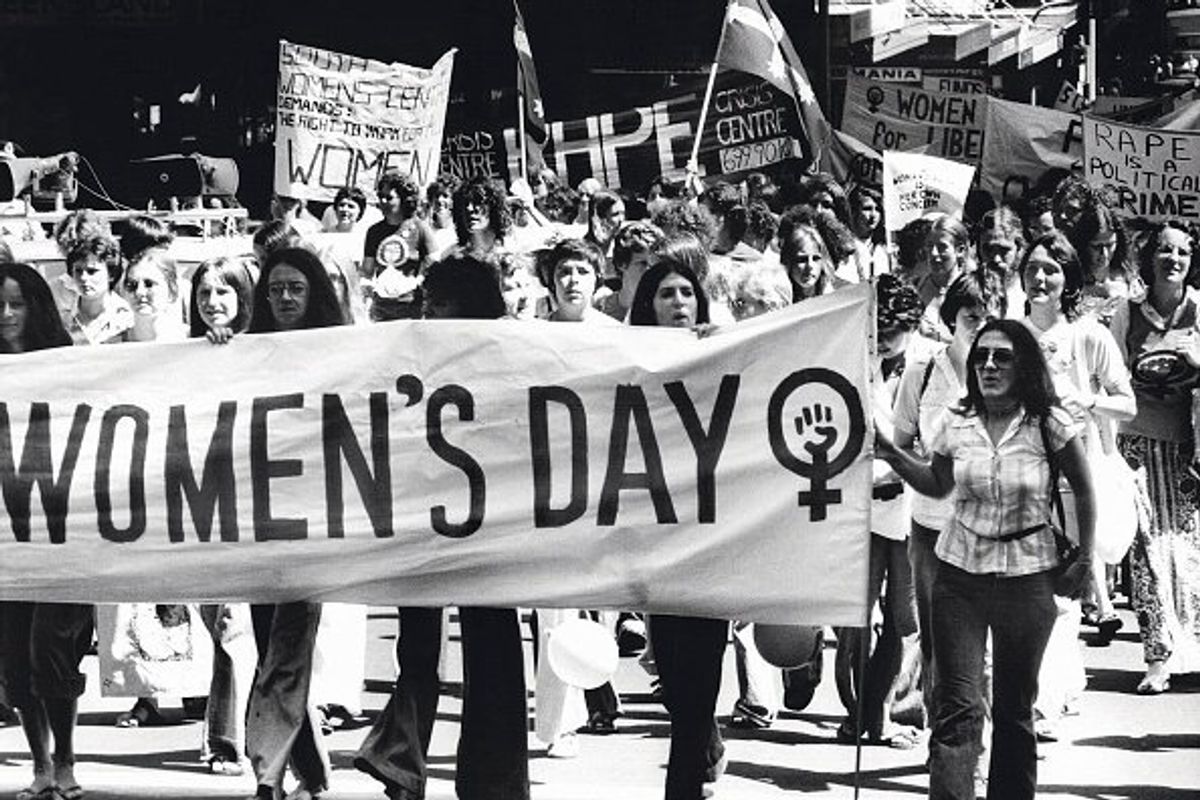 David Bartho/Getty Images
This past January, millions hit the streets around the world - Washington D.C., Paris, Belgrade - in support of socio-economic equality for all women.

In light of this year's IWD, the organizers behind the Women's March - Tamika Mallory, Carmen Perez and Linda Sarsour - have announced today to be A Day Without a Woman, a strike that runs nation-wide in hopes of showing what a day without us would be.

The official website reads: "In the same spirit of love and liberation that inspired the Women's March, we join together in making March 8th A Day Without a Woman, recognizing the enormous value that women of all backgrounds add to our socio-economic system–while receiving lower wages and experiencing greater inequities, vulnerability to discrimination, sexual harassment, and job insecurity. We recognize that trans and gender nonconforming people face heightened levels of discrimination, social oppression and political targeting. We believe in gender justice."
While the intentions of the movement are inherently good, one can argue that it is not entirely inclusive. The very same women most affected by the administration are not capable of calling out of work, for fear of retaliation in the age of Trump. There are alternate ways one can show solidarity, like wearing the strike's official color - red - and refraining from buying at any business that is not female- or minority-owned.
One must recognize on International Women's Day that, although all of us are facing the same battle as women, we do not each have the same capacity to overcome it. Today, more than any other day, recognize the oppression that trans and queer women of color face that other women do not. Recognize women of color as the powerful leaders they are for constantly fighting the good fight - empower their voices, do not drown them out with yours.
Recognize this - and we can start working together.
Today, on March 8, whether you join in on the ADWAW strike is up to you - but consider donating to Planned Parenthood, a non-profit organization that provides healthcare to millions of women who otherwise would not have access to any. Spend some time volunteering at a local women's shelter - find one here. Support the National Domestic Violence Hotline for women who have no way out. Make a difference in your local community and watch it unfold on a global scale.
If anything else, on this day remember that human rights are women's rights and women's rights are human rights.
Here are some of
Popdust
's most influential women to remember today:
Maya Angelou
Maya Angelou was an American poet, memoirist, and civil rights activist. She published seven autobiographies, three books of essays, several books of poetry, and was credited with a list of plays, movies, and television shows spanning over 50 years. She received dozens of awards and more than 50 honorary degrees. [1]
Chimamanda Ngozi Adichie
Chimamanda Ngozi Adichie is a Nigerian novelist, nonfiction writer and short story writer. A MacArthur Genius Grant recipient, James Copnall wrote in the Times Literary Supplement that she was "the most prominent" of a "procession of critically acclaimed young anglophone authors [that] is succeeding in attracting a new generation of readers to African literature." [1]
Frida Kahlo
Frida Kahlo de Rivera was a Mexican painter known for her self-portraits. Her work has been celebrated internationally as emblematic of Mexican national and indigenous traditions, and by feminists for its uncompromising depiction of the female experience and form. [1]
Malala Yousafzai
Malala Yousafzai is a Pakistani activist for female education and the youngest-ever Nobel Prize laureate. She is known mainly for human rights advocacy for education and for women in her native Swat Valley in the Khyber Pakhtunkhwa, northwest Pakistan, where the local Taliban had at times banned girls from attending school. Malala's advocacy has since grown into an international movement. [1]
Michelle Obama
Michelle Obama is an American lawyer and writer who was First Lady of the United States from 2009 to 2017. She is married to the 44th President of the United States, Barack Obama, and was the first African-American First Lady. Raised on the South Side of Chicago, Illinois, Obama is a graduate of Princeton University and Harvard Law School, and spent her early legal career working at the law firm Sidley Austin, where she met her husband. She is the only First Lady to go to two Ivy League schools. [1]
Ida B. Wells
Ida Bell Wells-Barnett more commonly known as Ida B. Wells, was an African-American journalist, newspaper editor, suffragist, sociologist, feminist, Georgist, and an early leader in the Civil Rights Movement. She was one of the founders of the National Association for the Advancement of Colored People (NAACP) in 1909. [1]
Viola Davis
Viola Davis is an American actress and producer. She is the only black woman to be nominated for three Academy Awards, winning one, and is the only black actress or actor to win the Triple Crown of Acting. In 2012, she was listed by Time as one of the 100 most influential people in the world. [1]
Katherine Johnson
Katherine Johnson is an African-American physicist and mathematician who made contributions to the United States' aeronautics and space programs with the early application of digital electronic computers at NASA. Known for accuracy in computerized celestial navigation, she conducted technical work at NASA that spanned decades. During this time, she calculated the trajectories, launch windows, and emergency back-up return paths for many flights from Project Mercury, including the early NASA missions of John Glenn and Alan Shepard, and the 1969 Apollo 11 flight to the Moon, through the Space Shuttle program. Her calculations were critical to the success of these missions. [1]
Billie Holiday
Eleanora Fagan, professionally known as Billie Holiday, was an American jazz musician and singer-songwriter with a career spanning nearly thirty years. Nicknamed "Lady Day" by her friend and music partner Lester Young, Holiday had a seminal influence on jazz music and pop singing. Her vocal style, strongly inspired by jazz instrumentalists, pioneered a new way of manipulating phrasing and tempo. [1]
Laverne Cox
Laverne Cox is an American actress, reality television star, television producer, and LGBT advocate. She became known for her portrayal of Sophia Burset on the Netflix television series Orange Is the New Black, for which she became the first openly transgender person to be nominated for a Primetime Emmy Award in the acting category, and the first to be nominated for an Emmy Award since composer/musician Angela Morley in 1990. On June 9, 2014, Cox became the first openly transgender person to appear on the cover of Time magazine. [1]
Marsha P. Johnson
Marsha P. Johnson was an American drag queen, sex worker, and gay liberation activist. A veteran of the Stonewall riots, Johnson was born in Elizabeth, New Jersey, and was a popular figure in New York City's gay and art scene from the 1960s to the 1990s. Later in life Johnson became an AIDS activist with ACT UP. [1]
Nina Simone
Nina Simone was an American singer, songwriter, pianist, arranger, and civil rights activist who worked in a broad range of musical styles including classical, jazz, blues, folk, R&B, gospel, and pop. Simone recorded more than forty albums, mostly between 1958, when she made her debut with Little Girl Blue, and 1974, and had a hit in the United States in 1958 with "I Loves You, Porgy." [1]