Arts
MUSIC | The rising indie rockers are set to release their sophomore album on July 21st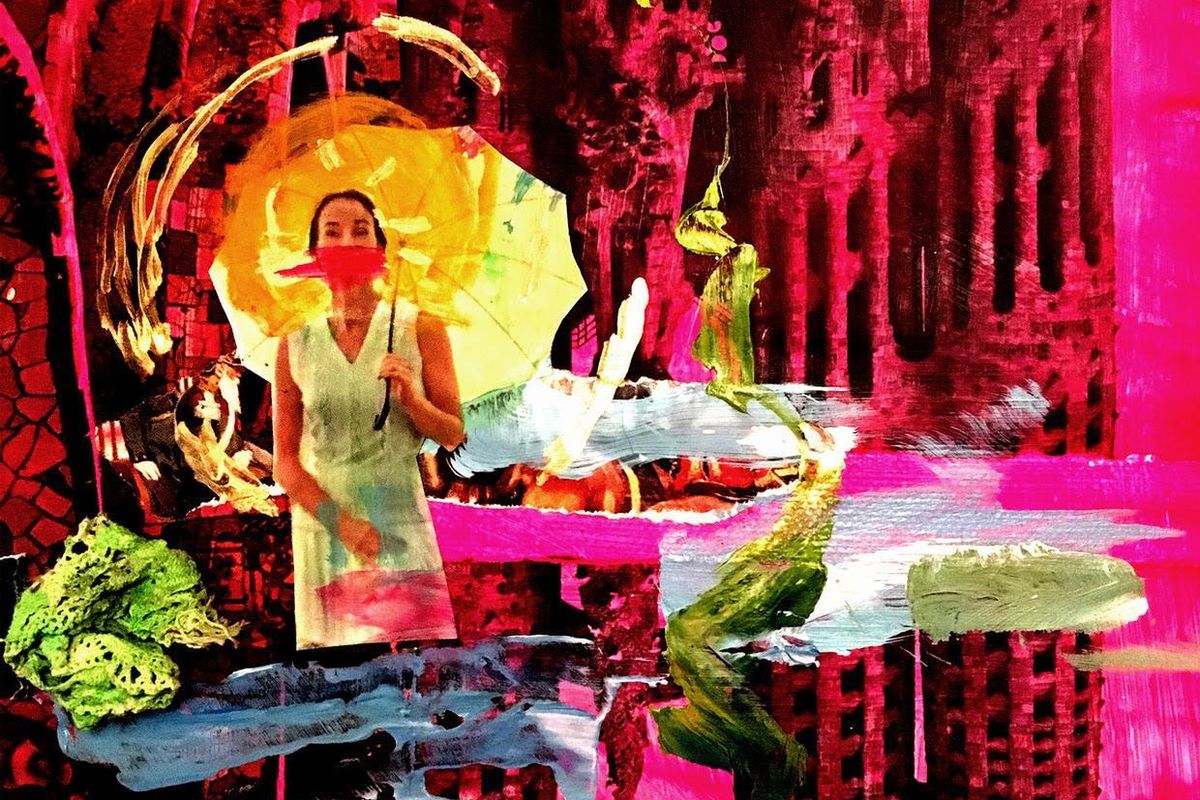 via Basement Revolver
Some songs are so poignant they deserve a revisit.
This was Basement Revolver's logic for re-imagining their breakout single "Johnny" as "Johnny Pt. 2." Strung along by strong guitar and a knack for singing to the heartbroken, the three piece band––frontwoman Chrisy Hurn, bassist/synth player Nimal Agalawatte and drummer Brandon Munro––describes themselves as an introspective indie rock band on their Bandcamp. After releasing a stunning self-titled debut dubbed by several music blogs as the best of 2016, the band is getting ready to release Agatha, a sophomore EP that's sure to pack a punch if "Johnny Pt. 2" is any indication.

We caught up with Hurn to talk about the band's process, "Johnny Pt. 2," and who exactly Agatha is.
---
You wrote "Johnny Pt. 2" as a continued exploration of heartbreak from "Johnny." Was the process cathartic?
Definitely. I wrote it pretty soon after our breakup. It was a really hard thing for me, because as much as the relationship wasn't working for either of us, we still cared for each other a lot. It was hard to let go and to move on – and I think I feel things very deeply. Writing songs about that sort of thing always helps me to sort out my emotions, and to process what has happened. So basically, sorry to everyone that I date!
When I saw that the songs were continuations, it made me think of Neutral Milk Hotel's "Two-Headed Boy," which is also a song with two parts. I'm wondering who your influences are.
Probably my biggest influence ever is mewithoutyou – and I think that is true for others in the band as well. We don't sound or write like them, but they have been long time favourites so they must have influenced us somewhere along the way. Now that I think about it, they have a lot of "Part 2"s and tell stories really well. I'd say with this release in particular, artists like Angel Olsen, Frankie Cosmos, and Big Thief really helped me to feel more confident as a woman in my writing and it has really helped me to come out of my shell!
How would you describe your sound?
I always have a hard time with this one because I can't listen to myself objectively. I think we just get together and write what sounds or feels right and that is the sound that we come up with. Whenever I try to write a song that sounds a particular way, I get way too stressed out!
With Agatha coming out next month, I'm wondering how you would describe the record. Is there anything you can tell us before it's out in the world?
A lot of these songs were written as I was moving on from my relationship with "Johnny"s – a lot of mental health problems that I thought I had recovered from had resurfaced in that time. Writing songs helped me to get through that. It feels weird to give a breakup so much credit, but I guess that a lot of art stems from overcoming hard times.
[rebelmouse-proxy-image https://media.rbl.ms/image?u=%2Fproxy%2F8Q591T4-eTpwGWdphNBIawpaC2RhNM41JiF7La79t6s0QCJjOM7XjkqTtGv3gRN4QzGgdhlLRQlkaXiCS8ynbb4ZH0zmwrU4qETQ-J9ZZqWypEnZuYOsIgt80-lYyXjl6sMXvHyy7faouztTePaHxzUlbX11%3Ds0-d-e1-ft%23http%3A%2F%2Fd31hzlhk6di2h5.cloudfront.net%2F20170519%2F17%2F4e%2F63%2Fad%2Fea7cf308bd9d31ccedcb7e45_1260x840.jpg&ho=https%3A%2F%2Fci6.googleusercontent.com&s=753&h=5c63cc3cfec31df7a9e923dfa9f9be2601531630f12e8275705ad257cd0be9c3&size=980x&c=2323052336 photo_credit="Yoshi Cooper" caption="" pin_description="" image-library="0" crop_info="%7B%22image%22%3A%20%22https%3A//media.rbl.ms/image%3Fu%3D%252Fproxy%252F8Q591T4-eTpwGWdphNBIawpaC2RhNM41JiF7La79t6s0QCJjOM7XjkqTtGv3gRN4QzGgdhlLRQlkaXiCS8ynbb4ZH0zmwrU4qETQ-J9ZZqWypEnZuYOsIgt80-lYyXjl6sMXvHyy7faouztTePaHxzUlbX11%253Ds0-d-e1-ft%2523http%253A%252F%252Fd31hzlhk6di2h5.cloudfront.net%252F20170519%252F17%252F4e%252F63%252Fad%252Fea7cf308bd9d31ccedcb7e45_1260x840.jpg%26ho%3Dhttps%253A%252F%252Fci6.googleusercontent.com%26s%3D753%26h%3D5c63cc3cfec31df7a9e923dfa9f9be2601531630f12e8275705ad257cd0be9c3%26size%3D980x%26c%3D2323052336%22%7D" expand=1]Yoshi Cooper
Your debut was named "best of 2016" in several music blogs. What are your hopes for 2017 after Agatha's release?
Yeah that is a hard thing to follow, we just hope that people like the music still. We will continue to make honest music that follows what we like and what we are experiencing or are influenced by – and hopefully people will still like that!

Have you already started working on future projects?
We have a full-length album in the works for 2018. Also Nimal and Brandon both have side projects that are sounding really great.
So, I have to know, who is Agatha?
So the girl on the cover from our first album came from an old photography magazine – and we don't know who or where she came from. She has kind of become a symbol for the band, so we asked our fans to name her, and "Agatha" is the name that we all thought sounded best. Her photo is just captured a lot of feelings for me. I think she represents us well.
---
Follow Basement Revolver on Facebook and Twitter.

---
E.R. Pulgar is a music writer, poet, image-maker, and once cried reading Virginia Woolf. Follow him on Twitter.
---
READ MORE ABOUT MUSIC...
Premiere | GREAT GOOD FINE OK team up with BEFORE YOU EXIT on "Find Yourself"
Live | THE PIXIES negate yr nostalgia, blast their sounds from clouds of light.
Listen | Kali Uchis collabs with Jorja Smith on "Tyrant"
---