MUSIC
The Chicago neo-soul band's frontman on new record, activism, and playing SXSW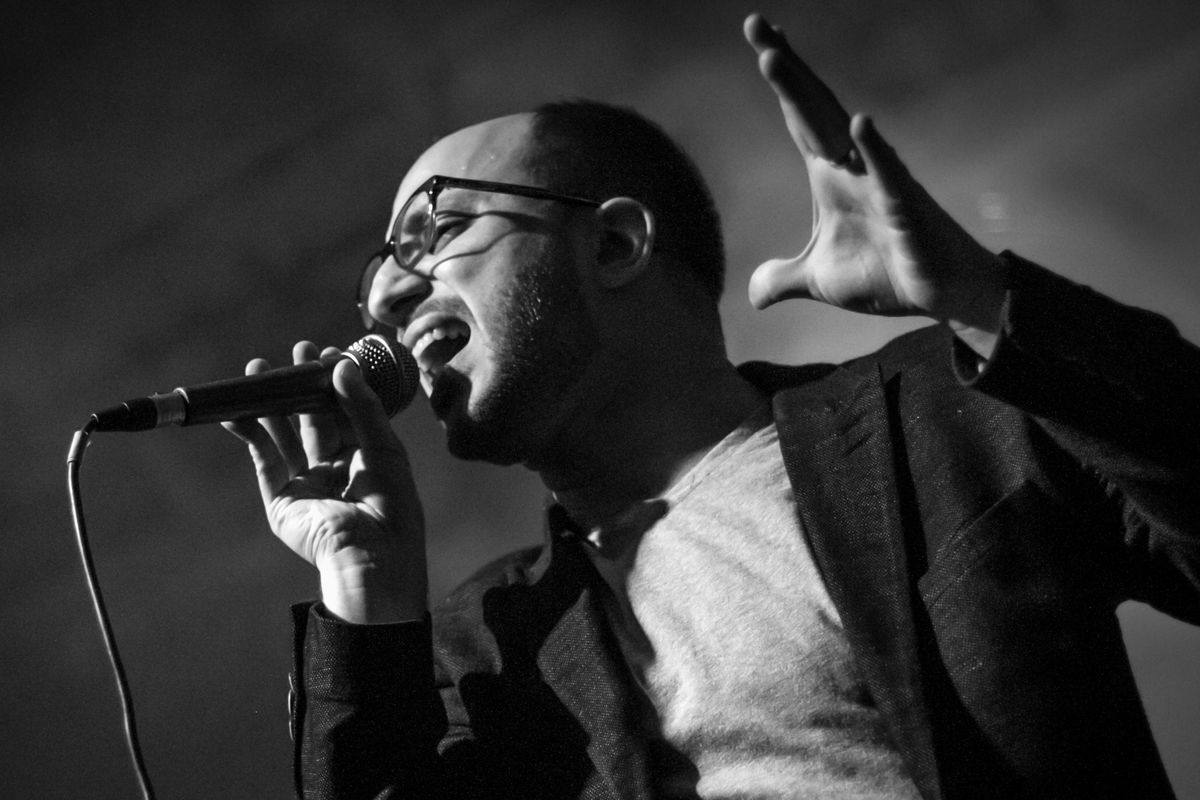 Kari Terzino (via Grandstand Media)
Chicago's music scene is one of the most undeniably woke out there—ask any fan of Chance the Rapper. Neo-soul and funk band Bassel & The Supernaturals are just as steeped in activism; their new record, Elements, came out on February 24th, and was built around the feelings of displacement that come with having personal ties to the conflict in Syria. Frontman and the band's namesake Bassel Almadani has used this heartbreak to craft the band's lyrics: his horn-tinged, danceable music relays these stories in a way that connects to people who want to be more aware and, more importantly, bring impactful change to the situation. Alamadani himself continues organizing; besides donating 20% of the funds from the new record the Karam Foundation, which provides for humanitarian relief in Syria, he will be a part of a special exhibition for SXSW that features bands representing the seven nations affected by Donald J. Trump's Muslim ban.
Popdust recently caught up with Almadani via phone to discuss the upcoming showcase, his new record, and his continued activism in the current political climate.

---
It's been a few weeks since you released Elements; how are you feeling?
I'm feeling great! We just released it on the 24th and I can't imagine a better way to release it. We kind of navigated venue changes and challenges throughout, but I feel it's kind of representative of the album cycle. It's easy for the experience to get ruined, but it's always brighter on the other side, so I'm very excited about the release.
How did the band get together?
So I moved to Chicago in 2010, I came as a singer-songwriter which was my background. I came to Chicago and I was singing and writing and recording for a while, and met a lot of people who were ready to collaborate and build. The Supernaturals formed in late 2010, and we evolved from there. I met a lot of musicians, collaborated in the city, and fell in with some other incredible musicians and fell into a pocket as the style developed. I shifted away from indie folk music to kind of neo-soul and funk. I gravitated toward that stylistically, and found a good creative bunch of people that had this concrete flow together. A lot of the changes happened with our last EP; a lot of that guys I was working with at the time moved away from Chicago, and then I met sort of the current iteration of this wonderful group of people, and that's who I've been really spending a ton of time with the last three years and working with them for Elements.
Would you say there's a big neo-soul scene in Chicago?
It's definitely very niche, but there's a deep appreciation and talent for neo-soul and funk. I feel like soul and funk in general are just different ways of the same style, so it's more like jazz and rock-infused funk, and different takes on the style. So soul and funk are the backbone and all the vertebrae that create what it is. [Laugh]
A lot of your music is steeped in activism, especially with everything going on in the world now, and Elements is organized around themes of loss and displacement. As a Syrian-American in the current political climate, what does that entail for you as a musician?
I'm very grateful to have a voice for something that's so relevant and personal. This crisis has been going on for five years at this point, and so many voices have gone unheard. A lot of my family has been affected by this, and it's affected a lot of innocent people, so I think being able to have a voice around this issue within a traditionally American style of music has opened up a conversation with a lot of people that I realize are truly interested in helping and connecting with this and don't have the resources or tools to make an impact. Sometimes, all it takes is meeting someone in the same situation to provide some insight or give names of organizations.
It's an interesting time for it, that's actually what we're doing at SXSW. We're playing a showcase that's already getting a lot of attention called "Contrabanned," and it features artists from the diaspora connected to banned countries in the immigration ban; we'll represent Syria. it's sort of standing up for how this immigration ban has affected artists in many of these countries, and committing to artists not already in the U.S. because of visas and stuff. Theres a lot of really interesting dynamics going on, so it's an interesting time to have a voice around this issue.
I find it interesting you mention SXSW, because they've been involved in a recent controversy regarding an immigration policy they put out.
Yeah, it's interesting because I heard from the event organizer that this controversy was happening and that this showcase that we're on is seen as sort of a nod that SXSW does cares about these issues; also, they're sponsoring it. [Laugh] I know they're putting out an official statement today on behalf of this showcase saying that they do care and this is an issue that they're navigating, so my experience has been completely different.
I've seen slam pieces about this controversy, but so far my experience with this controversy has been completely the opposite in the sense that a lot of these restrictions in the SXSW contract are pretty strict, but they're generic. They apply to everybody, so it's not like "you will be deported for this or that," but it seems like they were sort of jumping to an extreme there. It's about doing what you can to not create any conflicts of interest, but that's not really an example that we're pointing to here of artists being kicked out of the festival, and people jumping to conclusions seems to be a little short-sighted.
That's a relief to hear.
Yeah, I was surprised about that. I like that the organizer reached out to me to say "Oh, this is what's happening and we're representing the good side of this." That's the side I'd like to be on. [Laugh]
After SXSW, what projects are you working on?
We're touring down to SXSW, and on the way back up we have a slew of other tour dates coming. Then we're playing Summer Camp Music Festival in May, and we have some other exciting shows and festivals lined up so we're getting a lot of that in order. We've already started writing new music, getting the creative juices flowing. Lot of exciting projects coming up, but it's really been every day something new and interesting opening up.
This record is a humanitarian message, and a lot of unexplored opportunities are coming to the surface. If we have this conversation tomorrow, it would be a different story.
---
Follow Bassel & The Supernaturals on Facebook, Twitter, and Instagram. Watch the video for "Sneak You In" below.