MUSIC
MUSIC | Meet the British duo that brought the Mac back with a techno twist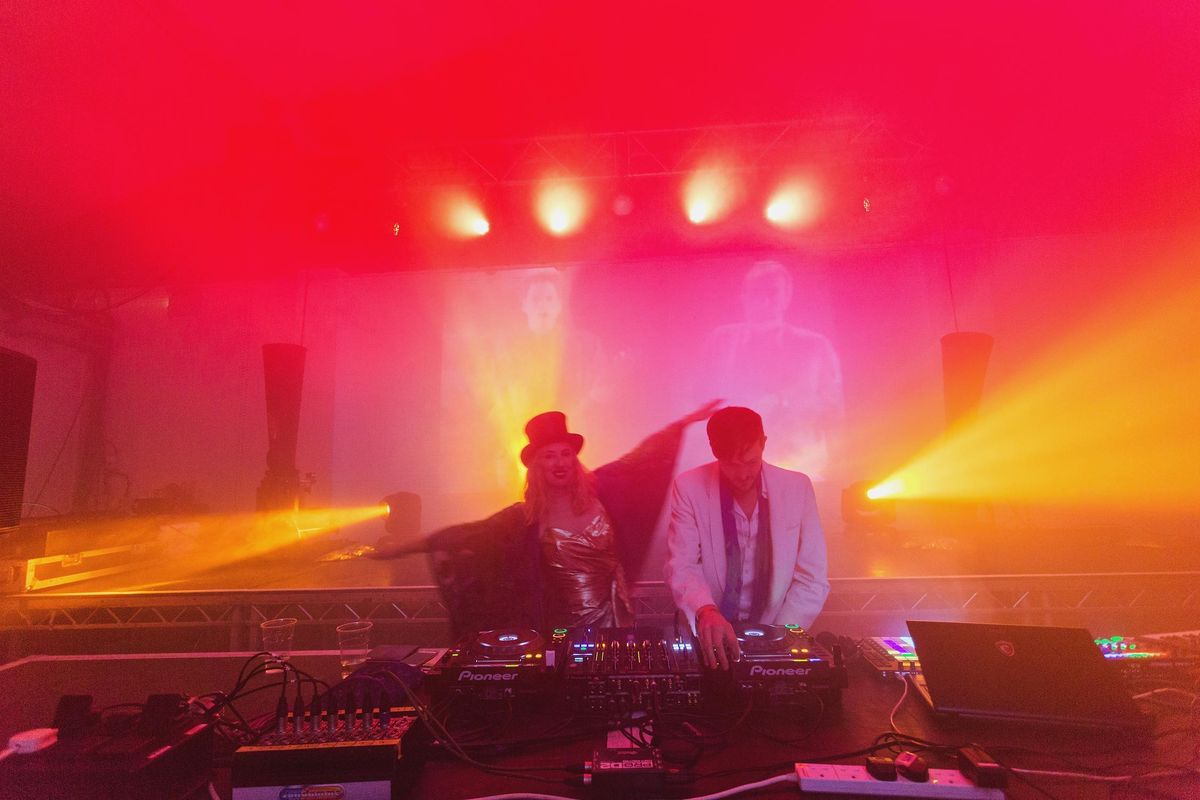 Jolanta Valeniece
It was midnight in Brooklyn, and all through the club, peeps were rocking leather, lace, and colorful shawls.
This is just a taste of what I got when I went to Fleetmac Wood's Rumours Rave, the latest iteration of the Fleetwood Mac remix collective's global phenomenon. Held in the heart of WIlliamsburg's club district at Schimanski, a sprawling venue akin to nearby Output that has since been set up in the space that used to house Verboten, the first thing I heard as I walked in was the familiar drone of a deep house bass immediately followed by lyrics that were equally as familiar: "Now here you go again, you want your freedom / Well, who am I to keep you down?"

The entire night wasn't just curated to fans of the legendary rock band, but they're certainly the ones who dressed up, and who enjoyed Fleetmac Wood's set the most. The duo, made up of couple Roxanne Roll and Alex Oxley, has been bringing their specific brand of gold dust to dance floors across the world since 2012, and have grown exponentially since their days throwing on Fleetwood Mac garb in dingy London dives.
Roll, the Stevie to Oxley's Lindsey, spoke to Popdust about the growth of the parties, spinning in Brooklyn, and curating a classic rock rave.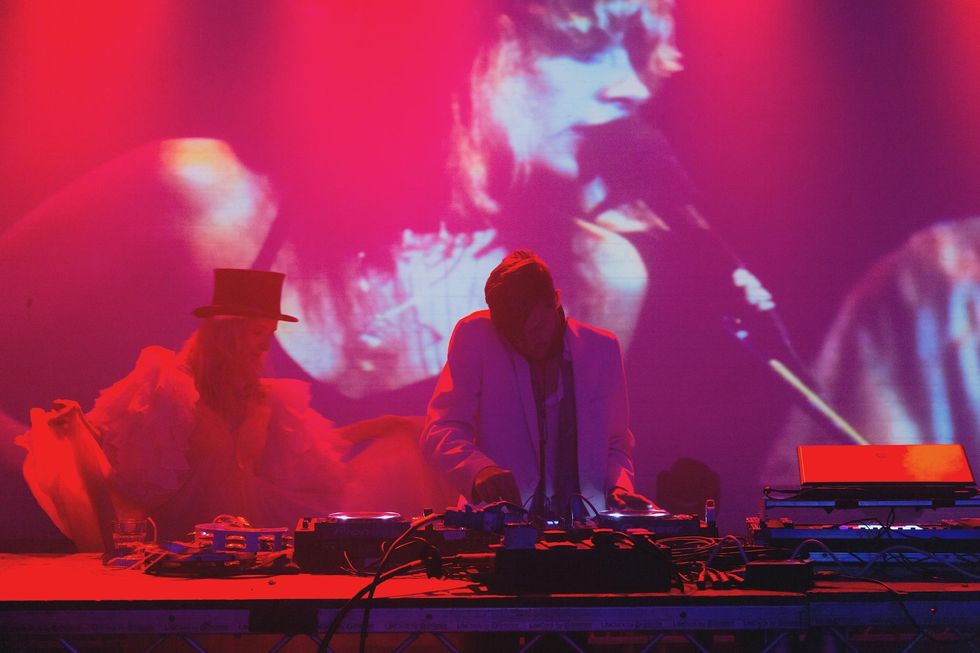 Fleetmac Wood spinning a set in LondonJolanta Valeniece
How do the Rumours Raves in your native U.K. compare to the American parties?

There's definitely the same joyous feeling at all our parties and a great mix of people, but I would say that Stevie Nicks has a bigger following here in the US within the gay community which, of course, makes for an amazing party. Our U.K. parties have really grown, especially with younger fans of Fleetwood Mac, who really feel this is their own music and not just their parents music.
The first party happened in 2012 in London; since your exponential international growth, how have the parties changed?
The celebratory, secret society of Mac worship feeling is still there from our first party, but after 5 years we now have more edits, remixes and we've personally discovered more of their music. There's a real range of genres and tempos which we've got better at wrangling. We've added more of a visual experience and learned how to interact more with the crowd. It was a bit intimidating at first, but now we enjoy the bigger shows. It's not about us really: we're all fans enjoying the music together and the people make the party. Once you realize it's not about you, that you are simply the conduit for the music, then you can enjoy it more.
How were you feeling about the Brooklyn rave? I haven't seen that many flower crowns on a dance floor since Lana Del Rey's "Summertime Sadness" remix came out.
Oh yes! I saw a few boys with flower crowns. Brooklyn has always been a wild party for us, and each time we do a Fleetmac Wood party here, there seems to be more people dressing up. We love that sense of occasion and commitment to a night when people wear something more flamboyant and inspired by the band. Looking at the photos afterwards is such a pleasure as I don't get to see everyone from the DJ booth at the time. I get a real kick out of the reactions on the dance floor. When people really lose themselves in the music and let go, that's what you're always aiming for as a DJ. To help people emotionally release and also bring out a playful side.
Dance music can take itself a little bit too seriously at times. We're serious about the music but we're not serious when it comes to enjoying it and Fleetwood Mac really offers the full spectrum of emotions. Stevie's songs are mysterious, ethereal, Linsdey's are emotionally intense and Christine's songs are pure pop elation, all with a blues backbone provided by Mick Fleetwood & John McVie. The sound at Schimanski was great, and the thrill of hearing Fleetwood Mac on a high-quality system is really part of the night. We're changing the context of where you normally hear their music and that's part of the fun.
What's the most outlandish thing you've witnessed at a Fleetmac Wood Party?
We've hosted a few parties at Burning Man, and there was one night where a guy was lying de-robed in the netting high above us. Let's just say that he was seemingly aroused by the music. Apart from lots more fabulously silly behavior, we've had multiple marriage proposals happen in the crowd, which is heart-warming.
How did you guys react to news of the Lindsey Buckingham/Christine McVie album?
We are thrilled that Christine McVie and Lindsey Buckingham are back in the studio and on the road. You can't expect creative people to do the same thing over and over again, so I think it's really cool that they have wasted no time and made this new album as Buckingham/McVie. Life is short, and Stevie wants some Stevie Nicks time on the road, so well done to them for getting on with it and trying something new. We've got tickets for their Phoenix Buckingham/McVie show, and of course The Classic West Fleetwood Mac show at Dodgers Stadium in July, and I saw Stevie's latest tour twice last year. They just keep on giving.
What about the announcement of Del Rey teaming up with Stevie Nicks?
This is fabulous news and I love how all members of Fleetwood Mac are so active creatively at the moment. Stevie is so relevant to young fans and younger artists. The more that women of different generations create and share together the better and I'm sure Stevie has a lot of good ideas and advice for Lana. Oh, to have been a butterfly on that studio wall!
What Mac albums most resonate with you? Which are the funnest to re-work?
This year marks the 50th year of Fleetwood Mac, and many people do not know their blues beginnings. There is so much music by Fleetwood Mac that we are discovering new gems all the time, especially since the band have been releasing re-issues that include alt versions, demos and unreleased tracks. Tango in the Night would probably resonate the most with us as it's the most dance floor ready. We've never had the isolated stems to "Big Love," but I would love the hear all those breathy oohs and ahhs that make it sound so push/pull and sexy.
Almost all of the remixes and edits we play are unofficial so often we (and other producers) are working with the mixed track, which is harder to rework than if you had the original stems to play with. Our Smooth Sailing edit of Tusk was really fun to work on as we wanted to increase the Bacchanalian feel by increasing the drums and adding an extra "power to the people" type oomph. Tusk is probably the funnest as there is a wild frivolity to the song to begin with, and if you listen carefully you can hear some crazy squawking noises from the band.
What do you want partygoers to leave a Fleetmac Wood party feeling?
We want them to feel like we feel: tired and happy after dancing all night. The world can be a tough place, but music and dancing brings people together and allows for much-needed self expression, emotionally and creatively. We love that our party attracts some people who wouldn't necessarily consider themselves clubbers, and that we attract clubbers that enjoy a slightly different experience. It's the type of party that you can turn up by yourself and make friends, because there is a shared connection of the music. It's a little more of a house party or festival atmosphere. Dancing is one of the magical joys of being human and it's getting harder to do for people. We need to protect these spaces that make it possible to come together and keep the act of dancing alive in our culture.
Follow Fleetmac Wood on Facebook, Twitter, and Instagram. Check out their upcoming tour dates below.

May 11th: Barboza Seattle - bit.ly/2o6gUk8
May 13th: Crescent Ballroom Phoenix - ticketf.ly/2nWQNxr
May 26th: Saturn, Birmingham, Alabama - bit.ly/2nTRjbZ
May 28th: One Eyed Jacks, New Orleans - bit.ly/2nZgo79
June 17th: Versions, Manchester - bit.ly/2q2Yf7Z
July 1st: Art School, Glasgow - bit.ly/2qYng4h
July 7th: Thekla, Bristol - bit.ly/2qYiSST
July 8th: Constellations, Liverpool - bit.ly/2ps5rZs
---
E.R. Pulgar is a music writer, poet, photographer, and once cried reading Virginia Woolf. Follow him on Twitter.
---
READ MORE ABOUT MUSIC...

PREMIERE | Keels has a sinking feeling on "Prison Walls"
PLAYLIST | Popdust Monday Mix #9: Best of Gorillaz
ALBUM | San Fermin prove they "Belong" among the greats
---