MUSIC
MUSIC | Adrienne Rocha takes us inside Austin's OG dive bar band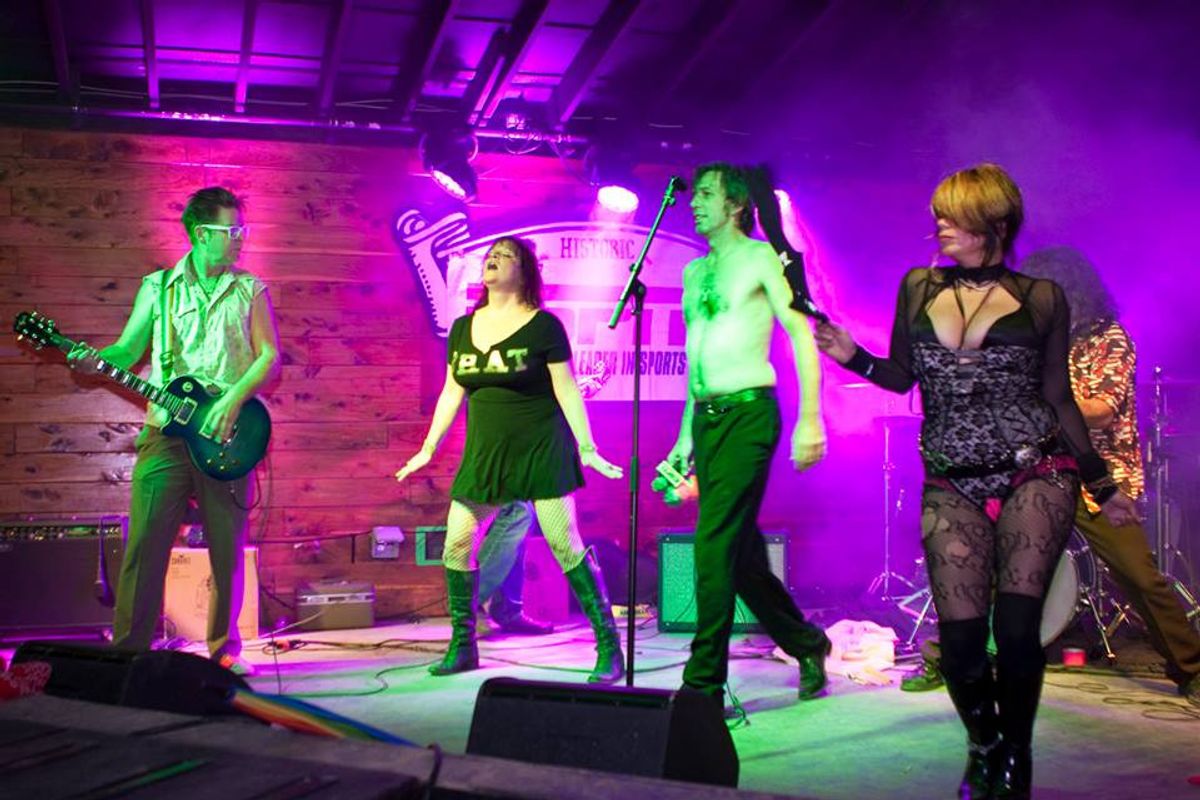 Rafael Rodriguez (Courtesy of Adrienne Rocha)
It's hard to be punk rock in Austin in 2017.
Somehow, longtime DIY rock staples the Gay Sportscasters have managed to maintain their sheen. After the loss of key member Evan Johns in March, right before SXSW, the band took an extended hiatus. After playing a show in honor of their fallen brother at the Paper Tiger in May, they're back and bigger than before. You'd be forgiven for never hearing of the group, as they've never gone outside of Texas, but you'd be hard-pressed to find a musical group with so much history and drama; they've been keeping Austin punk pure since 1995. We dare you to find a band that can maintain the sensibility of local punk after over a decade.
We spoke to lead singer Adrienne Rocha about her involvement with the band, how they're coping after Evan, and the debauchery and camaraderie that's driven the Gay Sportscasters from their outset.
---
[ER] Can you tell me about the Gay Sportscasters and how they got the name?
[Adrienne] I know exactly how they got the name! The boys would like to get together and watch the Redskins football; you know, they were sports fans. Three-Dollar Bill, Jeff Smith, Evan Johns…those three gentlemen. They were just watching sports and, you know, they were drunk and Jeff Smith says "wouldn't it be great if we started a band called the Gay Sportscasters?" And we made t-shirts with Howard Cosell on them, but instead of talking into a mic, it was a dick mic.
A dick mic?
Yeah!
Elaborate?
Hard to sell… kind of questionable, don't you think?
A little bit.
[laugh] That's how the Gay Sportscasters were born.
And what's your role?
I am the go-go dancer, number one. Actually, since the inception, there have been many character changes, but in the last I would say seven years it's been the same people. Since I've been in the band, about seven years ago, we were doing two or more gigs a month, and then we lost our guitar player Davy Jones.
My condolences.
We lost him to lung cancer, so we've taken some time off. The volume of the gigs went down, then the months went by, and now we're trying to get back in. Every four or five months we'll do a gig, and it's very special.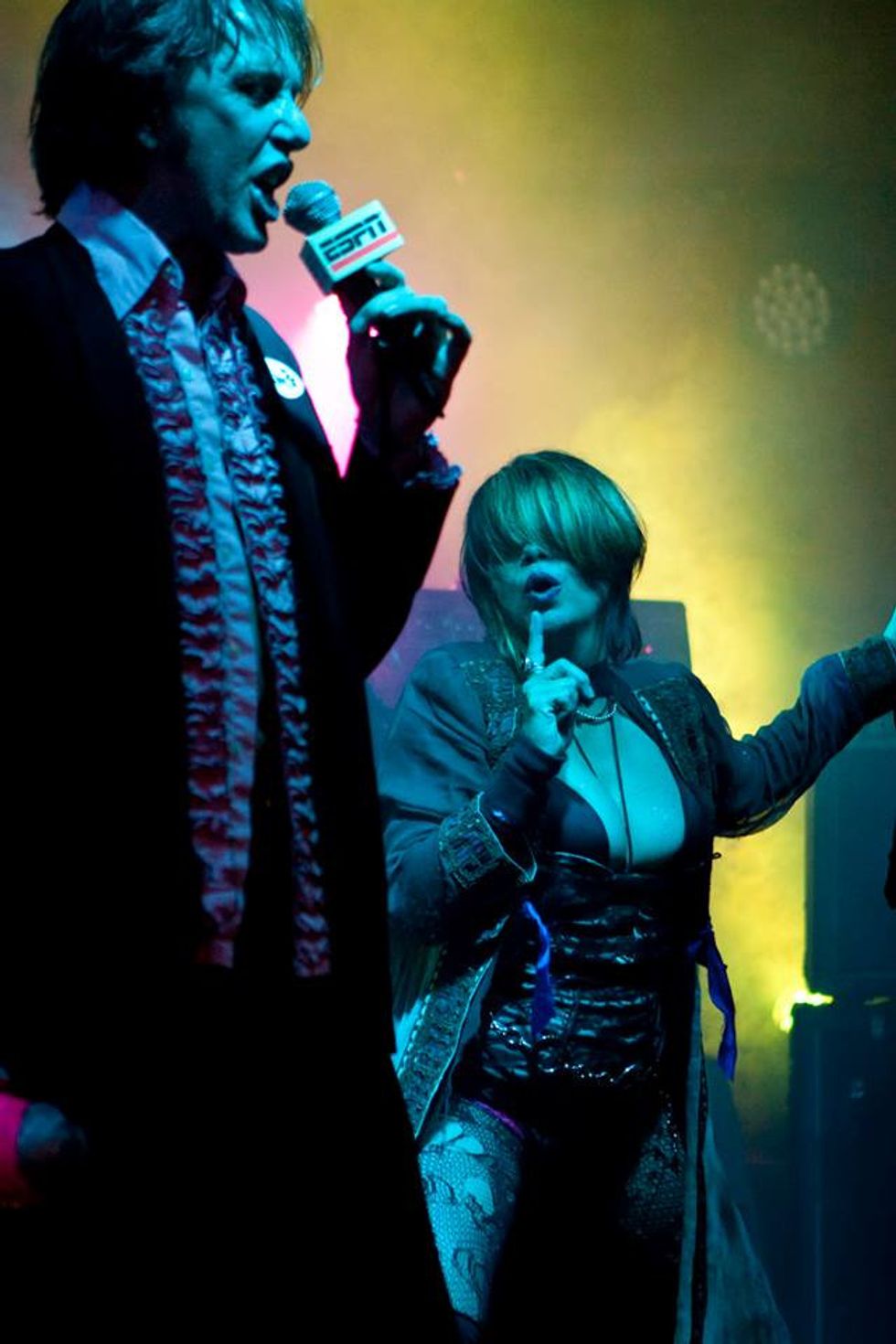 Rafael Rodriguez (Courtesy of Adrienne Rocha)
Can you describe a Gay Sportscasters gig?
Absolutely—
—in 3 words.
Debaucherous, fun, lotta-dancing.
Wait, line-dancing?
No just dancing. People want to dance when they see us.
Can you tell me about the gig you played back in 1994, the one that was in Rolling Stone?
It was their first gig, and actually a lot of the members were in bands already. The head guy, Three-Dollar Bill, was an actor out of Nashville. The main guitarist and our other lead singer––Jeff Smith and Davy Jones, respectively––were in punk rock bands, and now. Evan Johns, our rock star, the one who made us thrive, was pretty big at the time. He'd been on a major label. The band's characters have changed: they've gone through a lot of bad times, and being in a band will do that to you. Drug abuse, ego, that type of thing.
We lost Evan on March 11th, right before SXSW, and there was the big shindig we threw on May 21st, and we sang and honored and celebrated him. All the proceeds went to Sims Foundation, which is a big establishment in Austin that helps people with mental health counseling, and anything you may need as musicians that you can't afford otherwise. That's the one thing about Austin and Austin musicians: we're so fortunate to be able to have that. We even have health insurance through HAAM, the Health Alliance for Austin Musicians. If you need your teeth cleaned, a tooth pulled, any minor health issues, even drug abuse or alcoholism, they help in that area.
Would u say the Gay Sportscasters would say we put Austin on the map.
Yeah!
That's a big claim. Would you say you guys are a quintessential Austin ?
The Gay Sportscasters definitely, but we did that alongside so many other bands. We combine lots of roles: punk, satire… we have a big large gay community here, so we want everybody to have fun.

What Austin bands have you seen blow up or taken under your wing?
[laugh] "Under our wing," that's funny. Well, me as a singer! I just debuted a new band called Bikini Atoll. I would say Jeff Smith is actually the one who has brought a lot of musicians under his wing.
Like who?
Churchwood, who are an amazing band. Chrissy Flatt and the Mystery Girl. There's a band in San Antonio called Piñata Protest.
I love that.
The Hickoids also, who always tour. They're headed to the West Coast, hitting Orange County's punk rock scene. And The Accolades, of course, they're a punk band from the early 70s, and Jeff Smith was one of the main players in that band. They still tour all the time. They are on an Alaska tour, which will be a new and interesting venture for them.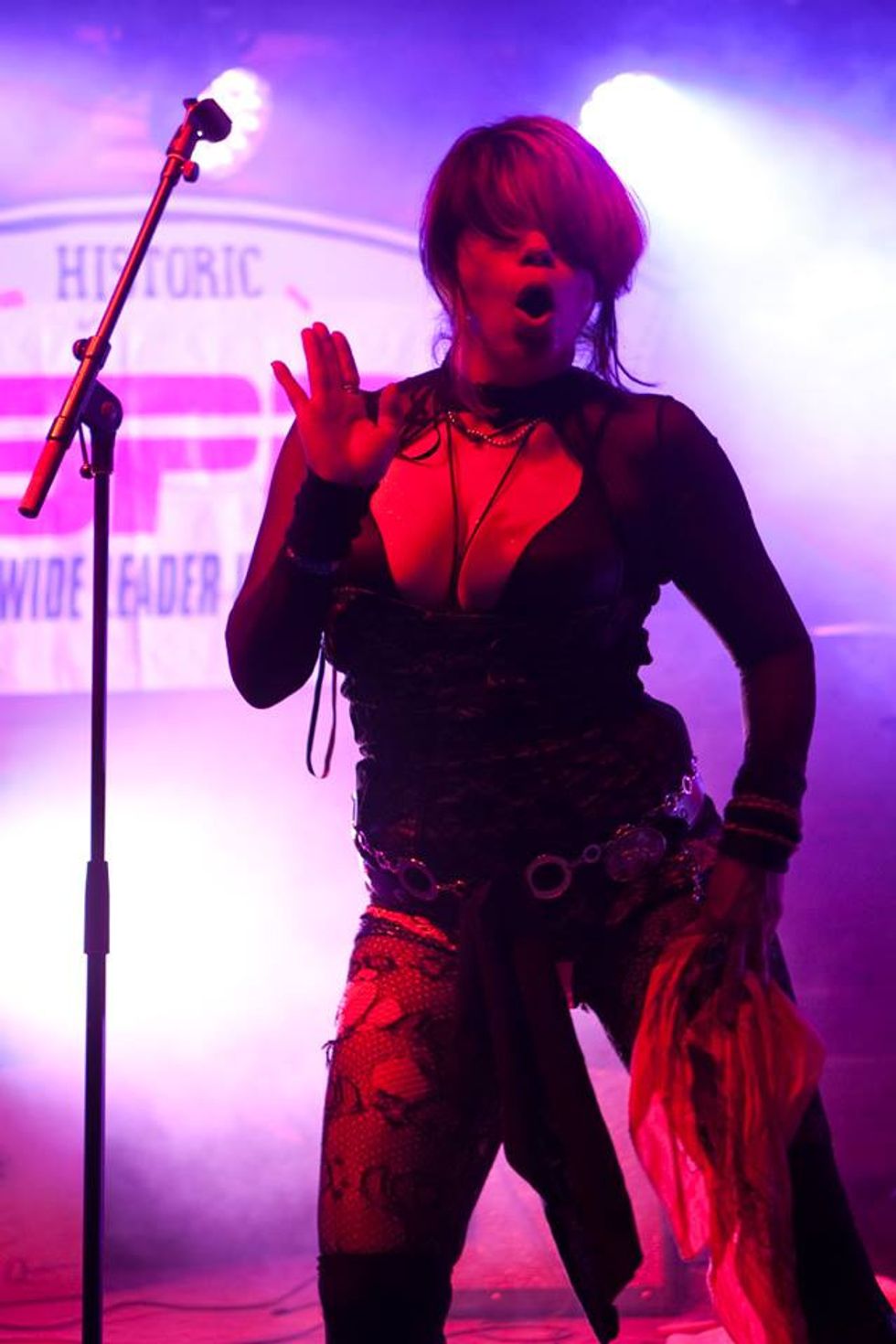 Rafael Rodriguez (Courtesy of Adrienne Rocha)
What's the biggest venue you guys have played?
I think the biggest event we had was at Anton's ( club). One year, we did a benefit for Gary Floyd. He was the lead singer of The Dicks.
The Dicks.
The Dicks! And David Yow came out for it...I would say club-wise, probably about 400 people there. For a club in Austin, if you get 200 that's pretty good. That was the biggest one we did. In the 7 years I've been with them, I think The Dicks have done Austin City Limits. Right now, The Hickoids have been touring . Hopefully someday we'll take the Gay Sportscasters to Europe.
What was the craziest gig the Gay Sportscasters ever played?
The midget wrestling show in San Antonio.
Midget wrestling....
Yes.
What?
[laugh] You're just going to have to use your imagination! Our band got tackled, and I was on the bottom of the pile, which was not fun. Also the Austin Corn Fest. Jeff Smith puts on the Austin Corn Fest at the same time as Austin City Limits, and that gets pretty crazy because people get crazy with corn. Corn flies, corn everywhere… I've been told by many club owners that we have to calm down our corn fest.
Last question: What's a Gay Sportscasters gig all about?
It's always about having a have a good time, and getting your troubles of the day out of your way. Come out for an hour, have a great time, dance, be inspired, and leave happy knowing that the Gay Sportscasters love you.
I love you, honestly.
I adore you.
Follow the Gay Sportscasters on Facebook.

---
E.R. Pulgar is a music writer, poet, image-maker, and once cried reading Virginia Woolf. Follow him on Twitter.
---
READ MORE ABOUT MUSIC...

WATCH | THE XX get romantic on new video for "I Dare You"
INTERVIEW | Callaghan chats about the release of new EP "The Other Side"
REVIEW | BELLA THORNE: "Just Call," won't you?
---