FILM & TV
TELEVISION| We talk the perfect date meal, music, Survivor's Remorse, and wrking with Tichina Arnold, Will Smith, and Angelina Jolie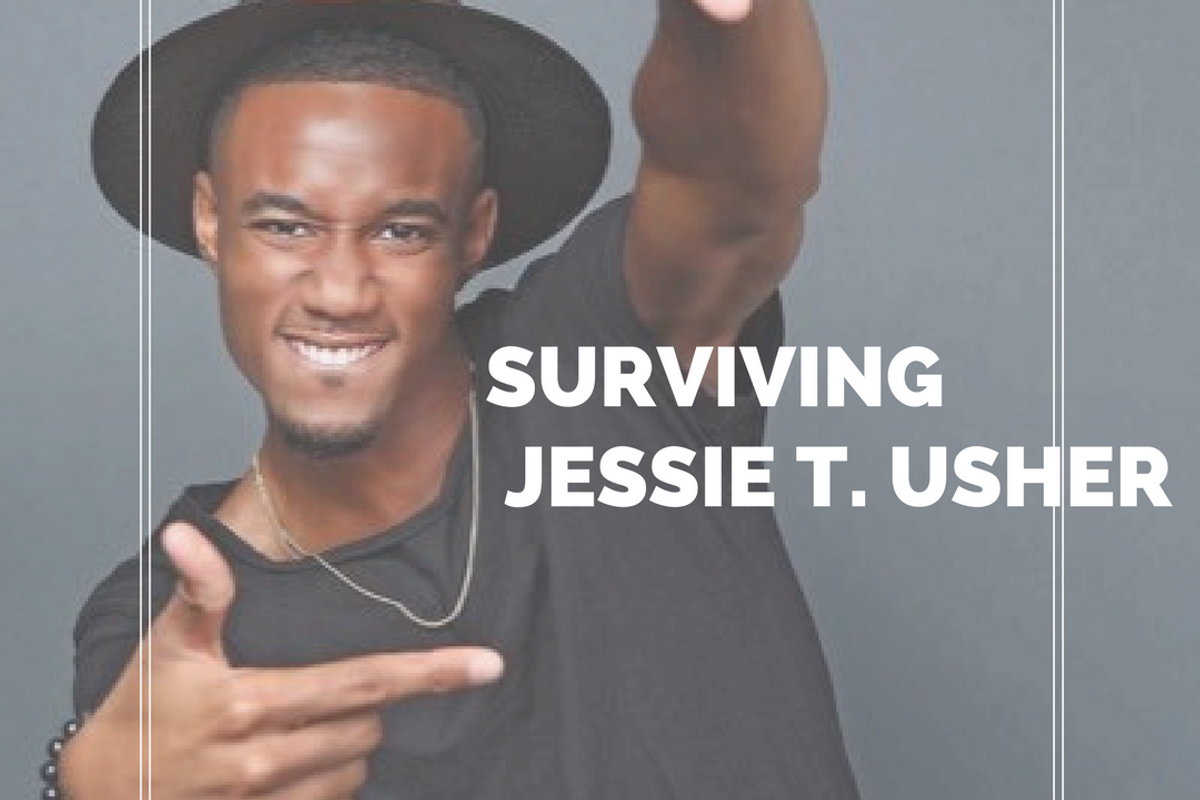 If you watched Independence Day: Resurgence, Almost Christmas, or any of the three previous seasons of Survivor's Remorse on Starz, then the name Jessie T. Usher is synonymous with hero for you. In every role, he plays the savior, and though sometimes troubled with the weight of family, drugs, or quite literally the world, he navigates the epic hero journey like Aeneas in Virgil's Aneid. There's also another side of Jessie, a sliver of humility that peeks through in every role and every photo. Maybe it's his coy smile, or the appropriately upbeat inflections of kindness in his voice, but for a young, talented, and, let's admit it, handsome man in L.A. (which is where he is the morning of our call) he's not Hollywood at all. At 25 with a blockbuster, one of the top rated show's on his network, and LeBron James as an open line of communication and inspiration for his current role, an air of arrogance is to be expected. But after talking to the actor while he was at the first day of filming for season four of the Mike O'Malley and Lebron James co-created show, I'm not even convinced Usher is aware that he is famous.
His grandmother still lives in Upper Marlboro, Maryland, he knows what "beat your feet means", and he knows what time to go to the pancake house courtesy of legendary DC GoGo Band Rare Essence. I gave him a DMV test (D.C., Maryland, and Virginia, not Department of Motor Vehicles) and suffice it to say, Jessie T. Usher is an L.A. actor with deep DMV roots. He mentions his family often, especially his sister, is humble, and authentically is just amazed as we are when he realizes how long he's been in "the game" and all he has accomplished. And like any person who is aware of their progress but still ambitious, he has goals he's started turning into actionable plans.
In every role, he plays the savior, and though sometimes troubled with the weight of family, drugs, or quite literally the world, he navigates the epic hero journey like Aneas in Virgil's Aneid. Jesse does the same in real life, using humor as his guide.
The Ushers were the type of family who pursued gifts wholeheartedly. He had hardworking but supportive parents who basically told both of their kids if they wanted to be actors, prove it, and they would help make acting a reality. At around the age of twelve, Usher's parents saw that this was not some fly by night hobby for the duo. Thier kids were truly interested in perusing a career in entertainment and so, they became bi-coastal. After five years of traveling back and forth, his parents decided that they should stay in Los Angeles, operating under the premise that "if [we] were really going to do this thing, if we were going to really go for it, then we needed to move to the land of opportunity". A move that even as Jessie recounts it to me, you can hear his satisfaction and pride over the choice. When I mention his longevity, he chuckles. Usher has this formula of accepting comments graciously, laughing, humbly agreeing, and sharing the credit with someone else. The same happened when we brought up his role in Almost Christmas. One of my favorite Christmas movies last year, I commended him on a successful movie, and he immediately gave praise to J.B. Smoove, Mo'Nique, and even praised internet sensation turned actor DC Young Fly. I couldn't help but ask him about the dance scene in the kitchen, where Danny Glover was partying like it was 1999. Usher told us that that scene was initially just for the women of the cast, but Danny Glover slid onto the dance floor and then all madness broke loose. Jessie wasn't too bad himself. I commended him on his graceful slide across the wooden floor, a perfect "Tom Cruise impression" and he said it was all in his body roll. Did he say body roll? Yeah, this is a DMV man in his very essence.
---
RELATED ARTICLES
From Blackish to Survivor's Remorse Allen Maldonado is Voicing a Generation
RECAP | Power, Season 4, Episode 1: "When I Get Out"
5 shows that FINALLY make their return this summer
Remembering Charlie Murphy-The big brother of comedy
Bow Wow has a hit on his hands, and it's not a single
---
While I had appreciation for his body roll, I let him know that though he plays a basketball player on TV who is shaped in the image of arguably one of the best basketball players of our time, I didn't believe he was that great on the court. He questioned that notion, "Really, you don't think so." Listen , I know what I'm talking about and I wasn't backing down. "No, you are tall and lanky but I feel like it's better made for suits and than the basketball court." There was a slight pause, then uproarious laughter. "Are you laughing at me? ", I asked. "Am I wrong?" I wasn't. He admitted that he's not that great, and his air-balls are often met with "Aww Cam" (ironically referring to him as his basketball star character Cam Calloway) from his real life friends.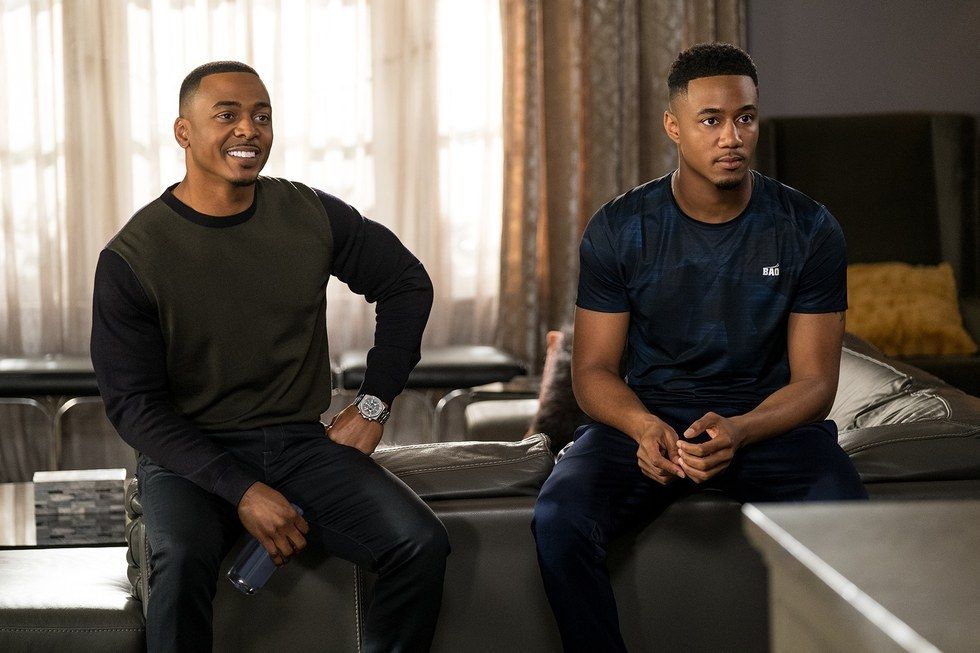 RonReaco Lee and Jessie T. Usher in Season 4 of Survivor's RemorsePhoto Courtesy of Starz
While the NBA may not be banging on his door anytime soon, Usher has many hidden talents that are viable career expansion options. Producing, writing, and cooking top the list as passions that could bring profit, though he seems more focused on the passion part of he equation. For instance, at the end of high school, Usher questioned if he wanted to make acting his career, and enrolled in culinary school. Though acting obviously won, he proudly tells me that he can "cook anything". Oh really? So I asked him what he was cooking on our date. #ShootYourShot2017 ladies when it comes to eligible bachelors, for we have suffered far more for far less. I told him I liked seafood. *inserts "girl, I don't play" face* This is when I truly witnessed how much thought he put into romancing a girl. He told me he put his arm up and was really thinking about what was on the menu. I was too good for lobster tail (I would have ate it and enjoyed it but I acquiesced because what he really meant was that it didn't highlight his culinary skills. Yes, chef!). He wanted to make sure he had my pallet right so he asked me about a couple of dishes (do you want paella?). Oh, he's cultured too! This might work in real life. When he told me he couldn't use the grill even though it would probably be nice weather because he would smell like smoke, I decided that I wouldn't give him a hard time. Plus, he knew what I liked and coaxed me into trying something I wasn't partial to, ensuring me it would be delicious because he prepared it. Basically, he's California Bae (I've learned it's handy to have a bae in plenty of cities, especially one you don't really date) and we will be laughing over salmon as we await a new episode of Survivor's Remorse sometime this summer.

The highly anticipated fourth season is set to air Sunday, August 20, at 10pm. While guest stars such as DJ Khaled, Isaiah Washington, and Vanessa Bell Calloway, are slated to appear this season, he marvels that he gets to work with Tichina Arnold, "Like dang, I can't believe that I'm working with Tichina Arnold". Who is next on his wish list? Will Smith and Angelina Jolie. He also has great taste in music, and he still uses his ipod, which was endearing. Amine's "Caroline" is one of our favorite songs of the moment, he put me on to Will Tha Rapper, a rapper from our native DMV (I in turn put him onto William Singe's cover of Caroline) , and he loves everything Chance The Rapper.
Check out our full interview below, and watch out for Survivor's Remorse and more projects from Jessie T. Usher.
---
---
Brittiany Cierra is an entertainment and travel journalist and On-Air host highlighting where culture, music, film, television, and current events intersect. When she's not writing about people, places, and things, she's dancing on them or marketing them. Follow thee journey on twitter and Instagram.