Rising Star
MUSIC | We talk to KRUPA, a mysterious producer from Ontario, about the hilarious collaboration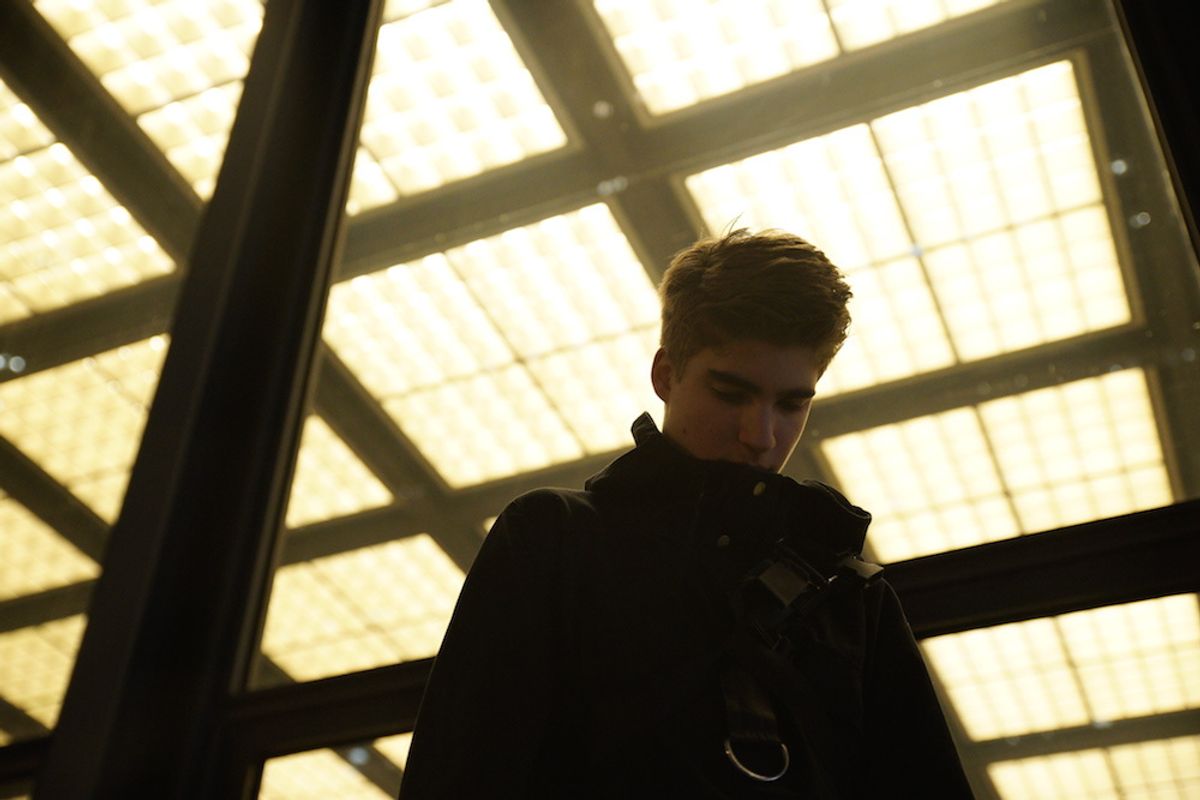 via Instagram (@aidan)
Remember when Aubrey Plaza smoked weed with Weed Nuns?
In perhaps the most inspired promo of our times, the queen of dry comedy smoked weed with her spiritual kin, the Sisters of the Valley. The "order" sat Plaza down, smoked her out with a strain known only as Purple Cream ("a part of the sister's private medicine cabinet"), and started an endearing conversation about her new film The Little Hours, where she plays a raunchy nun. I watched the video no less than sixteen times, and started listening to the trippy, electronic beats that framed it.
I did some research, and stumbled on Chester Krupa. A relatively new producer from Ontario with little information out about him, his trap-influenced, spacey production was no doubt the perfect fit to soundtrack the most epic meeting of all time. But who exactly is Krupa? We caught up with the rising talent to talk about his sound, his influences, and whether or not he'd give it all up for a life of um, spirituality.
---
So, how did the collaboration with Aubrey Plaza and the Sisters of the Valley come out? How did they find your music?
The guys from The Cut hit me up a couple weeks ago, and were interested in using my music for some of their videos. I think they found me through Youtuber's such as Casey Neistat, who uses my music regularly. For this particular collaboration, I think they just picked a track out of a pack of beats that I sent them.
There isn't a lot of information about you out there; could you describe your music in three words for people who haven't heard it before?
I'm fairly new to this whole music thing. I've only been producing for around 2 years, but I would describe my music as energetic, fluid, and cohesive. I produce so many different styles of music, so it's hard to describe my sound, but I always try to be as innovative and different as possible.
You work with a lot of electronic and trap beats, but also veer in ambient territory. Who are your influences, production-wise?
I take inspiration from a ton of different stuff. Lately, movie scores have been my go to. In terms of producers, Diplo has been one of my main sources of inspiration. His portfolio of work is so diverse, and he's always setting these new trends. Love Dr Luke, RL Grime, and been listening to a lot of Arca recently. Noah "40" Shebib is also a huge inspiration, as well as underground Soundcloud artists who are pushing the boundaries with sound design. (Quix, UNKWN, Oski)
Have you been working on any new projects lately?
Yeah! I recently co-produced an EP for a new artist named Blaise Moore. The project racked up a couple million plays on Spotify, and landed her a deal with Interscope. I'm currently working on my own EP, which is a blend of pop and trap/dance music. I'm trying to a bring a crazy new sound to Toronto - something that the city has never heard before. Toronto is filled with diet Drakes, so it's time to switch it up.
🚶🏻

A post shared by Krupa 🇨🇦 (@chesterkrupa) on Apr 2, 2017 at 3:45pm PDT
Is there a big house / electronic scene in Ontario?
I wouldn't say big, but it's definitely growing. I think a lot of venues are becoming more fond of electronic music because of its influence in today's pop music. Most of the records on the radio are so heavily influenced by EDM that it's hard to name a pop song now that doesn't have a drop as it's chorus. Toronto also hosts some crazy festivals like Digital Dreams and Veld. The Hoxton, a legendary venue in Toronto that recently closed was known for hosting crazy electronic shows. I would always go see my favourite smaller international acts play there.
Have you seenThe Little Hours yet?
I have not!! But it looks hilarious. It's definitely on my list.
The most important question: would you give everything up to go be a Weed Nun, why or why not?
It definitely seems like an interesting lifestyle, but I think i'll stick with music.
---
Follow Krupa on Twitter, and Instagram. The Little Hours is out today.
---
E.R. Pulgar is a music writer, poet, image-maker, and once cried reading Virginia Woolf. Follow him on Twitter.
---
READ MORE ABOUT MUSIC / FILM...

FILM | The world of Shrek meets Game of Thrones raunch in 'The Little Hours'
INTERVIEW | ORRIN crafts trippy dreamscape on "Perfect Blue"
REVIEW | "The Beguiled" examines the role of femininity in film
---