Rising Star
The new indie pop sensation stays defiantly hopeful on Inauguration Day.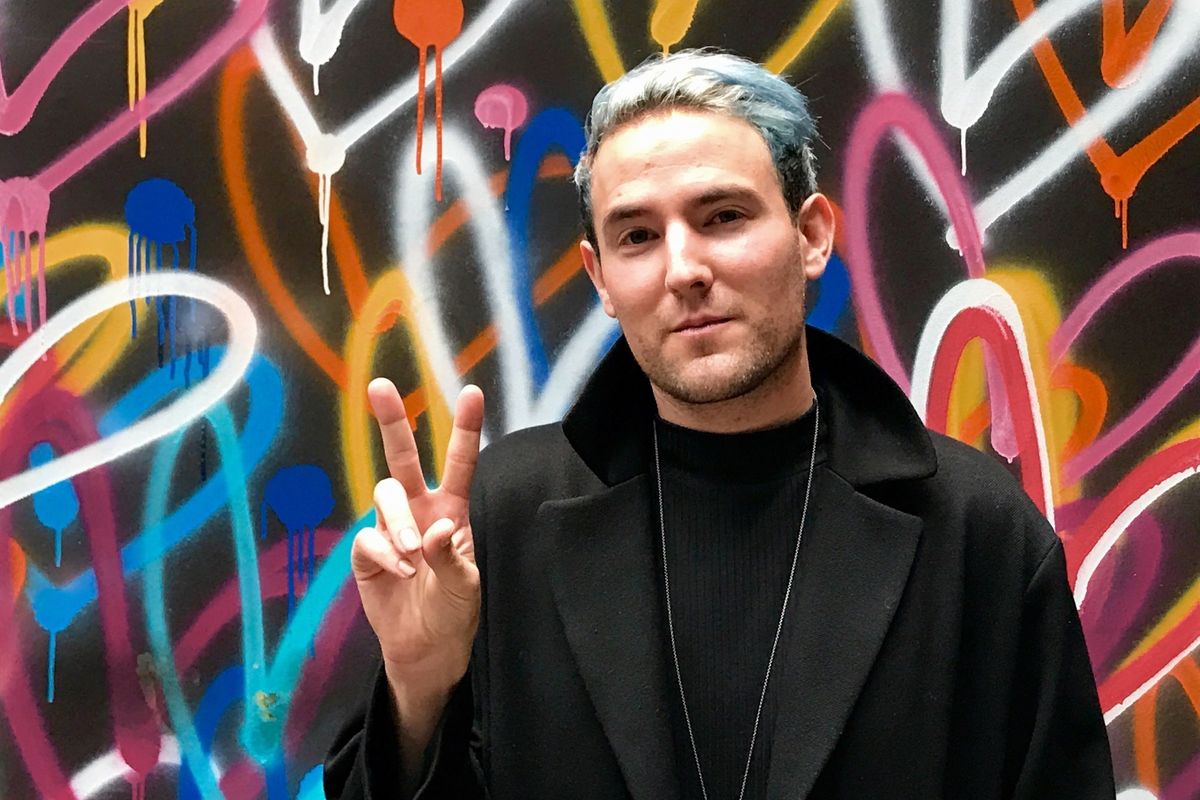 E.R. Pulgar
When I met with morgxn at the NoMo SoHo Hotel in Manhattan the morning of the Inauguration, he was still reeling about his show the night before on the dimly-lit third floor of Ludlow House. "It kind of got me back to my roots because I made the music in a bedroom and it was a very intimate thing," he said. "Obviously, putting my band together, I wanted a bigger sound for the music, but the space was so small it felt like being in my living room."
The spacial constraints didn't stop morgxn from reaching the audience—on the contrary, they were more engaged. "People were really connecting to the lyrics; they were really listening. Sometimes, when you're playing it out like in clubs, [the audience is] just feeling it, but last night I felt like we were all together, like we were one unit." For a musician that so fully gives himself to performance and whose songs are so bombastic, it was a strange juxtaposition.
Near the beginning, as well as throughout his set, morgxn preached a message of unity, telling the crowd they were "stronger together," a statement that echoed Hillary Clinton's campaign slogan. "It's kind of a poignant time in America and the world, and there's a lot of narratives that are trying to drive us apart. I'm really sick of hearing that narrative, and I feel my whole purpose on Earth is to bring people together. I wanted to remind people that we are not separate bodies in this room. We are one, we are together."
Although not overtly political, morgxn is well aware of where he stands as an artist in opposition of the current administration. "I don't think you can separate art from the person making it. I didn't get into this to be a political figure, but I did get into it to share my heart and my voice, so I feel like it sets a fire for me to use my voice and let the marginalized people feel like we are heard and we shouldn't be hiding in the shadows."
morgxn released new single "hard pill to swallow" on January 6th, an extremely personal song that he wrote "eight days after [his] dad suddenly passed away." Not even sure anyone would hear such a personal track, it's taken on a different meaning since its release, especially after the election. "It was a loss that was kind of overwhelming. Well, not kind of—it was incredibly overwhelming. I felt the same way the night Hillary lost," he says.
"I remember sitting in my apartment by myself because I had just flown back into L.A. and I felt completely paralyzed. I had no idea that that was going to happen and that that could happen. Whatever your loss is in life, I think people can relate to the experience of letting go of something they loved very much."
"I don't think you can separate art from the person making it."
He deals with loss in a positive way, relying on experiences of strength to overcome the suffering rather than wallow in it. This strength, which makes morgxn such a compelling songwriter and performer, is evident in his process for writing
debut single "love you with the lights on."
He told me that he wrote it on a late night, his fingers feeling for chords on the piano as the lyrics began to come to him. "The first thing that came out of my mouth was 'you only love me with the lights off,' and that felt like a weighed down experience. When I switched the words and it became "I wanna love you with the lights on," it became a hope and a prayer."
He doesn't stray far from the current situation, even when the conversation turned to past creations: "I think that with what's going on in the world, 'you only love me with the lights off' kind of sends a further divide between people, but 'I wanna love you with the lights on' is…I want us to see each other for who we are, not who we want each other to be. I want us to be together: I want you to be you and me to be me, and not for these divides that tend to happen in the world." He paused, reflecting on what he was about to say. "It's definitely hard to ignore the inauguration. I feel lucky to be singing tonight. I can't make the inauguration go away, but I can be a space for people to be okay being themselves and okay being together."
A lot of his inspiration comes, surprisingly, from books—mostly memoirs of his musical heroes. "I love Patti Smith. Have you read
Just Kids
?" I nod, and his eyes light up. "That book actually inspired wxnderlust, my label. Her journey—kind of moving to New York and just exploring and doing that—set me on my own journey of exploring and writing. Her as a writer is really inspiring to me." Another one of his heroes is Bob Dylan; alongside Patti Smith's
M Train
, he's "reading Bob Dylan's autobiography,
Chronicles, Vol. One
, of which there's only one volume." morgxn as a storyteller finds as much inspiration in the written word as he does the music of his heroes: "Sometimes I just read books to get inspired. I don't listen to a lot of music to get inspired because that's
their
music. I like to feel stories, so books I'm really into."
That said, Bob Dylan's music, which
has now officially been recognized as literary
, is an enormous inspiration for him. "This is kind of a weird coincidence, but apparently Bob Dylan's granddaughter was at the show last night. His songwriting and melodies have always inspired me." He went on to tell me a possibly hypothetical story about a conversation between Dylan and the late, great Leonard Cohen, where the latter said it took him ten years to write "Hallelujah," with Dylan retorting that it took him ten minutes to write "Like A Rolling Stone."
"I thought that was interesting, because songs over the course of a generation take on different meanings," morgxn told me. "Sometimes creation is like churning through mud—moving aside things and shaping it like a big statue—and sometimes creation is something that happens in an instant, and you can't really describe it. It just sort of pours out of you, and Bob Dylan, for the poet that he is, was able to wield time and this burst of inspiration." In the middle of his adoration of Dylan, he paused. "I won't say I'm like him, but I will say that inspiration for me doesn't always comes, but when it comes it's a flash."
The first time I saw him live
, he played a show-stopping, dramatic cover of "Boys Don't Cry" by The Cure, which he planned on reprising that night at his Baby's All Right show. "Sometimes songs come and visit you. They land on your plate or something, and those words and in this time—being a sensitive homosexual man when we have a force in the world that's trying to say men should be like this, women should be like this and xyz should be like xyz —'Boys Don't Cry' is my way of sharing the idea that we don't have to be anything but who we are. It's interesting how it almost completely ties in with all of the music I'm making right now."
Another of the greats that morgxn draws inspiration from is
Stevie Nicks
. Like Dylan, Nicks wrote "Landslide," what many regard as her signature song, in ten minutes; morgxn knows her story all too well. "She also wrote that when she was about to give up," he muses. "When I saw them play at Hollywood Bowl, she shared the story of writing the song, where she sat on the floor of a bedroom and looked at the mountains and that's just what was coming out. Inspiration doesn't always come, but I hope to be there for it."
"I can't make the inauguration go away, but I can be a space for people to be okay being themselves and okay being together."
"Landslide" is a thrill to hear live because Nicks wrote it when she was twenty, and the song has changed meanings for her as she's aged alongside it and continued to perform it live. Thinking about how "hard pill to swallow" changed for him post-election had morgxn returning to one of the subjects that most drives his music: loss. "It changes for me every time. I had a background in theater, and when you're singing someone else's words for so long, you start to to lose sight of your own narrative and what your voice is; it's also interesting when you're singing your words, and as you begin to grow as an artist and as a person, your own words can shift and change for you."

Loss for morgxn is as much a catalyst for inspiration as it is an ongoing experience onstage. "My writing is working through something, but when I perform something it's like I'm continuing to work through it," he says. "I'm still reeling from loss, and I'll say loss with a capital 'L' because there's a lot of things in my life that I've lost. There's a lot of people that I've lost, and 'hard pill' continues to take on a motivating force when I perform it." His onstage presence certainly reflects this: with his electric blue hair and chic, usually all-black ensemble, morgxn looks the part of a rockstar. He's also a big dancer, lively and moving around the stage, and never once straying from his message of unity: a marriage of music, movement, and ideology.

"I think it translates as me delivering an honest message. It translates as me being me. Fully, truly, madly, deeply me."