Top Stories
We sat down with Chloe to talk about what she has in store
Adriel Trespalacios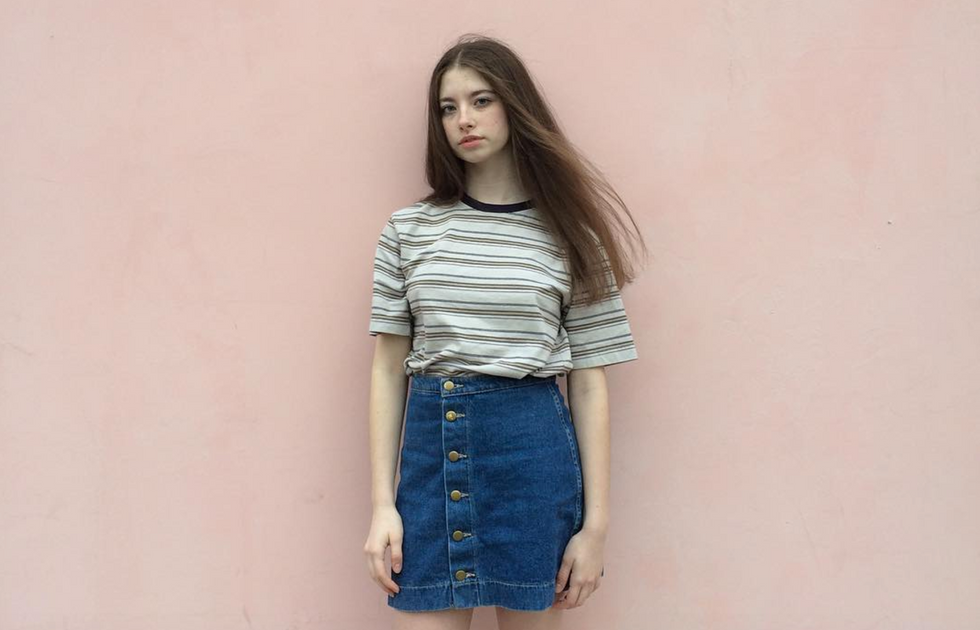 Chloe WoodardPhoto By: Adriel Trespalacios (instagram.com/xdriel)
CHLOE WOODARD
Though you may not know her name, if you've spent any amount of time on Vine (Rest In Peace) you have almost definitely have seen Chloe Woodard's face. The seventeen year old Viner's iconic video "Who is She" was one of the first videos on the platform to go viral - garnering millions of loops and tens of thousands of likes and revines. Though - unlike many other Viner's who had a video go big - Chloe had a lot more in store. Chloe is seriously funny, and her following reflected that - raking in hundreds of thousands followers.
Since the end of Vine late last year - Chloe has kept busy, and continued to put out clever content. She shares her eerie drawings, and dark and catching film photography on her Instagram, and recently shared an original song titled Old Man on her YouTube account. We sat down with Chloe to talk about all things Vine, music, and art.
---
CONOR (POPDUST): You were just a Shorty Award finalist! That's awesome - does it feel gratifying to be recognized for your content?

CHLOE: Yes, of course! It is extremely gratifying to know people enjoy the things I make, especially since my art (if you can call it that) is so personal to me.
CONOR: You really get to know people through their Vines, and I know you've made a lot of online friends through Vine. Is it weird meeting people seeing all of these people you only know online in person?
CHLOE: It's not so much weird as it is exciting - you never know if someone's Vine or internet persona is going to be the same as their persona in real life. I also think that when you meet someone online it's a lot easier to see them in person because it already feels like you know them and the ice breaking stages are already over with!
CONOR: You were really successful on Vine - you got millions of loops, had hundreds of thousands of followers, and were very involved with the Vine community - what are your thoughts on Vine's ending?
CHLOE: I think Vine ending was really unfortunate. It was an incredible platform for short-attention span content ranging from comedy to music to art or all three together you could spend hours on without getting bored. It challenged its users to make something meaningful in six seconds, and it was the epicenter for so many internet jokes and memes. I think without it a lot of potential content was lost with Vine's end; it was the end of a fantastic era!
CONOR: What were the reactions of your friends and family when you really started exploding on Vine?
CHLOE: My friends and family were immediately supportive! They encouraged me to keep making content and doing everything I could like going to VidCon and The Shorty Awards. Without them I wouldn't have the inspiration for a lot of the vines I made.
CONOR: Do you feel a responsibility to keep creating things for your fans now that you can no longer post on Vine?

CHLOE: I do feel responsibility to make comedy content again, even though I haven't. I know I should and everyone is telling me to start making YouTube videos, but I'm at a really busy time in my life finishing senior year and I don't really have any ideas for videos longer than six seconds!
CONOR: You recently shared a song of yours called "Old Man" on youtube that I loved, as well as creating a video - can we expect more music from you?

CHLOE: Yes, I really hope so! I never had any confidence in my musical ability until recently and I've been writing poetry and songs for as long as I can remember. Now I'm starting to do more on my own and with my friends. In fact, think I'm going to start a band soon with my friend Nicole, we both have the same music taste and get along together really well. I also recently wrote something that my friend Ryan is putting music to. I'm very excited to see how all of this turns out and to share it with everyone!
CONOR: You've also really grown into your style, and have shared some great art and music on your Instagram and Twitter. Who are some of your favorite artists and bands at the moment?

CHLOE: My favorite bands include Beat Happening, Twin Peaks, Teen Suicide, Talking Heads, Naked Raygun, and Ty Segall. My favorite artists are Roy Lichtenstein, Derek Ridgers, Jo Brocklehurst, and Brandon J. Wilkins. I also really like the photography of @tm.buddha , @cjharvey2 , @shittyfilm , and @abaxley on instagram!
CONOR: Last book you read?

CHLOE: The last book I read was Generation X, recommended to me by my father who has recommended me all my favorite books and has fantastic taste in music, movies, and literature.
CONOR: You were also involved with Vine's series "Camp Unplug" - how did that all come about, and how was the experience?

CHLOE: When I'm not creating videos I'm probably sleeping or taking a bath or filming my friends. I'm currently working on a documentary about my close group of friends, just kind of watching our last few months together before we all go off to college and looking at who they all are as people right now. I think it will be nice to look back on.
CONOR: What can we expect from you down the road?

CHLOE: Down the road I hope to focus on photography, art, music, and to be completely honest I'm not sure what all I'll be doing but I'm sure it'll be great!