iphone lardass kardashian autocorrect
Sure, Apple has been accused of manufacturing their hideously highly priced goods in Chinese sweatshops, under conditions so terrible allegedly, that it's led to a bunch of worker suicides..
OK, their iPhone 6 could be bent out of shape by a person's bare hands....
Pumping Up The Kardashians Plastic Surgery Time Lapse Videos Are Awesome
Yeah, they rammed that hideous new U2 album down their customers' throats, whether they liked it or not, and millions around the world did NOT like it—not to mention that stupid watch thing...
And, yep, their phones shatter into a million little pieces at the slightest drop of a hat….. BUT…. all and everyone of Apple's (admitted) many, many sins have now been absolved.
Everything You Never Wanted To Know About The Kardashians Pubic Hair
And, it's all down to that annoying as hell text autocorrect—which, during my 6 years of owning an iPhone STILL insists on trying to change "fucking" to "ducking"…. "shit" to "shot"…..
I'm British Goddammit—we love to swear!
Shot! Just stop being so ducking puritanical for ducks sake!
At Last! Those Vagina Emojis We've All Been Waiting For Are Here!
However, that annoyance aside, as is often the case with technology, where programming geeks are known for burying their own little hidden jokes (known as "Easter Eggs") deep within the coding structure, seems at least one of Apple's engineering staff has a sense of humor—and appreciation for pop culture.
Khloe Kardashian Gets Naked….Again
Case in point: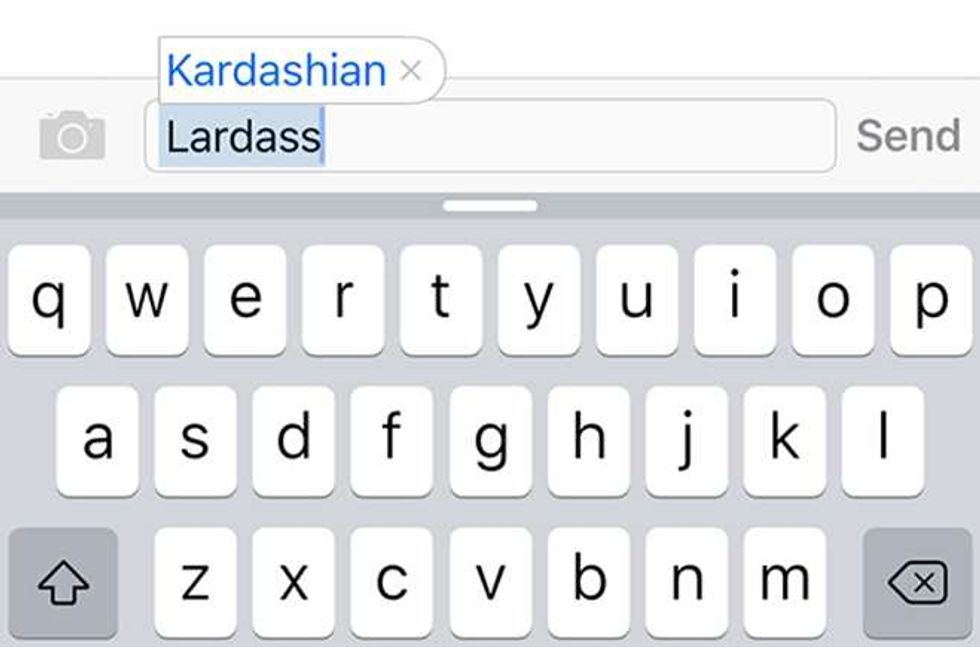 Yep, do it right now!
Try to text "lardass" and then watch it gloriously autocorrect to "kardashian"
Hahaha.
It really is the little things in life (and, by little things, we are obviously not referring to the KKs' bountiful backsides.)
We salute you genius tech geek hero—we salute you!
For more entertainment, world, music and pop culture updates and news, follow Max Page on Twitter