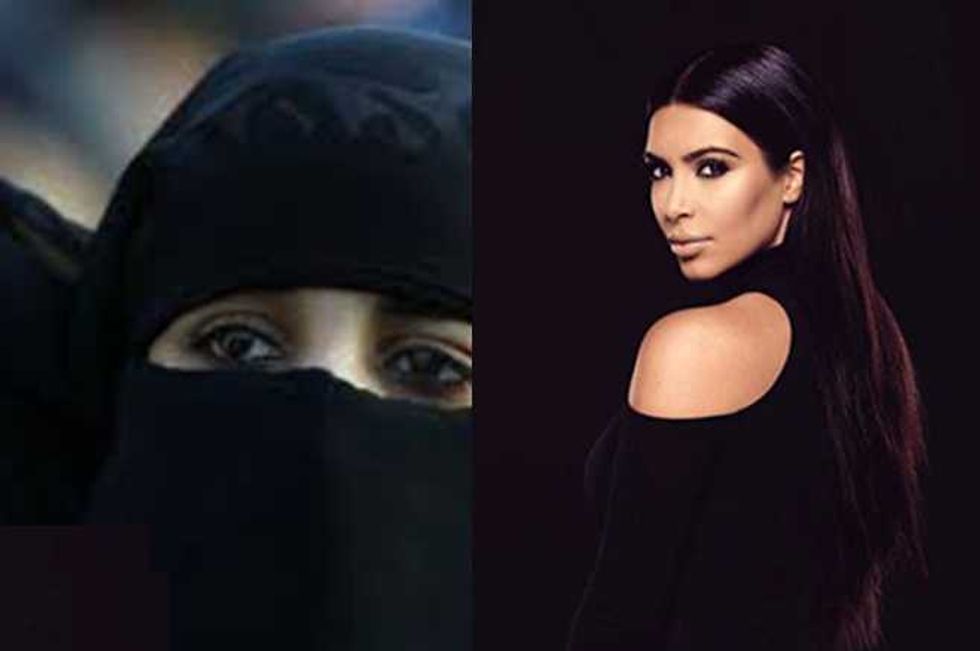 Kim Kardashian has been accused by Iran of colluding with Instagram to corrupt Iranian woman, amid a crackdown on women who post glamorous selfies.
The spokesman for the Organized Cyberspace Crimes Unit of the Iranian Revolutionary Guards Corp spoke on an Iranian news program Sunday night to denounce Kardashian and 'her ilk.'
According to ThinkProgress, Mostafa Alizadeh explained how Kardashian and her ilk 'target young people and women' with the scandalous imagery they share. He suggested that Kardashian is employed by Instagram in some capacity as part of a complex plot to lure Iranian women toward a Western lifestyle and away from the teachings of Islam.
[Note to Kim: Uh oh.]
In his words:
These schemes originate from around the Persian Gulf and England. When you draw the operational graph, you will see that it is a foreign operation. Ms. Kim Kardashian is a popular fashion model so Instagram's CEO tells her, 'make this native.' There is no doubt that financial support is involved as well. We are taking this very seriously.
In a crackdown on un-Islamic dress, Iranian authorities arrested eight individuals involved in Instagram pictures of women without headscarves, as part of the operation which 'targets Iran's fashion elite for their use of social media.'
Prosecutor Javad Babei made the arrests public on TV, saying the operation was zeroing in on 'threats to morality and the foundation of family'.
According to the BBC, the eight people who were arrested were among 170 identified by investigators as being involved in modeling online. They included 59 photographers and make-up artists, 58 models and 51 fashion salon managers and designers.
Mostafa Alizadeh said, ominously:
Sterilising popular cyberspaces is on our agenda. We carried out this plan in 2013 with Facebook, and now Instagram is the focus.
One of the arrested women, a former model, appeared on TV to renounce her bare-headed photos and lament her 'mistake.' During her interview, she warned other young women to stay out of the industry, saying:
You can be certain that no man would want to marry a model whose fame has come by losing her honor.
How will Kim respond to this serious human rights issue? We know how strongly she feels about sharing her nude body to celebrate her femininity or whatever she keeps celebrating.
Will she stand up for the women of Iran and support their freedom of self-expression? Will she deny her influence? Or will she go into hiding?
Just kidding with that last option!
Kim will go into hiding when Hell freezes, or as they say in the Persian Gulf , "إذا حجت البقرة على قرونها", which means 'when the cow goes on pilgrimage on its horns.'