Celebrity is, by definition, big. Kanye and the Kardashians loom over us like Thanksgiving Day parade balloons, generators of large images that require an entire blog industry to deconstruct. This is bothersome to none but the most curmudgeonly among us; we like what they do and the chasms of maximalist space validate our passion. We love Beyoncé, so we want her to expect our adoring gaze. But it can also be viewed as a somewhat new invention, a creation of the Annie Leibovitz generation. Sometime in the Reagan era, Leibovitz's shoots became shorthand for grandiose cool, twisting and turning names like John Lennon, Demi Moore and, most recently, the late Carrie Fisher into statures of dramatic reverence, stylized versions of ancient paintings vaguely remembered that openly demand our gawking attention.

If tempted, however, to wonder what things were like before all that pomp, a beeline can be made over to the Metropolitan Museum of Art. There, in a surprisingly large cavern on the first floor, smashed somewhere in between the parade of Roman copies of Greek statues and the rooms of ancient Macedonian jewelry, one will find a celebration of the work of Irving Penn, who was born a hundred years ago and died in 2009. The work of the legendary Vogue photographer, whose lens has worked with the likes of Alfred Hitchcock, Marlene Dietrich and even Pablo Picasso, is proudly organized by subject and chronology in the Irving Penn Centennial. The framed prints recall little paintings and each beckon independent admiration. Among Penn's aphorisms , dutifully plastered on the walls, is "A good photograph is one that communicates a fact, touches the heart, and leaves the viewer a changed person for having seen it." These are Penn's facts and they are sleekly informative. The dress will satisfy your Mad Men fetish and an extended gaze will prompt some clever questions about today's selfie-infused generation.
Penn is less impressed by celebrity than we are. Some of this comes from the professional art school background: he studied under Alexey Brodovitch, he who turned Harper's Bazaar into an international fashion gatekeeper. But he was also not one to compete with the paparazzi to get the best candid shot; "He preferred to work away from the fray," one of the wall placards read. Almost all the prints on display depict their subjects in similar-looking studios, relating to a similar-looking canvas. Penn was no journalist, his work was not interested in capturing the real life of the stars but in placing them inside his.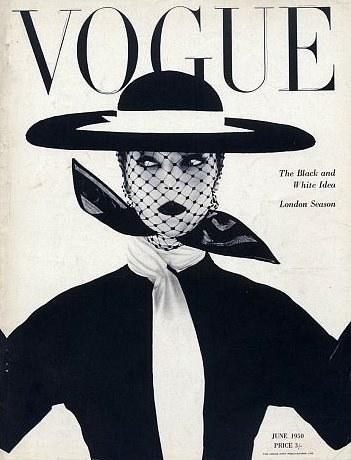 Among Penn's 165 covers for Vogue the Centennial claims the most famous was the shoot he did for the June, 1950 issue, starring a tightly wrapped Jean Patchett
Almost all the prints on display are black and white, even though Vogue would often add color to his work before setting it to print. Like the canvas (also on display in the center of one of the rooms), it is his aesthetic choice; Penn passed away in 2009, but his control is still felt, these are his prints and the paper they are produced on is of his choosing. Even his later work, like his shoot of a very dapper Nicole Kidman circa 2004 in a Lagerfeld jacket, feels manufactured out of a soft steel. Penn's Kidman, kept in the corner close to the gift shop, is also illustrative of Penn's overall style. In his hands, the star from Eyes Wide Shut hides behind the floral display that stretches from her hat. She refuses to gaze at us or even something in the frame. They give little to us but capture our attention easily.
A version of this print of Kidman appears at the Met's retrospective. Penn used the space of his studio, home to a deliberately drab canvas backdrop (also on display) in order to both center visual narratives and to augment the mystery of his subjects.
Hitchcock's contemptuous gaze holds something of a contemplative sadness. In a certain sense, it can be said to contain what feels like Hitchcock's essence, like in a Barthe-y sense.
Penn also liked to put subjects in corners that work to center the viewer's gaze without negotiatiating the gaze of the subject. Here, boxer Joe Lewis looks like he just left the rink and isn't planning on dealing with your bullshit.
Penn's portrait of the southern novelist Carson McCullers (most remembered for her debut, The Heart Is a Lonely Hunter) accents her queerness in a way the brings to mind likeminded figures like Oscar Wilde.
Truman Capote was another queer subject that Penn was able to capture to droll perfection.
Picasso famously pretended not to be home when Penn arrived to set up a shoot, a privilege Penn rarely afforded subjects. The most well-known painter of the 20th century later granted Penn ten freaky minutes.

Penn's early work, packed neatly toward the front of the Irving Penn Centennial and a little easy to miss, deserves a look. It's strangely colorful. It is stuff of rigorous, if academic, object studies but injected with restrained drama. Not even Cézanne could infuse still lifes with so much, well, life. "Salad Ingredients, New York," for instance, is the short story of a dinner gone awry, succinctly reduced to its climax, with a chef-like control of dramaturgy.
Elsewhere, Penn's other pursuits are celebrated: two extended series of nudes and cigarette butts complement each other as equally unappreciated in their time. The cigarettes are morbid and not sexy and the nudes are, in Penn's words, "real women in real circumstances," ditto unsexy. Previously celebrated by the Met, in 2002's Earthly Bodies: Irving Penn's Nudes, 1949-50, the nudes glitter with their fascination with the possibilities of human form. The skinny celebrity had bored him.
Penn's early work is worth a gander: his ability to create lively chamber dramas out of still objects would prefigure his relationship with the celebrities he would shoot
Penn would remark that he was tired of the "skinny girls with selfstarved looks" that he often shot for Vogue. His nudes were rarely exhibited until the next century.
Penn is said to have begun his similarly unpopular series of cigarette butts after his mentor Alexey Brodovitch died of lung cancer.
More popular with Vogue readers were the pop-anthropology shots Penn would take in his travels. One of the few prints Penn ever made in color, "Man with Pink Face" was made during a trip to the highlands of New Guinea. At the time, many white people feared such colorful cultures were on the verge of disappearing and wanted to see them photographed.

The skinny celebrity was, of course, what had to fill his hundred-plus Vogue covers. "The most famous," of these, the Met claims, was the June, 1950 issue featuring the French model Jean Patchett, decked out like a mourner ready to hit the disco. Penn was the master of manipulating this vibrancy, catching his subjects' eyes just as they noticed something else in the room. It is a warm antidote to the frozen and photoshop-perfect images of today's magazine covers. Of course, Penn was no Catherine Opie, his work was uninterested in the flaws of his subjects: instead, he diligently wrapped each up in the insular perfections of his own style. Alfred Hitchcock, for instance, barely looks at us from the lens of Penn's camera. But this is the Hitchcock that we wanted to imagine was real, somebody as hidden as his cameos in his movies. Another highlight is Penn's shot of Carson McCullers, today best-remembered as author of The Heart is a Lonely Hunter. Subsumed at the time, her queer identity is subject to much talk today. Penn merely adorns her like the 20th century version of Oscar Wilde that she was and the mystery is ours to savor.
Those mysteries and more are yours to savor at the The Irving Penn Centennial, which runs at the Metropolitan Museum of Art until the end of July. Pay what you wish.
Did you know that Andrew Karpan is also an artist? Part of the 'total degradation' scene of the late '80s, his work was largely responsible for the art marketplace crash that soon followed his first exhibit at the Whitney. You, however, can follow him on Twitter.
Art! More arts:
Marsden Hartley's hot hunks hit the Met
Art under totalitarianism: chasing the Revolutionary Impulse at MoMa