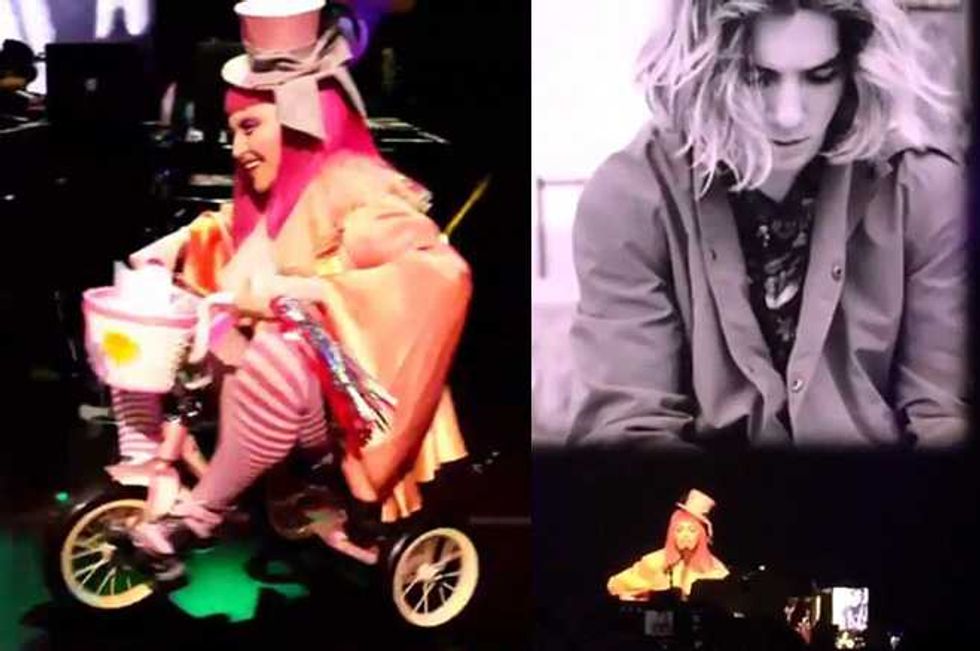 madonna losing her mind
Madonna showed up 4 hours late for a show in Melbourne, dressed as a clown, adding to speculation that she is losing her mind over the protracted custody battle for her teenage son Rocco.
Her free 'Tears of a Clown' show was billed as an evening of comedy, performance art and storytelling. Scheduled to begin at 8:30 p.m., the crowd was not allowed into the venue until 11:30 p.m., and Madonna finally appeared just before midnight.
Madonna Performs David Bowie Tribute—Look Away, Rocco!
Fans tweeted their predicament, some wondering how they could make it to work in the morning.
Madge took to the stage in full clown costume, riding a tricycle.
It's no secret that Madonna harbors a desire to do stand-up comedy. Once, she insisted on trying out some jokes on Late Night With David Letterman, and bombed so badly that it was hard to understand her motivation.
Her show in Melbourne was bizarre in all respects.
Madonna Reveals Her Wig Collection—Is Nothing Sacred?
Madonna apologized for the delay and explained that the show was a "work in progress." She also informed the audience that she wasn't making money on the tour because of all the late fees in each city. Complaining about those late fees probably did little to make amends for the fans' wasted hours, but that's Madge, Queen of Pop, for you.
The show had a carnival theme, with Madge circling the stage on her tricycle and 'comically' falling off.
According to CBS News:
Her antics during the show also involved testing out stand-up comedy routines between songs, giving two audience members each $100 and sporting a jewel-encrusted grill that made her difficult to understand. She performed many lesser-known tracks and acoustic versions of hits, as well as a cover of Elliott Smith's 'Between the Bars.'
Oh dear.
Madonna Is Very Difficult, Says Armani About Capegate
During the 3 hour show, Madonna discussed her private life, dedicating the song 'Intervention' to her son Rocco, in front of a huge picture of him. Even as she shared her pain over her troubled relationship with the boy, ex-husband Guy Ritchie was appearing in court for another hearing in the ongoing custody struggle. Rocco wants to live in London with his father, despite a legal mandate that he live with his mother.
madonna losing her mind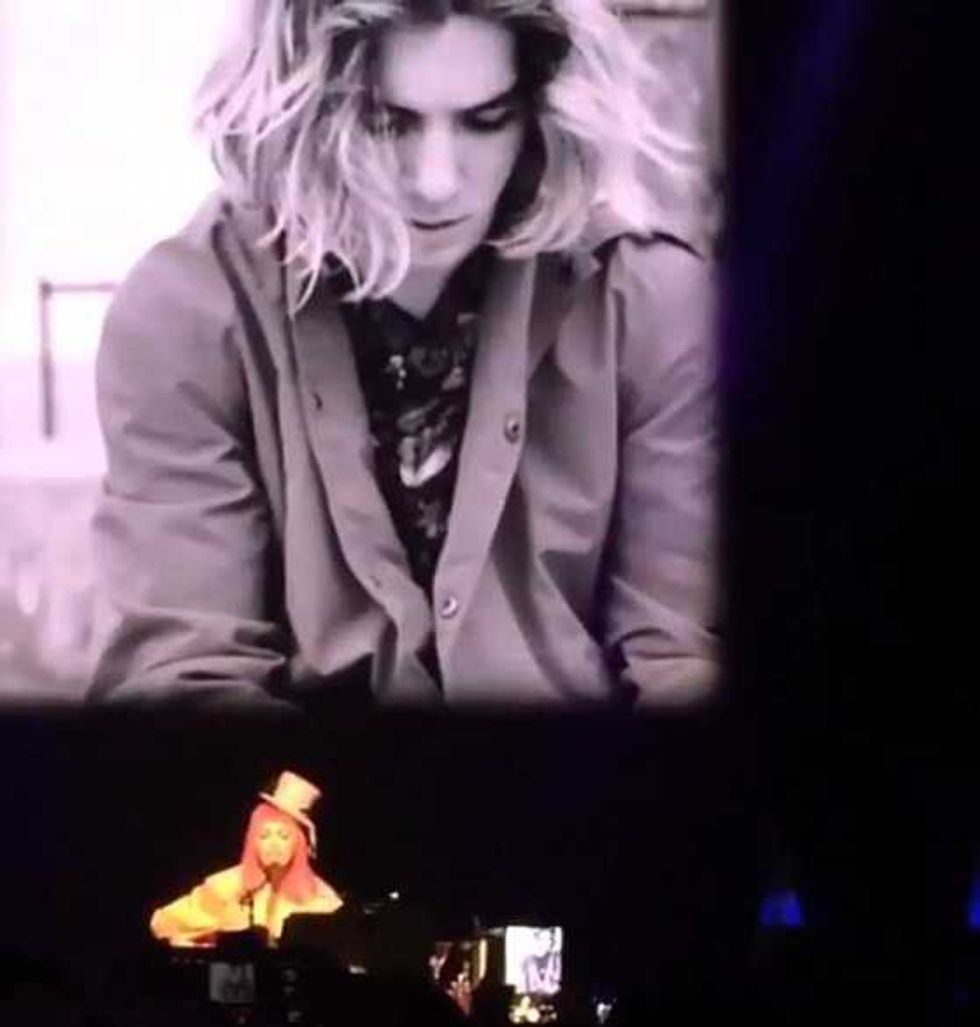 According to reports, Madonna's storytelling included an anecdote about ex-husband Sean Penn. She described going to prison to visit Penn, who'd been placed near a serial killer. The latter always had a line of groupies waiting to see him, while no one but Madonna came to see Penn.
The custody battle must be brutal for Madonna, as it would be for any mother. She clearly feels that she is losing her son, even though it is typical for a teen of his age to want to pull away from his mother.
Her efforts to hang on to Rocco are only making matters worse, but perhaps Madonna is unable to take advice from child development experts. Publicly airing the dispute, and posting embarrassing photos of Rocco, seems destined to alienate him.
It's hard to watch this real life family drama but because it's Madonna, it's not clear whether she's coming undone by grief or just making sure she stays in the spotlight.
'Send In The Clowns' has an especially poignant appropriateness here.
Poor Madonna.
madonna losing her mind
madonna losing her mind