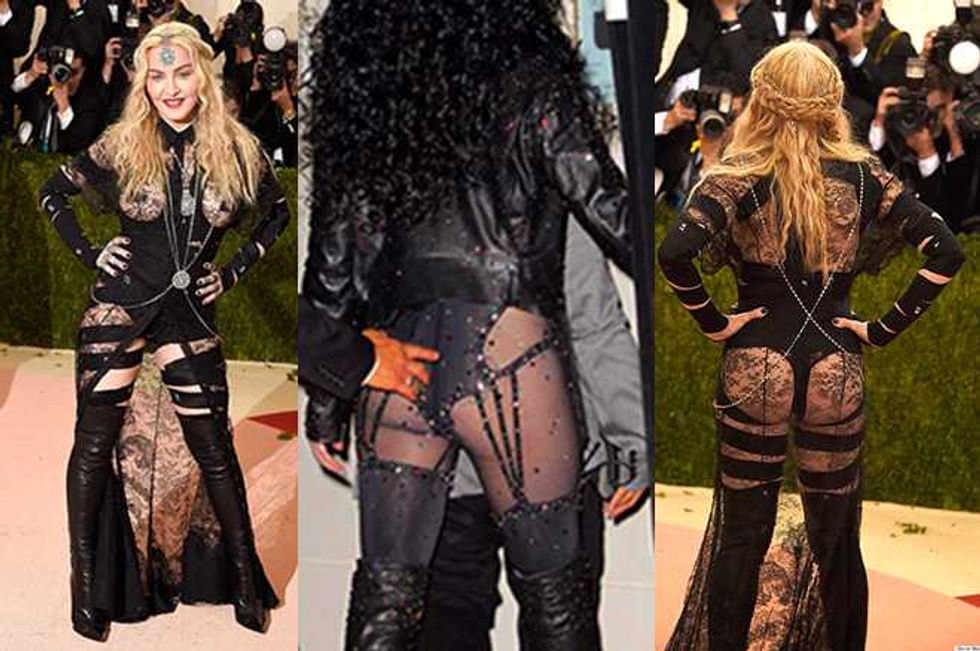 Examining the Madonna new Cher mystery
Fine, Madonna has had a rough year but why does she want to be the new Cher?
We've already had Cher!
Madonna is so good at the reinvention thing, you'd think she would come up with something original!
Maybe she's decided that since Lady Gaga has veered into her lane and won't budge, she had to veer into Cher's lane.
A bad choice, Madge!
Let Cher be Cher, and you be....just don't be Cher.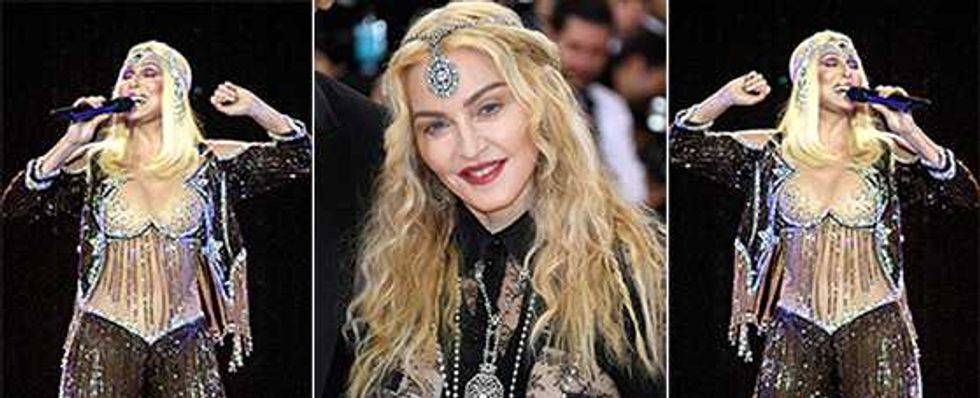 It's no surprise that Madge wants us to see her noteworthy bosom.
We have admired them now for decades.
But it's time to put them away. Most of us would rather close our eyes and visualize them.
Less nude bosom is so much more at a certain age, and same goes with your Sitting Down Area.
In creative writing, the rule is Show, Don't Tell.
For Madonna, the rule is reversed. Please!
Her outfit at the Met Gala on Monday night is nothing less than a desperate cry for attention help.
Let's not  stoop to throwing in Rocco here, okay? We are better than that.
Sure, Madge is embarrassing him but she's embarrassing all of us and we're not running off to live with our dads.
No one expects Madonna to be dignified. She's not Helen Mirren for god-sake.
Helen Mirren already has the Helen Mirren Lane, anyway.
We have worried at times that Madonna was poised to become the post-modern Mae West, but perhaps that's not a bad idea.
Being Mae West means using your age as part of the joke.
It's so much better to be in on the joke than to BE the joke. Hear what I'm saying, Madge?
Does Madonna need an intervention? Who would she listen to?
We could probably get Guy Ritchie, Sean Penn, Lourdes, Diplo, that dancer who tripped her, a couple of ex-Boytoys....
WAIT! Let's just get  Cher!
Can't you just hear Cher advising Madge to knock it off?
Maybe Cher could slap her like in Moonstruck
Okay, perfect.
Shout out to Cher, hashtag MadonnaIntervention.
We need you, Cher. Please get back to us before the next Met Gala!
Madonna's Having 'Fun' With Rocco In London—Whether He Likes It Or Not
TFIF Flashback Friday—Dress You Up by Madonna
Madonna Drunk Dialing 'Everyone' Wins Best Fake Story Award
Is Madonna Finally Losing Her Mind?
Madonna new Cher
Madonna Performs David Bowie Tribute—Look Away, Rocco!
Rocco Ritchie Wishes Madonna Would Be Less Rebel More Mom
Madonna Reveals Her Wig Collection—Is Nothing Sacred?
Watch U2′s The Edge Fall Off The Stage—Top That, Madonna!
Madonna new Cher
A New Madonna—Why The Long Face?
Madonna And Ellen's Hilarious 'Dress You Up' Performance Is Amazing—Watch Now!
Madonna—'Gay, African-American People Have More Rights Than Women Do'
Madonna new Cher
Madonna Felt 'Incarcerated' During Marriage to Guy Ritchie
Madonna Buys $20 Million Penthouse In Tel Aviv—Take A 3D Tour!
Madonna Suffers Epic Wardrobe Fail And Takes A Shocking Tumble!