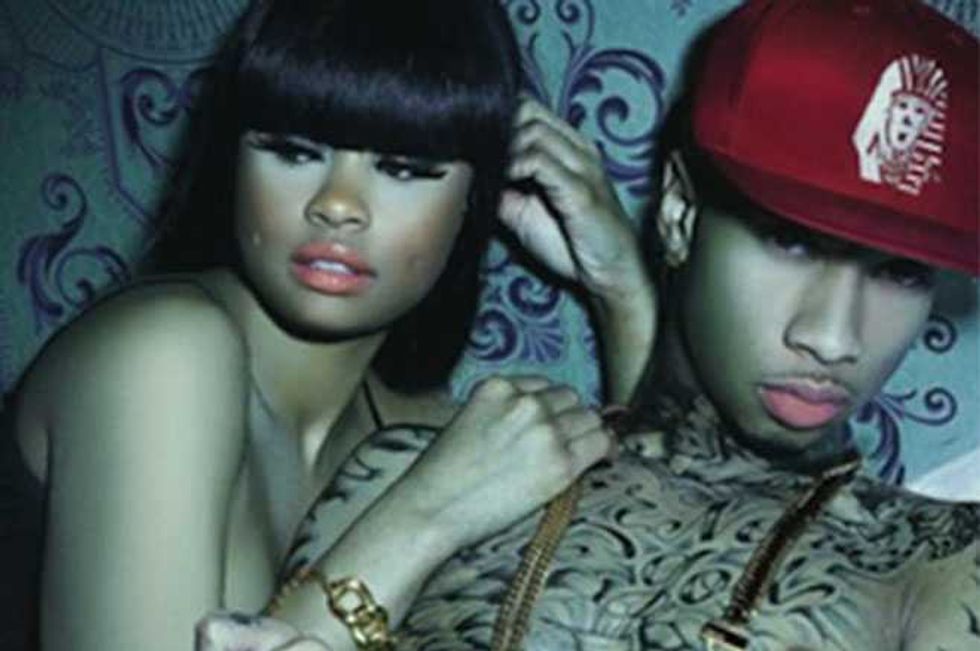 Does the world need to see a Blac Chyna Tyga sex tape?
You couldn't make it up.
In another instalment of the Jerry-Springer-Kardashian-relationship-merry-go-round-show, Blac Chyna is apparently doing everything she can to prevent a sex tape being released starring her and her ex, 26 year old rapper Tyga.
Chyna, 27, made the sex tape with her then partner when they were happily engaged (before he ran off with the babysitter), and TMZ report that the video has gotten into the wrong hands and is now being touted around media outlets and porn websites.
Blac Chyna, as we know, is now engaged to 29 year old Rob Kardashian, while her ex-fiance is involved with Rob's little sister Kylie, 18. We are led to believe that neither of the stars of the X-rated tape are all that anxious to see it in the public domain, and that Chyna is threatening legal action if it ends up on a porn site.
The tape could also create a little discomfort in the fake as fuck newly forged friendship between Chyna and Kylie.  Rob recently shared a selfie of them on his Instagram captioned "So happy my girls finally got to talk and make peace! #MyFamily #AllLove".
Barf.
But is all as it seems?
You have to wonder. I mean seriously. We're to believe the sex tape "got into the wrong hands". Just who the hell do you share a sex tape with that would enable it to "get into the wrong hands"?
Hey we're not judging—if you want to make a sex tape, knock yourself out and go ahead. But if you then share it with other people, let others know of it's existence or leave the file anywhere on your electronic devices where it can be found well you're just plain dumb.
Or are you?
Because let's face it, we all know extremely well how a sex tape launched Kim Kardashian's career.  And Blac Chyna is said to have a master plan to make herself bigger and more famous than her former friend Kim Kardashian.
According to author Ian Halperin (who correctly predicted Michael Jackson's death six months before it happened), Chyna has been maneuvering herself inside the Klan with a view to ruthlessly taking over from Kimmy as the No 1 reality queen.
It's well known that she used to be besties with Kim but was ejected from the inner circle when Tyga took up with Kylie.  According to Halperin she's been plotting her revenge ever since and is putting what she learned on the inside to good use—snagging Rob was just the first step.
Is his theory that far-fetched? It does kinda have a ring of truth about it.
Maybe Blac Chyna should seek some advice from mommy-in-law-to-be Kris Jenner, cos she sure knows how to make a sex tape work, having brokered the deal for the release of Kimmy's video.
We're sure she'd be only too happy to help.
What do you think?