MUSIC
All is not right in the Spice World...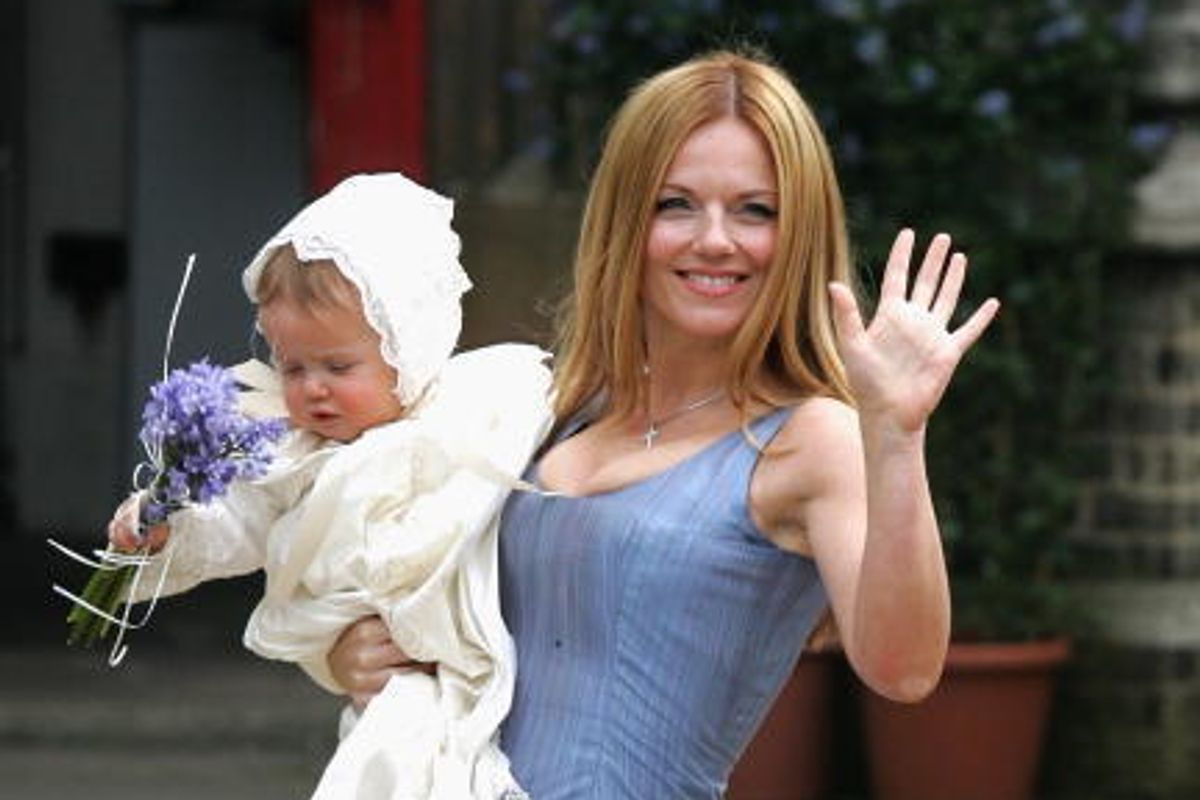 Getty Images
On May 31st 1998, Geri "Ginger Spice" Halliwell announced her evil departure from the Spice Girls at the height of their fame, resulting in millions of tweens around the (Spice) World to experience their first trauma. I spiraled. I was ten-ish, so my version of unraveling meant attacking the snack cabinet, furiously swallowing Gushers, Fruit Roll-ups, Capri Sun, and the psychotically sugary such. How could she? What happened to the "friendship never ends" thing, Ging? Alas, my heart finally began the healing process when Ginger reunited with the Girl Power gang for their 2007-08 'The Return of the Spice Girls' global tour, and then for 2012's iconic and pristine performance at the Olympics in London.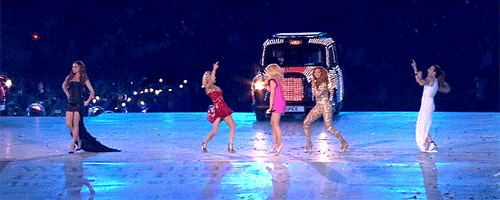 Yesterday, October 10th 2016, Geri announced via her Instagram that she's expecting her second child at 44-years-old, which made my sister and I scream-o text things (replete with the coffin emoji) like: "Why does Geri have to ruin everyfuckingthing!! WHY!" Hi, we were referring to her breaking up with the gals right before the American leg of their '98 tour, and NOW, sabotaging their (sort of? kind of?) forthcoming (subject to change...) reunion. Reminder: a few months ago, Ging, Emma "Baby Spice" Bunton, and Melanie "Scary Spice" Brown tossed a video onto a site with the (interesting/potentially problematic) URL, SpiceGirlsGem.com. GEM (painfully) = Geri, Emma, Mel B. Yes, they looked absolutely gorgeous and downright thrilled in the vid, offering this kind and cute gem: "Happy 20th birthday to all our fans! You've stood by us for over 20 years, so we want to say thank you. We hope to tell you soon what you want, what you really, really want."

Post-sibling meltdown, I simmered. Because, while it's gut-wrenching to admit such a terrible thing, I'm just not so sure if I really, really want GEM. Something just does not sit well. For one, GEM is an awful name. I mean, I could barely handle their greatness as a foursome. It was the zig without the ah! Anyway, I didn't mind and wasn't surprised with Victoria Beckham's "I think I'll pass" when the reunion rumors were first swirling, because a miserable Spice Girl is not my cup of tea. (In related news, Posh recently expressed she'd be "a bit sad" if they sang the Spice Girls' songs instead of new material, because "what we did as the Spice Girls was so special." THE SHADE OF IT ALL!) But the lack of Mel "Sporty Spice" C, who's unarguably the most talented of the Spices with those power pop pipes? I am so sincerely sorry, but I just cannot.

So, on second, Mature Spice thought, maybe Geri's baby bump is a beautiful thing. Baby Spice seems quite happy about the news. Proof: Ginger's Instagram post last night reveals a smiling Baby Spice with her hand on Ginger's Baby Spice bump. Geri had an "amazing night," which involved Emma presenting her with the 'Attitude Award.' (No, I'm not sure what that is, but it sounds accurate re: the most spicy of the Spice Girls.) She ended her caption with #mamaspice, and Sporty Spice "liked" it. AW!
[instagram https://www.instagram.com/p/BLaV0_JFq0e/?taken-by=therealgerihalliwell&hl=en expand=1]
Does the burgeoning bump really interfere with the Spice Girls, errr, GEM's upcoming plans? (If the rumors are true, and they're holding auditions to tragically replace Sporty and Posh, then I hope fucking so.) Let's investigate. Looking back at their '98 Spice World world tour, you may recall Posh and Scary performing up to three months preggers! So, there is hope for GEM! Oh, but if you're a freak like me, you'll notice that Scary Spice has recently un-followed Geri, perhaps in the wake of the pregnancy. She also no longer follows Sporty or Posh. She's only sticking with, for now, Emma. When 5 Becomes 2, anyone? Is Mel B the true Baby Spice? Are we gonna be stuck with EM instead of GEM?! This is all "Too Much"! (Iconic Spice Girls ballad reference.)
[rebelmouse-proxy-image https://media.rbl.ms/image?u=%2Fwp-content%2Fuploads%2F2016%2F06%2Fspice-world-mel-b-screening.gif&ho=http%3A%2F%2Fi.perezhilton.com&s=107&h=c894a8c86a773cd9e699a7956552b4179c7641f055492d4d97ccd254b2f74010&size=980x&c=2941851397 image-library="0" pin_description="" photo_credit="" expand="1" caption=""]
Today, October 11th, 2016, my heart hurts. It seems like the "friendship never ends" thing is long gone like Geri's Union Jack minidress and my tween bowl cut. But I choose to be #StrongSpice and hold onto the joyful memories. Today, I will proudly rock my Spice World tour snapback. (Okay, I've been doing so since '98.) While the glisten may be no longer for GEM, Geri, forever my fav spice, shines on. #HappySpice! Now that's what we really, really want. Right?
[rebelmouse-proxy-image https://media.rbl.ms/image?u=%2Fimages%2F65870863%2Flarge.gif&ho=http%3A%2F%2Fdata.whicdn.com&s=69&h=5dc8da64676317a0713bcd3f408846a3d1a87411ad605f8c959d9c30708ebe59&size=980x&c=1053687746 image-library="0" pin_description="" photo_credit="" expand="1" caption=""]