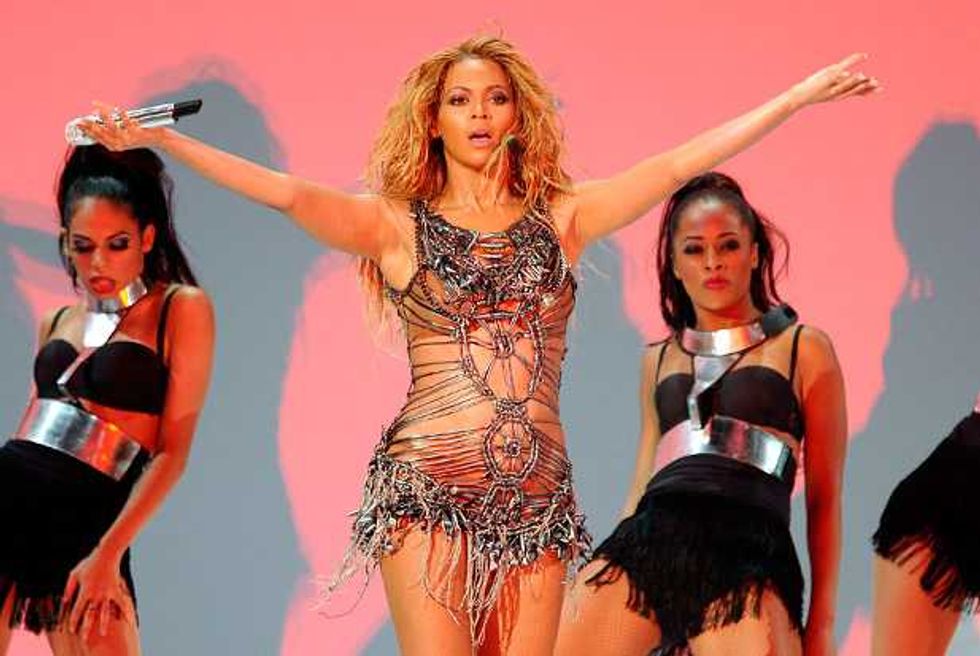 No plans tonight? Popdust has two ideas:
- Watching the American Idol finale. (And following our coverage! Stay tuned for a fun and edifying way to watch the broadcast.)
- Before that, breathlessly refreshing Beyonce's Facebook for her to reveal the latest title from upcoming album 4, the way she's been doing once an hour for pretty much all of today.
For the love of Sasha Fierce. This is ridiculous. But in a year where we've been given eyedropper portions of the "Born This Way" (song! Not album!) lyrics and two seconds at a time of a Britney Spears video that coincidentally contains about two seconds of passable dancing, nobody should be surprised. Here's what she's given us so far:
1. 1+1
2. I Care
3. I Miss You
4. Best Thing I Never Had
5. Party (ft. Andre 3000)
6. Rather Die Young
7. Start Over
8. Love On Top
9. Countdown
10. End Of Time
11. I Was Here
12. Run The World (Girls)
So yes. There's not much to work with here, but a few observations:
- "Run The World" is the last track--is Bey taking a cue from Lady Gaga, whose "Edge of Glory" closed Born This Way, and back-loading 4?
- That Beyonce leak is apparently legit! But apparently also called "End of Time."
- ANDRE 3000! Now we know this is gonna be good.
- "Rather Die Young" strikes us as one of those apocalyptic pop songs like Britney's "Till the World Ends" and Ke$ha's "Blow" that tells us to dance like it's the last night of our lives. We could be proven wrong (they said the same thing about "Till The End of Time), but seemingly every other pop star's on the doomsday train, so.
...Yeah, we've got nothing. Check back throughout the day for us to update this thing.
5 p.m. update: "Best Thing I Never Had." If this isn't a Drake diss, we will be sorely disappointed.
6 p.m. update: "I Miss You." ...
7 p.m. update: "I Care." Which you obviously do too, if you're reading this far, because we're in the home stretch! GET. EXCITED. Somehow.
8 p.m. update: This is it! The final track title! (The first, actually, but whatever!) "1+1"! It's very intro-track-that-isn't-actually-a-track, isn't it? Man, we're gonna be pissed if we refreshed all these times--seriously, we refreshed a lot--for an album intro.
Although there's art, so maybe this will be a single after all! Check it out:
And that's all on the Bey front. We're sure there'll be, like, a few more pixels tomorrow. Until then!