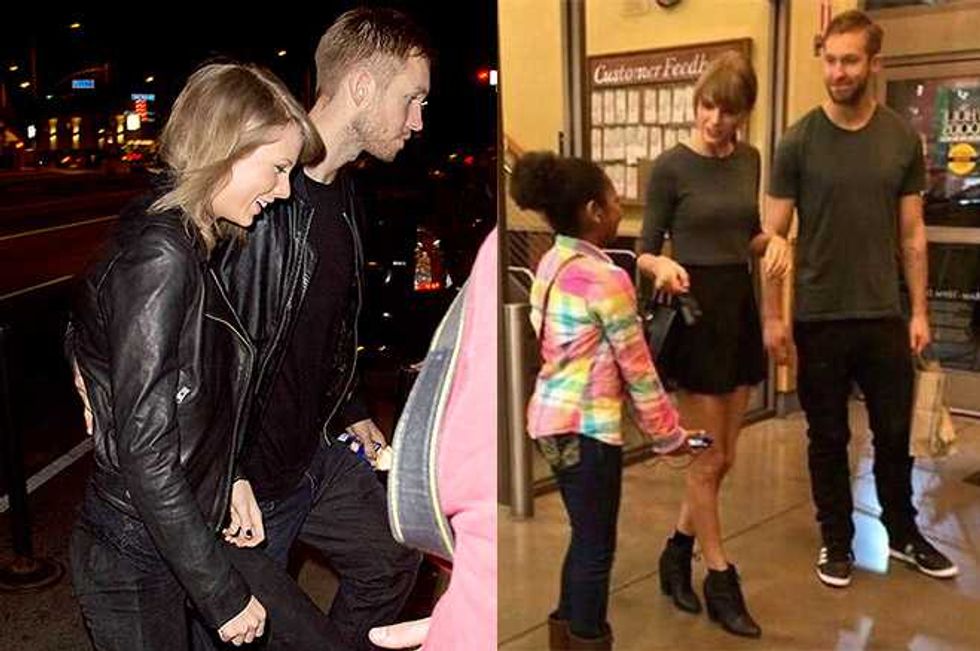 Taylor Swift and Calvin Harris have finally made their romance official with a public dinner date. Now it's only a matter of time before Taylor will share the bitter break-up in a song, followed by complaints that people are too nosy about her boyfriends.
I'm sorry! Don't blame the messenger!
Taylor has a pattern and patterns are hard to break.
She certainly likes famous men and men of a certain income level. Beyond that criteria, her boyfriends can be short, tall, fair, dark, younger or older. With Calvin, she is demonstrating a new interest in matching outfits.
How cute, right? They like to go out in leather jackets or black evening wear. They went shopping at Wholefoods wearing matching grey t-shirts, looking like a brother and sister act.
Taylor goes to watch Calvin's shows and screams from her seat like a schoolgirl. Well, she's always doing that at concerts, so never mind that one.
Now that they've made it official after weeks of refusing to confirm the status of their relationship, we can relax and ponder its trajectory.
Will they make a record together? Harris has been working with Taylor's good friends Haim, and he has a beef with Katy Perry: both items in the Plus Column. According to Forbes, Harris was the highest-paid DJ of 2013 and 2014...another big plus.
However, Harris has been involved in a number of controversies, both professional and personal.
Most significant was his falling out with singer Rita Ora following their break-up. Harris prevented Ora from performing her hit "I Will Never Let You Down" at the Teen Choice Awards (Harris wrote and produced the track), leading to a nasty back and forth in the press.
Judging from his behavior with Ora, it looks like Taylor may have met her match in the bitter break-up department. She may think she's up to it. Who knows?
Things could work out! But keep your seat-belts fastened. There may be turbulence. And afterward, a great new song.