A Canadian professor has taken it upon himself to debunk bad celebrity health advice, in a book called Is Gwyneth Paltrow Wrong About Everything?
Timothy Caulfield, a health science expert and professor at the University of Alberta, is a tireless critic of the fraudulent health tips and magical cures dished out out by Hollywood celebrities.
And who is the single worst offender in this area, Popdust readers?
Why, it's Gwyneth Paltrow!
We knew this instinctively but it's nice to see that a legal expert and science geek has confirmed it for us.
Asked in an interview to list some of Gwyneth's most egregious health advice, Caulfield is eager to elaborate:
Colon cleanse: There is no evidence we need to cleanse our colons or detoxify our bodies. Vagina steaming to detoxify and increase fertility: again, absolutely ridiculous. Getting stung by bees is her latest thing for anti-aging — because, yes, anaphylaxis is so revitalizing. Goop, her website, suggested wearing a bra can cause cancer. This is raising fears, completely science free. I could go on and on and on.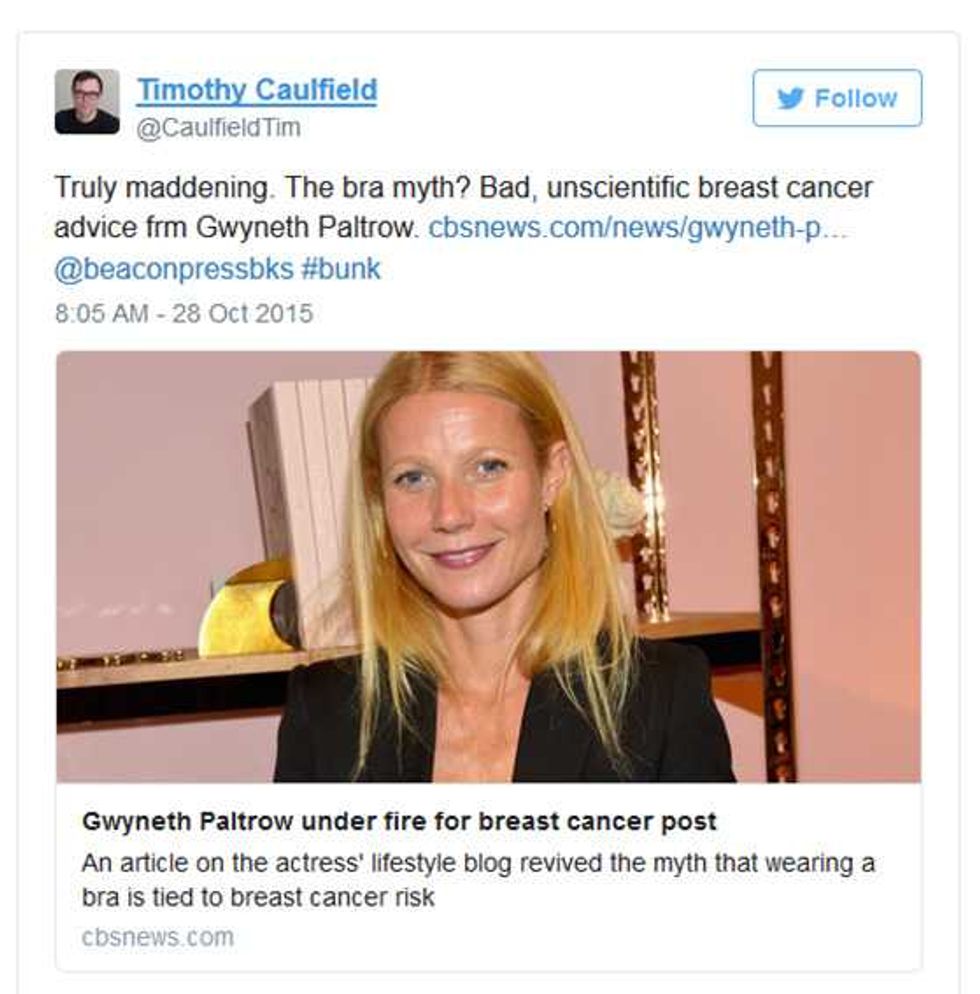 Gwyneth's advocacy of colon cleansing is particularly worrisome, according to Caulfield.
Some of them are quite extreme, and they're not nutritious. They can be harmful because you're not eating properly and not getting proper nutrients — just water and lemon juice, or something like that. They add to the idea that we need to adopt extreme strategies to have a healthy lifestyle.

Since I wrote the book, the importance of the microbiome and gut health have become high-profile. So the cleanses now claim they "restart" your microbiome. There's no evidence for this at all.
Got that, everyone? Leave your colon alone. I think this is also instinctive knowledge but the influence of celebrities on our daily lives can be downright dangerous.
Caulfield has thought about this phenomenon, with an enlightening conclusion:
There's interesting speculation we might be predisposed to emulate people with prestige. In the past maybe it was good hunters, today it's Kardashians. What makes this era different is because of social media and reality TV, celebrities are simply everywhere; they are closer to us. Grace Kelly existed in a different realm, while Kim Kardashian is part of daily life.
Coupled with an increasing distrust of science and Big Pharma, the celebrity chatter has even more weight.
While he also cites Kim Kardashian, Katy Perry and of course Dr. Oz as other sources of fraudulent advice, Cailfield reserves his deepest disdain for Gwyneth, and with good reason:
Gwyneth is an icon in the world of fashion and a movie star, but increasingly, her brand is dispensing health advice. There is a plague of celebrity culture in the area of health and science, and Gwyneth is really the queen of this realm.
It's exciting to hear a scientist use Gwyneth and 'plague' in the same sentence, isn't it?
You can thank Professor Caulfield, or just follow him, on Twitter.