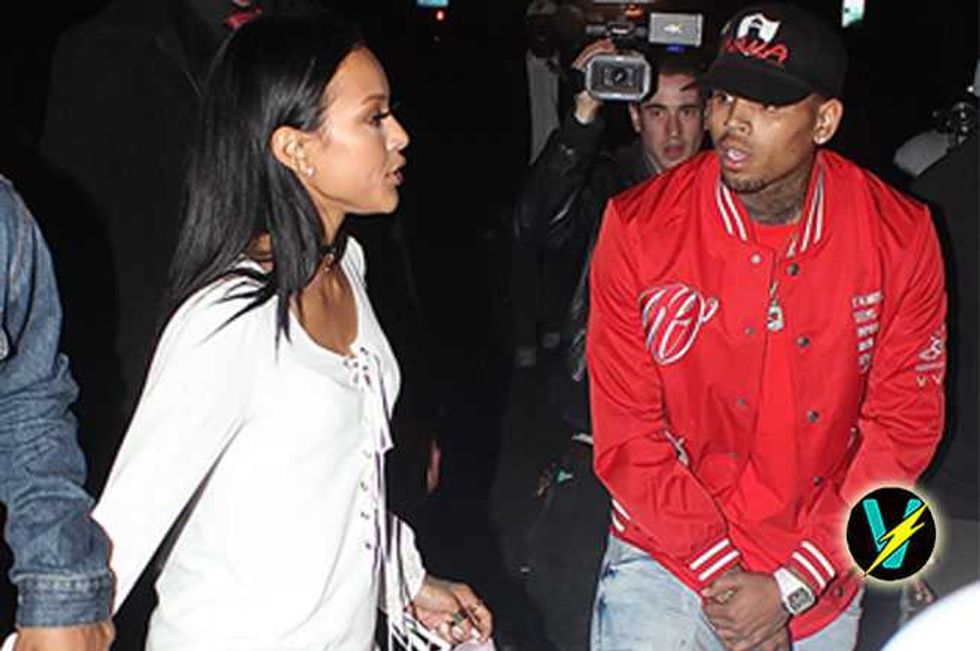 It's been another turbulent week for Chris Brown and Karrueche Tran culminating in Brown following Tran to her house, fighting at 3.30 am and the cops being called!
Karrueche Tran has been trying to get over the dysfunctional trainwreck of a relationship with Chris Brown that she ended when it was revealed he had fathered a child during their time together. She went for a night out with pal Christina Milian on Thursday to Playhouse and who should get a table right next to her?  Yep you've got it—old Breezy himself.
Alleged Female Trespasser Gets Restraining Order Against Chris Brown
Apparently this did not go down well with Tran, who left the club. Charmer Stalker that he is, Brown, 26,  followed her out and hopped/squeezed himself uninvited into her SUV.  Sources told TMZ that she did NOT want him in the vehicle and dropped him off with friends a short time later.
Tran, 27 went home but, determined not to be deterred, Brown then showed up at her door at around 3.30 am, yelling for her to open up!  He caused such a commotion that neighbors called the police to complain.  The officers spoke to both Brown and Tran but no arrests were made.
However the night doesn't end there for this volatile couple.  Tran left her home and went to Norm's Diner where Brown showed up a short while later.  Now whether she escaped his presence and he trailed her there or they arranged to meet up is unclear.  Once inside though things didn't go well (when do they ever with these two?) and a full blown shouting match ensued.  Tran left alone and this time Brown did not follow.
An insider has attempted to explain Brown's behavior by telling HollywoodLife;
"Chris didn't want to go to Karrueche's house, but the overwhelming love he has for her drove him to. He just wanted to talk to her…that's all. If she would have just let him say what he had to say, this wouldn't have gone down the way it did,

He's just a fool in love. He's very obsessed with Karrueche and he feels embarrassed at how this all unfolded."
So it's her fault then?  He's just an old romantic and she was asking for trouble because she wouldn't listen to him?  (Maybe if Rihanna had just listened to him she wouldn't have gotten a black eye).
Maybe other stalkers' or abusers' obsessive and unacceptable behavior can be defended in future by just a shrug and 'he's a fool in love Your Honor, it's her fault for not listening to him'.
God this guy is such an unbelievably arrogant, egotistical douche.
Take the advice that social media is offering you Karrueche—get a restraining order NOW!