Culture News
Did Elon Musk and Ivanka Trump just endorse the alt-right? Not exactly.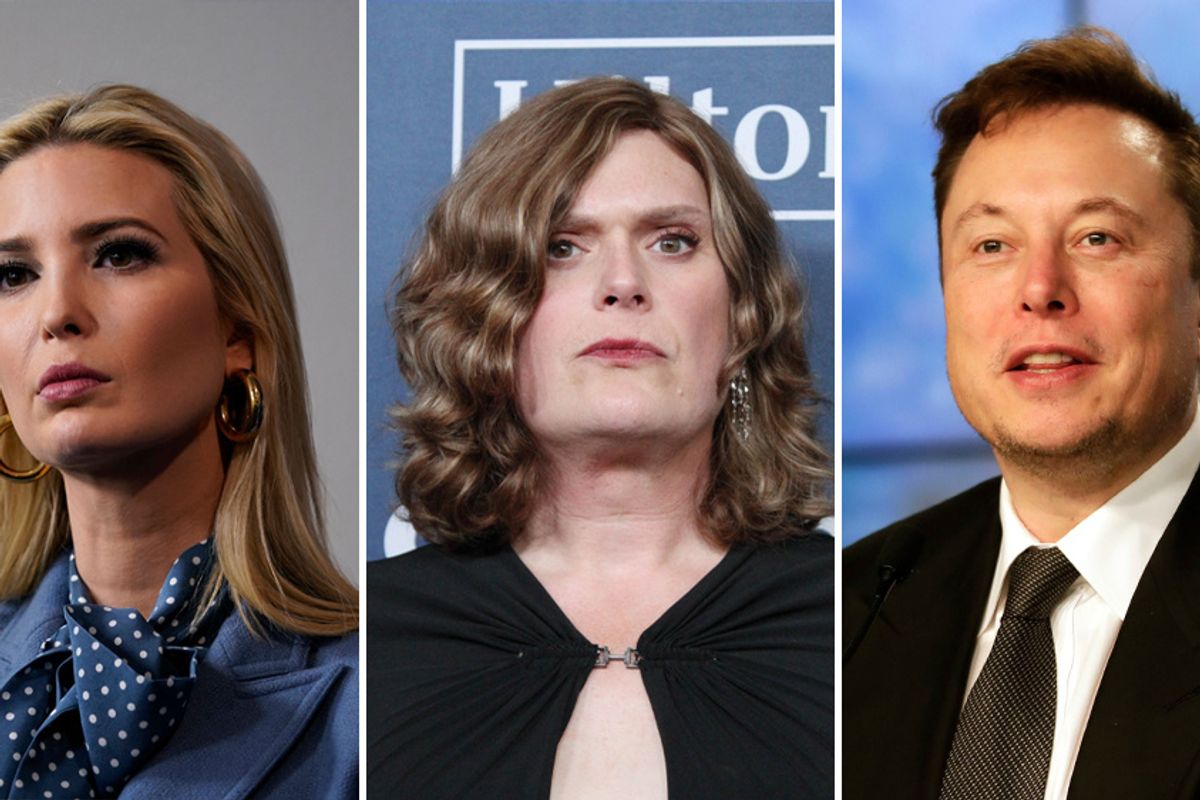 Lana and Lilly Wachowski's Matrix franchise has become a cultural touchstone, and one of its most famous details of all is the legendary "red pill."
In the film, Keanu Reeves' character, Neo, is asked to pick between a "red pill" and a "blue pill." If he takes the red one, he'll understand the horrifying but true nature of reality. If he takes the blue one, he'll forget everything. "You take the blue pill, the story ends, you wake up in your bed and believe whatever you want to believe. You take the red pill, you stay in Wonderland, and I show you how deep the rabbit hole goes," says the character Morpheus, offering Neo a way out of the simulation he's been living in. It's modern folklore with the ring of an ancient parable.
---
The "red pill" (or the act of being "redpilled") has taken on a new meaning on the Internet. "Online, 'to redpill' is to learn that you've been defrauded and misled, that you've bought into a false and diabolical lie, and that your only way out is to obtain true knowledge about the way the world works," writes Max Read for Vulture. The "red pill" is most frequently used in alt-right circles to express disillusionment with feminism and social justice. On Reddit, the redpilled community consists of men's rights activists, incels, and the like, but the redpilled ideology goes deeper, often intersecting with other alt-right ideas.
Elon Musk and Ivanka Trump have both been redpilled, at least according to Twitter. On Sunday, the SpaceX and Tesla CEO tweeted, "Take the red pill," immediately sparking conversation and outrage on both sides.
Taken! https://t.co/Ng0S2OFC93

— Ivanka Trump (@Ivanka Trump) 1589741889.0
Most likely, Musk was trolling everyone, though it's hard to tell based on his increasingly unhinged behavior. He did accompany the "redpilled" tweet with a rose, a classic socialist symbol; plus, his girlfriend and the mother of his newborn child, Grimes, has openly supported Bernie Sanders, so the idea that Musk may have suddenly veered to the far right feels like too great of a rift.

Musk has been wildly inconsistent online as of late, threatening to move the Tesla headquarters out of California after the state refused to let him reopen due to the coronavirus. His tweet might have flown under the radar, had it not been endorsed by first daughter Ivanka Trump, who replied, "Taken!"
Some people weren't happy with the whole interaction, which—with its undertones of alt-right symbolism—feels a bit like a covert endorsement of alt-right policies. After the incident, Grimes' mother, Sandy Garossino, retweeted a message that implied Musk should be arrested for trying to reopen his Tesla factories. She also tweeted, "If your partner went through a challenging pregnancy and childbirth in the last two weeks, and you were over 16 years old, would you be blaring MRA bullshit on Twitter right now?" according to The Cut. She later deleted the tweets, but it seems like the grandmother of Musk's child is not a fan of his antics, which, of course, have the power to reach billions of people.
Perhaps the most damning indictment of all came from Matrix writer Lilly Wachowski, who replied simply, "F*ck both of you." She followed up the instantly viral reply with a link asking people to donate to the LGBTQ+ charity Brave Space Alliance.
@IvankaTrump Fuck both of you

— Lilly Wachowski (@Lilly Wachowski) 1589744196.0
Support @BSAllianceChi if you can. https://t.co/rrDPOaaYED

— Lilly Wachowski (@Lilly Wachowski) 1589745995.0