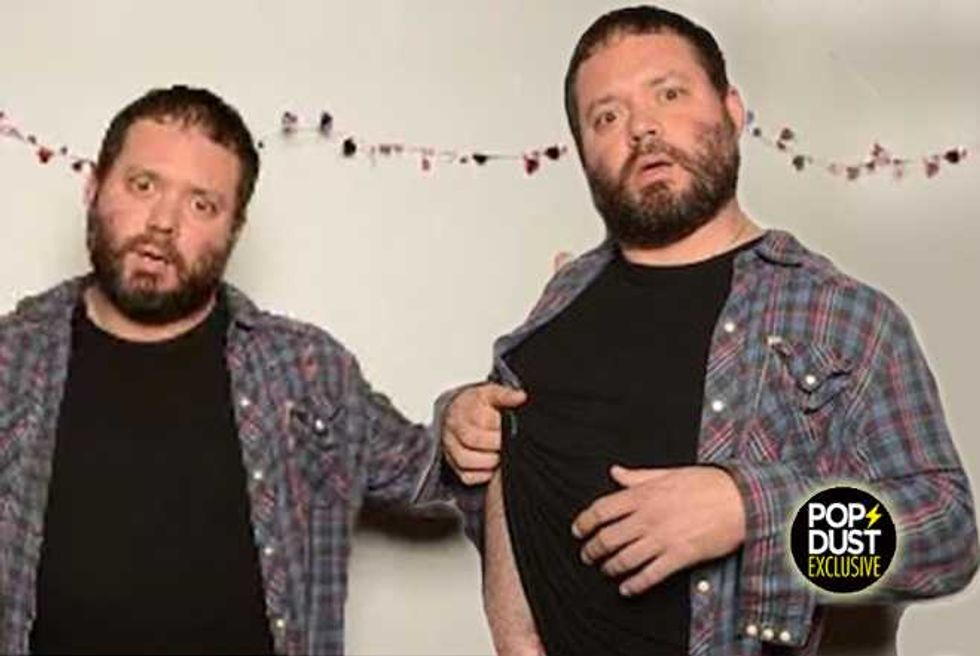 Meet J Chris Newberg—The comic who famously put Piers Morgan in his place on America's Got Talent, got a standing ovation on Jay Leno, and takes comfort in knowing that secretly all five members of One Direction hate each other.
Popdust sat down for an exclusive interview with the leader of TheChrisArmy, to discuss, amongst other things, boobs, butts, Kim Kardashian, who let the dogs out, and the most important lesson gleaned from 80s' Hip Hop lyrics.
Word!
Popdust: What joke gets the biggest laughs?
JCN: I think it's weird that I can always hear my downstairs neighbors having sex and that they can never hear me underneath their bed.
Popdust: Which jokes are you most proud of? Give us 3:
JCN:
1) Don't you hate it when the Amber Alert is your vehicle description?
2) I used to have sex with my fans, but I kept cutting myself on the rotating blades.
3) I don't even understand why they have a sex offender registry, it's not like anyone is going to buy them anything.
Popdust: Is the best thing about rising fame getting to bang hot chicks?
JCN: I will let you know when it happens.
Popdust: You get 30 minutes with Kim Kardashian. Are you going to bang her or yell at her?
JCD: I would talk to her. She's kinda fascinating to me.
Popdust: Who is your dream woman?
JCN: Rachel Bilson or Shannyn Sossamon
Popdust: Butts or Boobs? Why?
JCN: Both. Because.
Popdust: Who do you hate the most?
JCN: I don't hate anyone, but there is a comic I used to work with that is a huge creep. I try not to give him any energy.
Popdust: Who let the dogs out?
JCN: Rachel Bilson, or Shannyn Sossamon
Popdust: If you could go back to high school and beat the shit out of someone, who would it be and why?
JCN: Myself, because I think I had a "Tail."
Popdust: Funniest TV Show of all time?
JCN: 30 Rock
Popdust: Is comedy tragedy plus time?
JCN: It can be, but it can also be Princess Diana plus 3:30
Popdust: Too soon.
Popdust: Why you buggin'?
JCN: Because there is a show on MTV called Slednecks and I can't stop watching it.
Popdust: Which of the 7 deadly sins are you most guilty of?
JCN: Lust
 Popdust: Craziest thing a fan has done?
JCN:  Me
Popdust: What's your ultimate goal?
JCN: I will win two Emmys and own my own production company with a stable of TV shows
Popdust: Best lesson gleaned from 80s' hip hop lyrics?
JCN: We don't need no water...  let the mutherfucker burn..
Follow J Chris Newberg on Twitter and head to TheChrisArmy to check out upcoming tour dates..