Some lovers leave behind only their lipstick stain.
J & The Rest understand that, and then add a sexy baseline and a horn backing to accompany the ensuing melancholy. The relatively new London-based band––made up of Jamal "J" Alexander, John Bird Jr, Louis Querelle, Ricky Russell––has only been playing for a short time but have already started making waves with single "4 AM Again," which they premiered on Music & Riots Magazine. Now, Popdust has the pleasure of premiering their new single.
Their sensual new single, "Kisses in the Mirror," turns what would otherwise be a smoky scenario––cigarettes after sex, black-tinted motel room windows at midnight––into a danceable, bright affair. If heartbreak makes these guys dance this hard, would it be cruel to hope for more? (It totally would, but we need more of this sweltering, textured pop sound in our lives.)
We sat down with the Ricky Russell to talk about their accidental origin story, carving out a sound, and leaving lipstick on the mirror.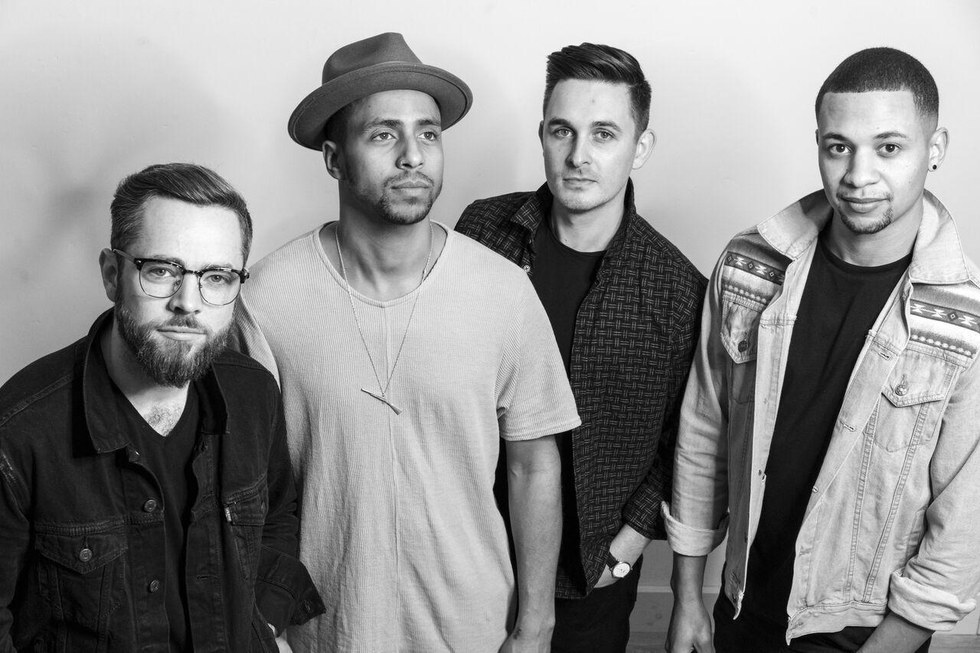 Courtesy of Sonnet Music
---
"Kisses on the Mirror" is incredibly sensual lyrically, and bolstered by an equally sexy production. What was the inspiration behind it ?

"Kisses on The Mirror" depicts the typical 'guy falls for girl, but she doesn't feel the same way' scenario. I think most guys can relate to having been in a situation like that at least once in their lives.

Would you say this is a departure from your usual sound?
Well, people can interpret it however they want but I wouldn't say so. "Kisses On The Mirror" is right in line with our overall sound which, we would say fits in the realm of pop / R&B.
You're a relatively new band; how did J & The Rest come together?
J and an old member of the band (who is now off being a successful solo artist), decided to put the project together when we were broke, and decided we would play some weddings and stuff to earn some extra cash. The rest of the band are a combination of friends from uni and awesome musicians we knew from around the circuit. Pretty much as boring as "Hey man, wanna be in my band?...Yeh ok."
Courtesy of Sonnet Music
Who are your influences, sound-wise?
That's a good question! We all listen to so many different genres and styles of music, so often it's hard to pinpoint exactly what or who influenced the songs that we write. But certainly artists like Prince, D'angelo and Michael Jackson have had a big influence on all of us.
Where do you hope to take this project as it continues to grow?
The aim is to keep writing, recording and performing great music that people enjoy listening to. The more people that get a chance to hear our music the better!
---
Follow J & The rest on Facebook, Twitter, and Instagram. Stream to "Kisses on the Mirror" below.
---
E.R. Pulgar is a music writer, poet, image-maker, and once cried reading Virginia Woolf. Follow him on Twitter.
READ MORE ABOUT MUSIC...

INTERVIEW | a conversation with Chris Baio
LIVE | LCD Soundsystem plays the hits
Interview | ORRIN crafts trippy dreamscape on "Perfect Blue"