Onay onyay ethay eportsray eythay areyay uriousfay....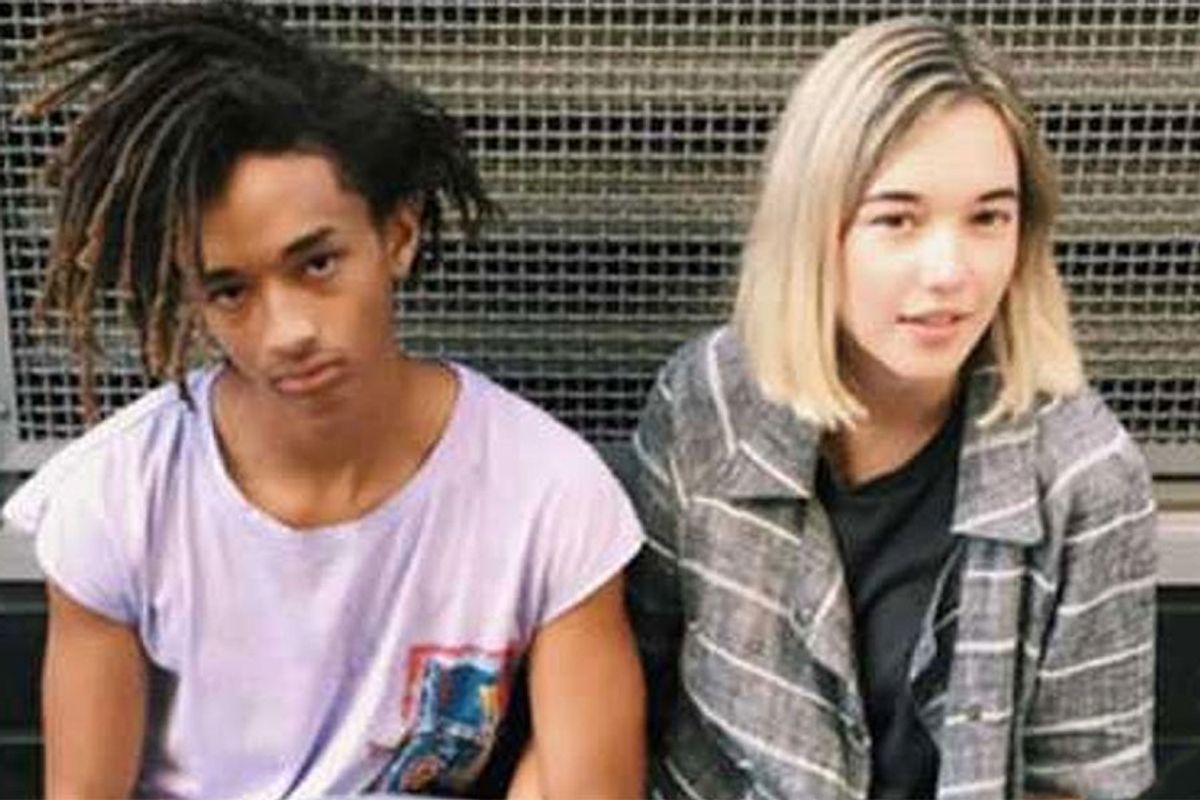 Jaden Smith dating Sarah Snyder—there's reports Will and Jada are furious about Jaden dating Sarah…. but, don't believe the hype folks…
Jaden Smith, 17, has been gettin' jiggy with Sarah Snyder, 21, since last year.
They were first spotted engaging in some PDA at Kanye West's New York Fashion Week show last September.
Reports quickly surfaced about Snyder's "checkered" past.
Mainly that she had been arrested for a class D felony after allegedly stealing a $15,995 Hermes handbag from a friend's apartment.
Then, there's also speculation, that Snyder was previously arrested in North Carolina for breaking and entering.
But, hey, we all make mistakes.
Jaden himself can attest to that.
We mean, have you seen some of his tweets?
How Can Mirrors Be Real If Our Eyes Aren't Real
Deep Jaden.....real deep....
Following a few months of relative peace, Snyder unwittingly found herself back in the media glare earlier this month.
---
Read more....
Jaden Smith's Tweets Analyzed—From A Jungian Perspective
Mad Scientist Jaden Smith: You're All An Experiment
Stop Calling Willow And Jaden Smith Crazy!
Jaden Smith's Words Of Wisdom Video Is A Wonder To Behold
Jaden Smith Tries To Make Wearing No Pants a Thing
---
After video surfaced on You Tube, purportedly showing the wannabe model snorting coke.
There's speculation that the voice heard in the background, is Jaden's.
Egging her on to do more lines.
And so, because night follows day, reports immediately sprung-up about how Will and Jada Smith are "furious' over Jaden's choice of girlfriend.
The Inquisitr even questioned if the "scandalous" relationship is damaging the teen's career.
Hmmm……
Seems that would be a no, as Jaden is about to star in The Get Down.
Which, as Popdust previously reported, is set to be this summer's hottest show.
So yeah, onay onyay ethay areercay oubletray eportsray.
And, it turns out, same when it comes to Will and Jada's reported "fury."
A source close to the family tells Popdust exclusively:
Will and Jada have no problem at all with Jaden dating Sarah. They've always given both him and Willow a lot of freedom, and they respect their choices. They totally trust their kids, and as a family they have a totally open dialogue at all times. They like Sarah a lot, and they know that all kids fuck up. Will and Jada believe messing-up is part of growing-up, and they know Jaden has a good moral compass. They did a great job of raising both the kids when they were children, and they believe that now they are young adults they are ready to make their own decisions in life. Neither Will or Jada would dream of telling Jaden who he can and can't date. They respect his choices, and he knows they will always have his back no matter what.
Meanwhile, Jaden and Sarah continue to get hot and heavy.
The two were recently spotted at Coachella making out like bandits.
Because, yeah, love's young dream and all that.
For more entertainment, music and pop culture updates and news, follow Max Page on Twitter