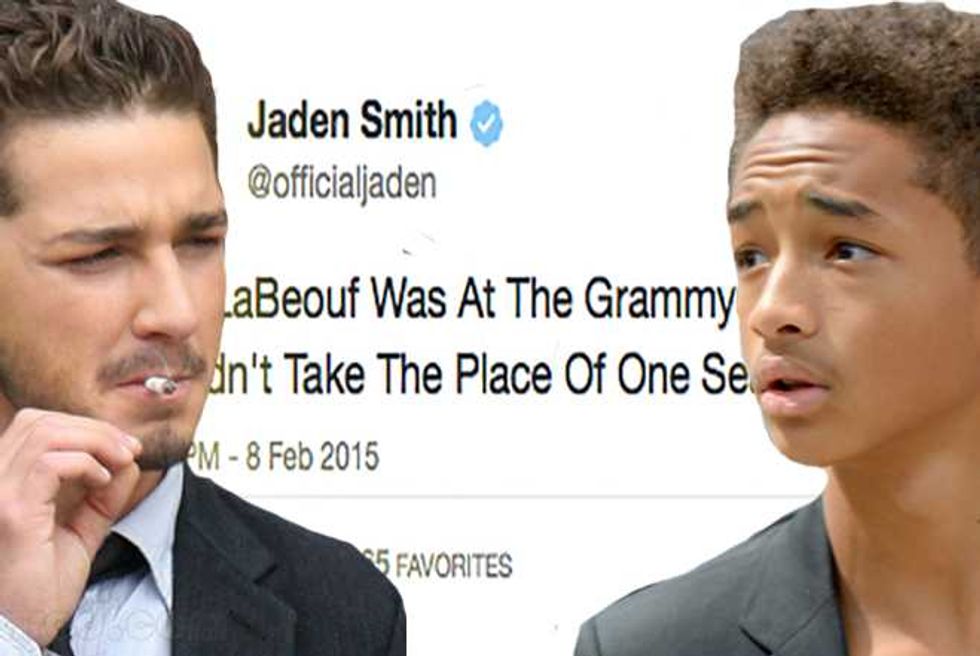 Jaden Smith is pissed at not being invited to last night's Grammys.
The teenage celeb-u-spawn of Will Smith and Jada Pinkett took to Twitter (of course!!) on Monday to let his feelings be known—focusing his ire on (supposedly retired-from-all-public-life-plus-he-is-not-a-musician-so-what-the-fuck-was-he-doing-at-The-Grammys?!!) actor, Shia LaBeouf.

TRANSLATION: Boo hoo! I'm a celebrated musician, as well as a respected actor, AND my dad is really really famous yet I couldn't go to the Grammys….. boo hoo!
I mean, he has got a point—to a degree.
At the tender age of 16, Jaden has already busted out with two mixtapes; two singles; thirteen non-album singles; and nine music videos! As well as featuring on Justin Bieber's Never Say Never, and dad Will's, 5.
Whereas, aside from Shia being one of the most pretentious and annoying celebs of today, he really can't hold a candle—not even a lowly match— to Jaden's prolific musical outpourings.
However, LaBeouf DID collaborate on, and star in, Sia's video for Elastic Heart, and that's why he was at the Grammys—to introduce the singer's Chandelier performance.
So, you know…. go figure…..cry us a river Jaden....