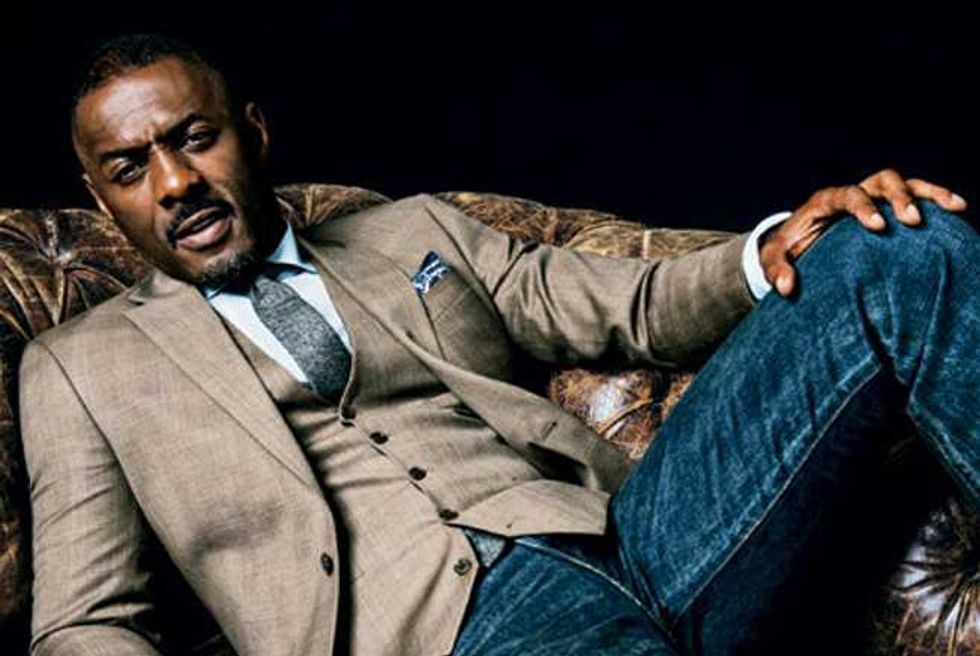 Anthony Horowitz is doing some serious backpedaling.
The author of the new James Bond novel, Trigger Mortis, opened himself a can of serious social media whoop ass after telling the Daily Mail that he thinks Idris Elba is too "street" to play 007.
Wait, whaaaat?!!!! Are we thinking of the same Idris Elba here?!!!
I'm Not Racist But… The Top Bigoted Celeb Blunders
Now, taken out of context that comment sounds seriously racist, but, in the interview, Horowitz, explained it wasn't a matter of color, rather of "being suave" enough….
Once again, begging the question—Wait, whaaaat?!!!! Are we thinking of the same Idris Elba here?!!!
"Idris Elba is a terrific actor, but I can think of other black actors who would [play Bond] better," Horowitz opined. "His name's Adrian Lester, star of Hustle.
"For me, Idris Elba is a bit too rough to play the part. It's not a color issue. I think he is probably a bit too 'street' for Bond. Is it a question of being suave? Yeah."
Kanye West—Racism Is Not an Actual Thing, It's Just a Silly Dated Concept!
After getting seriously schooled on Elba's innate sauve-ness, courtesy a multitude of angry tweets, Horowitz took to social media himself to issue an apology, tweeting, "I'm really sorry my comments about Idris Elba have caused offense. That wasn't my intention."
Horowitz went on to say that his mind was clouded by the part Elba plays in the gritty cop drama, Luther.
"I was asked in my interview if Idris Elba would make a good James Bond," Horowitz explained. "In the article I expressed the opinion that to my mind Adrian Lester would be a better choice but I'm a writer not a casting director so what do I know?
"Clumsily, I chose the word 'street' as Elba's gritty portrayal of DCI John Luther was in my mind but I admit it was a poor choice of word. I am mortified to have caused offense."
George Zimmerman Explains Latest Artistic Travesty—Confederate Flag Painting
Horowitz's interview with the Mail was a potential minefield as it was—and he was sure to pick his words carefully when it came to discussing Ian Flemming's classic books, past 007 movies, and Bond's racist, homophobic, male chauvinist pig tendencies.
"Bond is not the most sympathetic of characters when you actually think about him," Horowitz said. "He is a man who kills people. He has unfortunate attitudes towards women, gays, Jews and foreigners.
Music Monday—The 10 Greatest Bond Theme Songs
"I have to be careful how I say that, because we do like Bond. That is one of the tricks of the books, to make him likeable. He represents the country, in patriotic terms. Also, he is the Byronic hero who comes riding out of the shadows, puts the world to rights and moves on to the next adventure."
That Alabama University Alpha Phi Recruitment Ad Is Actually VERY Diverse Y'All!
Horowitz's novel builds upon Bond's rep as a shameless macho killing machine, but the author cuts back on the usual misogyny—to a degree—by bringing back Pussy Galore, to give 007 "a slight comeuppance."
He also introduces a new female adversary, Jeopardy Lane, who is "sharper, stronger and better" than Bond, and is the one who gets to love and leave the secret agent, rather than be left, as has always been the case previously.
"The policy was not to fight any of it, not to try and change him and not to make excuses for him but to find a way to chide him," Horowitz explained.
"So one of the women in the book abandons him, and worse still—spoiler alert—walks out with another woman."
"Jeopardy is at least as effective a spy as James Bond and probably more so. Without her, he would be killed. He has to acknowledge that she is unstoppable and doesn't make mistakes, while he does."
Starbucks To Solve Racism, Finally!
When it came to making any radical changes to the Bond character though, Horowitz had his hands tied to a degree—as he had to answer to the Fleming Estate, who recruited him in the first place to continue the work of his literary predecessor.
One thing the estate made crystal clear was there was no way they would allow Bond to fall for a man, or have any kind of gay love scene included in the new novel—however, Horowitz did managed to sneak in an openly gay friend, and some naked man-on-man wrestling for Bond to partake in.
All we can say is thank FUCK Roger Moore won't be playing 007 this time round....