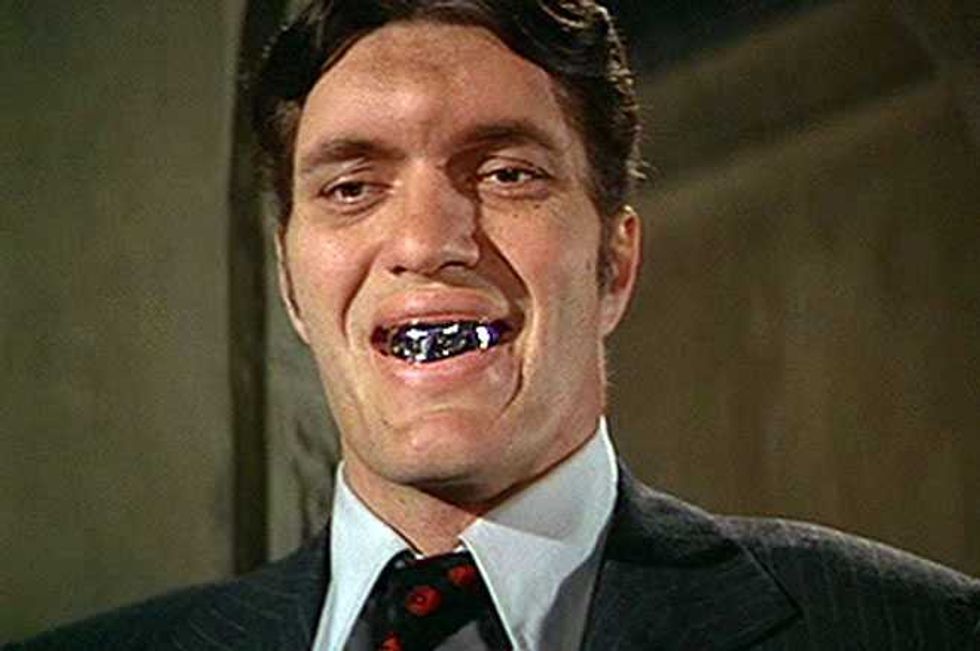 He's the man who terrified us in two James Bond films with his grills and now beloved actor Richard Kiel – better known as Jaws – is dead.
The 74-year-old died in a Fresno, California hospital a family member revealed to TMZ.com on Wednesday.
The veteran actor went into the hospital last week after breaking his leg but it is not yet known if his death is related to that injury.
Roger Moore – who played opposite Kiel as James Bond in the 1970s – tweeted that he is "distraught" to hear of the actor's death.
He wrote:
"I am totally distraught to learn of my dear friend Richard Kiel's passing.

"We were on a radio programme together just a week ago.

"Distraught."
In an interview with Yahoo! Movies the star revealed that the last time he spoke to the actor was while they were doing an interview with BBC's Radio 4.
Moore was in London but Kiel was speaking from the US.
The 86-year-old said:
"[Richard] sounded very, very weak.

"We were told that the line was bad from Fresno and that he would sound a bit strange.

"But he'd had a hell of a job getting into the studio and getting out of his car.

"What we didn't know was that he'd had surgery that week, that he'd broken his leg.

"He'd fallen and that weight and height that he was, falling was a very serious thing."
Bond fans will forever remember Kiel as the terrifying gigantic villain Jaws whose metallic teeth gave him a ferocious bite.
Long before "grills" were popular and worn in the mouths of Lil Wayne, Katy Perry and Madonna, they were sported by Kiel in The Spy Who Loved Me and later Moonraker.
But on his website the 7ft 2 actor reminded fans that he was an actor long before he battled Roger Moore's James Bond on screen.
He wrote:
"I was [a] working actor for 17 years before playing Jaws in my first James Bond film.

"I suddenly became an overnight success."
In fact Kiel had previously appeared in classic TV shows like I Spy, Gilligan's Island and I Dream Of Jeannie.
His family released a statement on Wednesday saying:
"Though most people knew of him through his screen persona, those who were close to him knew what a kind and generous soul he was.

"His family was the most important thing in his life and we are happy that his last days were spent surrounded by family and close friends."