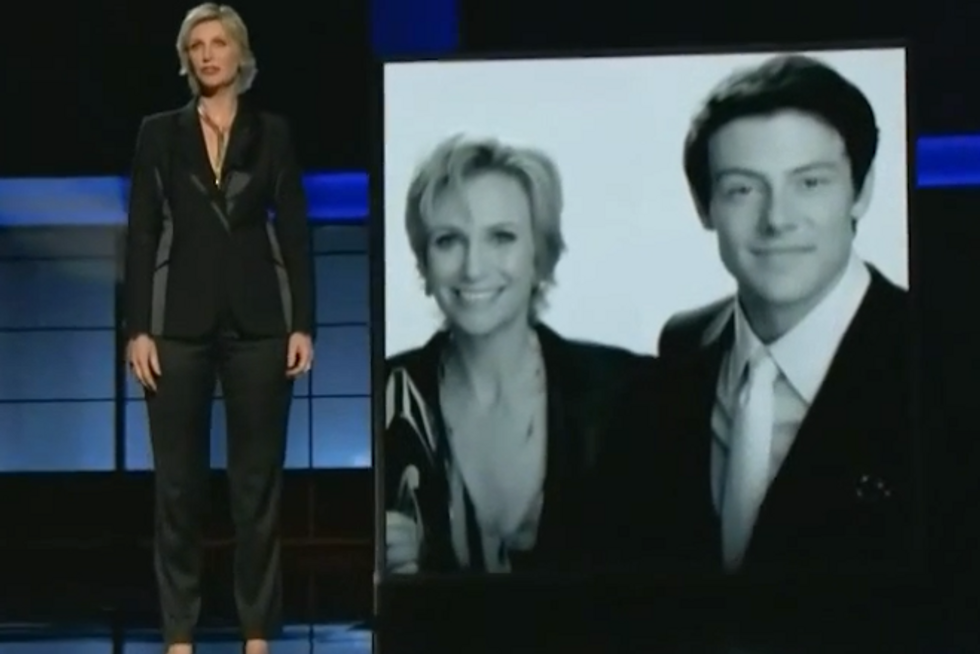 At last night's Primetime Emmy Awards, Glee star Jane Lynch paid tribute to co-star Cory Monteith, who died over a drug overdose on July 13th at the age of 31.
The decision to devote part of the show to Monteith's memory was not a unanimous one; some of the industry argued that this would glorify drug-use. Lynch touched up his struggles in her speech.
"From the first time you saw Cory, he had a star quality and a genuine sweetness that made it impossible not to fall in love with him...and I'm here to say that all that warmth and that charm, that openhearted quality that we loved in Cory was no act. Cory was a beautiful soul. He was not perfect - which many of us here tonight can relate to. His death is a tragic reminder of the repacious, senseless destruction that is brought on by addiction."
Lynch—who was up for fours Emmy awards herself last night—has been outspoken about her love and admiration for Monteith; she was one of the first Glee cast members to express her grief publicly when she remembered him on The Tonight Show With Jay Leno earlier this year.
She closed the tribute saying, "This gifted and wonderful man was worthy of your love, and if you were lucky enough to know Cory as well as we did...I promise, you would've loved him even more."