MUSIC
The musician directed the video for Charly Bliss's new single Capacity, the latest in a string of gorgeous videos helping to solidify her reputation as a star in multiple mediums.
"I was watching a lot of heist movies at the time," said director Michelle Zauner of her work on the music video for indie pop up-and-comers Charly Bliss's new single Capacity, released today. With its dizzying series of shots featuring neon cacti, speeding cars, blurry TV screens, and plenty of cash, the video plays on all the best tropes of kitschy-crime 80's shows and films like Twin Peaks and Badlands in a display of what's becoming its director's signature style: dreamy slow-motion sequences and vaguely cultish imagery that both leans into and laughs at vintage pop culture's most extravagant excesses.
Charly Bliss - Capacity [Official Music Video] www.youtube.com
The video is another installment in the growing body of directorial work for which Zauner, most famous for her excellent solo work as psychedelic-indie-rock musician Japanese Breakfast, is becoming increasingly noted. Alongside frequent collaborator Adam Kolodny, she directed the videos for Jay Som's "The Bus Song," which captures a blissfully homey Californian summer, and Conor Oberst and Phoebe Bridgers' new project Better Oblivion Community Center's "Dylan Thomas," which transports the viewer to headquarters of a mysterious, quasi-religious cult.

Jay Som - The Bus Song [OFFICIAL MUSIC VIDEO] (Amazon Original) www.youtube.com
Better Oblivion Community Center - Dylan Thomas www.youtube.com
She's also directed most of the visual counterparts to her own songs. " Boyish," from her excellent 2018 LP Soft Sounds from Another Planet, is a dismally gorgeous interpretation of a high school prom. Zauner dons a suit, slips into her characteristic bath of ethereal pink and purple lights, and soundtracks one girl's shift from pining over a boy to taking the stage and shredding on her guitar.
Japanese Breakfast - Boyish (Official Video) www.youtube.com
It's a similar narrative to the story told by Mitski's Your Best American Girl video, in which the protagonist exchanges her unrequited desire for an archetypical, all-American guy for a much more satisfying love affair with her bass. Japanese Breakfast joined Mitski and Jay Som on tour in 2016, a lineup of all Asian American women that—although musically very different—were unified by a sense of creative ambition, talent, and a knack for crafting lyrics that cut through all bullshit.
Mitski - Your Best American Girl (Official Video) www.youtube.com
Zauner is also signed to Mitski's label, Dead Oceans. The label's interest and that subsequent 2016 tour with Mitski was a marked surprise for her, for earlier that year she had been working at a "soul-leeching" ad job while quietly dealing with her mother's death by writing what would become Psychopomp, an album that explores many dimensions of grief through waves of reverb-heavy electric guitar and lyrics, sung in her distinctive wail.

A psychopomp, in Greek mythology, is a nonjudgmental tour guide who carries the soul from life to death; and the eponymous album's composition served this purpose for Zauner, providing catharsis in the midst of a storm.
Image via Rolling Stone
Since then, she hasn't stopped creating. Her first published essay won Glamour's nonfiction contest, and she hopes to turn a lauded essay about Korean food and grief published in the New Yorker into a full-length food memoir about her childhood growing up Jewish-Korean in a predominantly white town.

In the midst of it all, she's found time to turn her knowledge of heist movies and crime dramas into Charly Bliss's newest visual. Judging by the quality and the sheer breadth of the output she's been gifting the world with over the past few years, "a lot of heist movies" probably means endless numbers of films watched at all hours of the night. Zauner seems like the kind of person who's constantly uncovering new conspiracy theories, always knee-deep in a rabbit hole of pop science and personal reflection.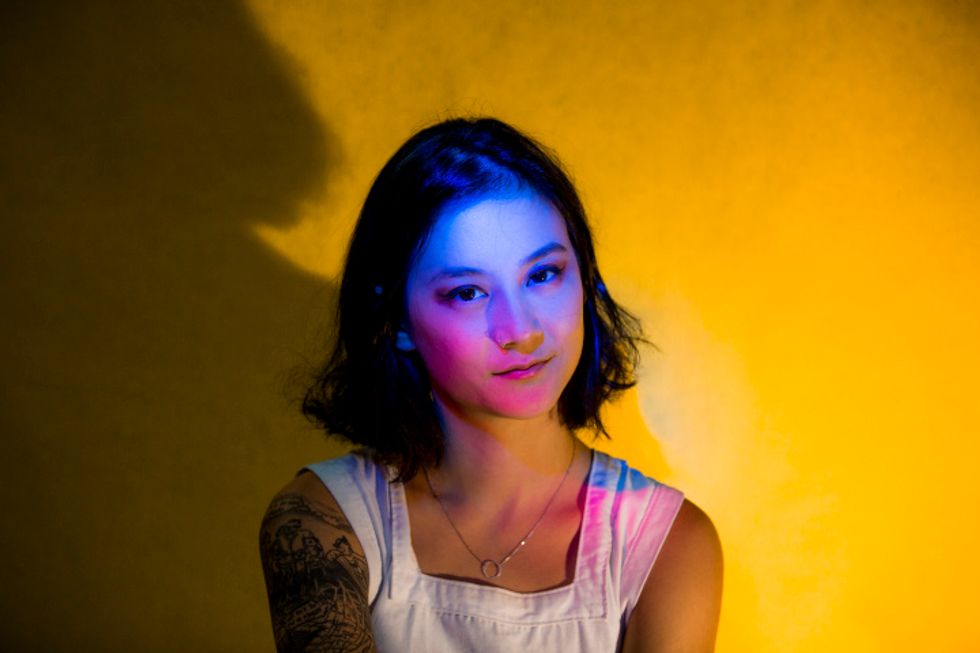 Via emmiemusic.com
Certainly her own music videos belie a huge variety of filmic and cultural influences. 2016's " Jane Cum" is hypnotic and haunting, following Zauner on a journey through misty woods to a fiery ritual. Directed with Kolodny and House of Nod Productions, the video borrows from vintage movies, mostly riffing on the 90's horror flick The Craft. 2018's "Road Head" continues this tradition of using occult themes to express the complexities of human feelings.

Japanese Breakfast - Jane Cum (Official Video) www.youtube.com
Japanese Breakfast - Road Head (Official Video) www.youtube.com
"Machinist," also from Soft Sounds, is a nod to sci-fi, inspired by Alien and 2001: A Space Odyssey, and takes inspiration from the Mars Project, an initiative meant to eventually make Mars habitable. It's a trip through a subterranean laboratory that finds Zauner writing love letters and dancing beneath glowing wires and flashing TV screens, using a vocoder and autotune to tell a cyborgian love story; throughout, she almost seems to be laughing at the surreality of our modern technology-saturated world while relishing in its aesthetic beauty.
Japanese Breakfast - Machinist (Official Video) www.youtube.com
"The Body is a Blade," of the same album, is also a tribute to 80s nostalgia, as well as to her mother's memory. It shuffles grainy, faded shots of summertime fields and beaches with family photos as Zauner sings about the body's persistent will to live in spite of all odds. It's classic Zauner: aesthetically beautiful and effortlessly dreamy, a tradition that Capacity dutifully follows, its lurid celebration perfectly framing the song's sonic buoyancy and moody lyrics. Maybe soon enough we'll be getting our own full-length feature film from her, but until then, it seems a safe bet that there are more cyborgs and redemptive senior proms to come.
Japanese Breakfast - The Body Is A Blade (Official Video) www.youtube.com
---
Eden Arielle Gordon is a writer and musician from New York City. Follow her on Twitter at @edenarielmusic.

---
POP⚡DUST | Read More...

Your Children Deserve to be Traumatized by Scary Stories to Tell In the Dark
Sigrid Lets Loose 'Sucker Punch'
Conor Oberst and Phoebe Bridgers Want You to Join Their Cult