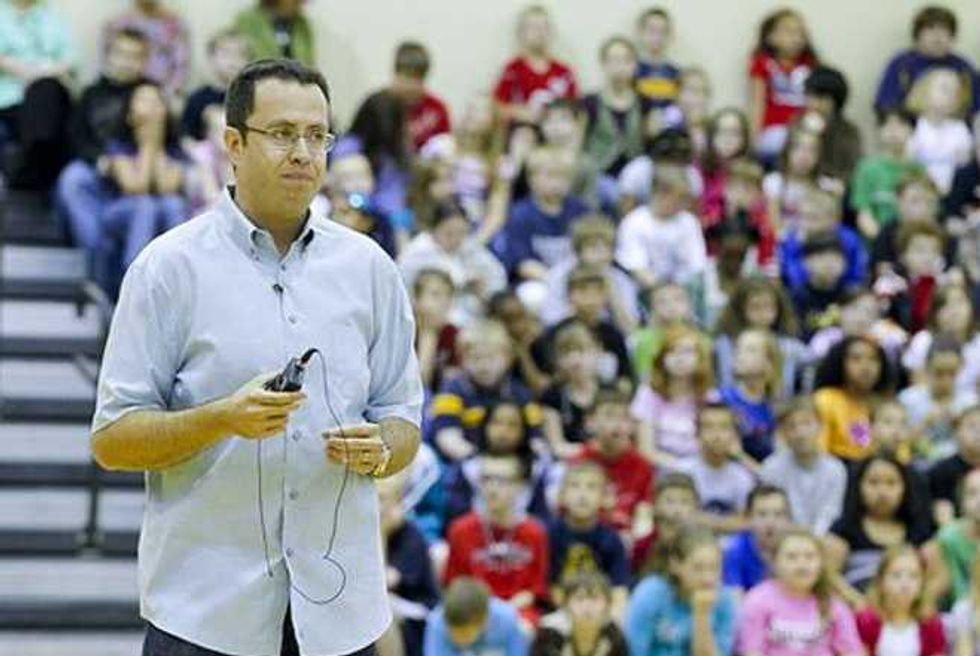 jared fogle child sex abuse scandal
New details have emerged about the Jared Fogle child sex abuse scandal—and it turns out, it's even more disgusting and despicable than you could have possibly imagined.
According to TMZ, prosecutors are seeking the maximum prison sentence for the former Subway spokesperson—12 1/2 years in federal prison.
Jared Fogle's Lawyer Blames 'Mild Pedophilia' On Subway Diet Weight Loss
As Popdust previously reported, Fogle struck a deal with authorities—pleading guilty to possession of child pornography in return for a sentence of between 5—12 1/2 years.
Prosecutors are pushing for the maximum due to the severity of the crime, details of which are fucking heinous, to say the least.
Alabama Teen Pissed That Jared Diet Didn't Work, Allegedly Robs Four Subways
According to court documents, Fogle, and his charity head kiddy fiddling side kick sicko, Russell Taylor, were found to be in possession of a shit ton of child porn on various devices, including 16 smart phones and 6 laptops.
So far, authorities have uncovered child pornography on 22 DVDs, 159,634 text messages, 3,394 videos and 47,623 photos—the Feds have managed to ID 12 of the young victims, in addition to 2 child rape victims who were being forced to prostitute themselves.
Death Row Inmate's Final Letter—Prison Is Modern Day Slavery, Justice System Broken Beyond Repair
Apparently, Taylor would induce children into engaging in sex acts after plying them with drugs and alcohol, then make videos and take photos which Fogle would later watch.
However, Fogle wasn't just some passive pervert, oh no! He also liked to actively participate when it came to raping young kids—paying minors to have sex with him in hotel rooms.
Lorena Bobbitt Thinks Cutting Off Her Hubby's Dick Is Still Pretty Damn Funny
According to the legal documents, Fogle paid for sex with a 16-year-old child that he met on Craigslist, in addition to hundreds of prostitutes, two of which have been identified as minors, with more expected to follow.
For more entertainment, world, music and pop culture updates and news, follow Max Page on Twitter