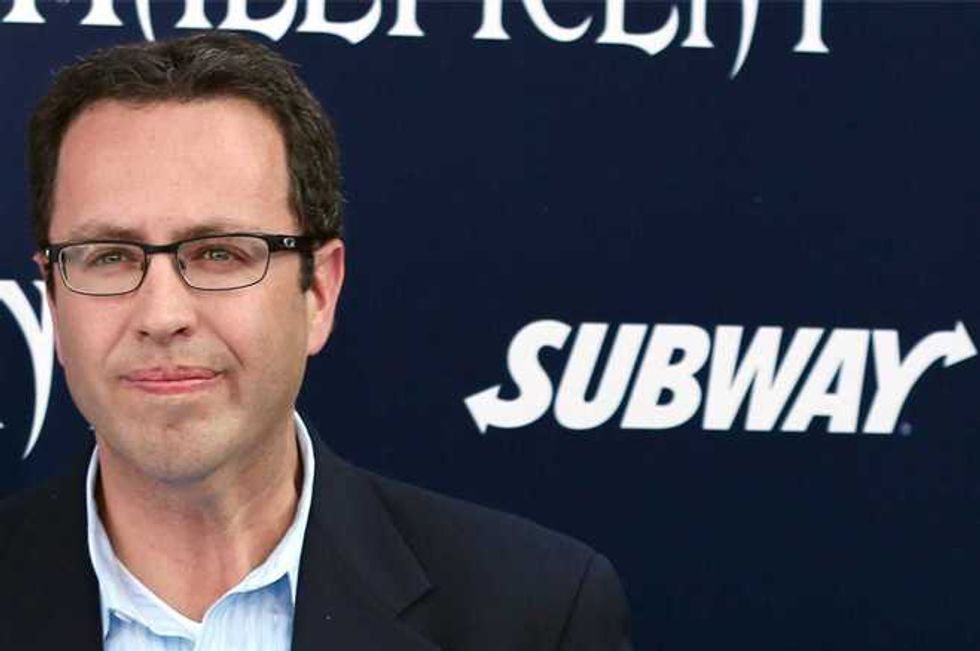 Jared Fogle Guilty Child Porn
Jared Fogle, the super creepy ex-Subway spokesperson has made a plea deal in his child porn case.
37 year old Fogle will plead guilty to possession of child pornography and FOX59 report that it could happen pretty quickly, with the US Attorney's Office holding a press conference to discuss the deal and the charges.
Jared Fogle's Lawyer Blames 'Mild Pedophilia' On Subway Diet Weight Loss
Fogle's lawyer had no comment to make on the guilty plea, and confirmed that Fogle's suspension with Subway continues.  Subway however were a little more final, tweeting;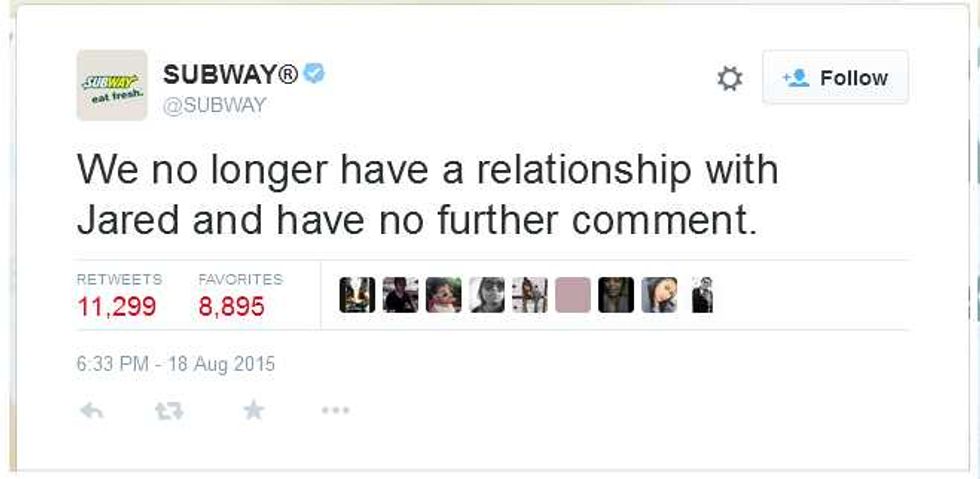 Subway ends it's association with Jared Fogle once and for all.
As Popdust previously reported, the charges came after an FBI raid on Fogle's home in early July.  They seized computers and DVDs and served him warrants in connection with a child pornography investigation.
This came hot on the heels of Russell Taylor's arrest in a child pornography case.
Jared Fogle Child Sex Abuse Scandal Is Even More Disgusting Than You Imagined
Taylor, you will remember, is the former director of the Jared Foundation (started by Fogle) and a search of his home turned up more than 500 videos depicting images of child porn.
He unsuccessfully tried to kill himself whilst behind bars in May, and remains in jail.
Archbishop Arrested On Pedophilia Charges, A First in Vatican History
Fogle first came to the public's attention when he attributed a huge weight loss to eating Subway sandwiches.  The chain later used him as their spokesperson, appearing in ad campaigns gushing about the restaurant's sandwiches health benefits for over 15 years.
Companies are taking a big risk when they use 'real' people to front their brand—how far should due diligence go when checking out their backgrounds?  Whilst no-one in any way blames Subway, it's hugely embarrassing to the brand to have their name so closely linked with what will be a convicted child pornography felon.
Alabama Teen Pissed That Jared Diet Didn't Work, Allegedly Robs Four Subways
Fogle's case wasn't helped by the revelation shortly after the raid by a former Florida TV journalist of creepy comments he made about underage girls—all the more creepy given his foundation focused on helping kids.
The press conference is expected Wednesday.
Convicted Pedo And Former Subway Pitchman Jared Fogle Attacked In Bloody Prison Brawl